Report
Verstappen seals record 17th win of the season from Norris and Alonso in Sao Paulo Grand Prix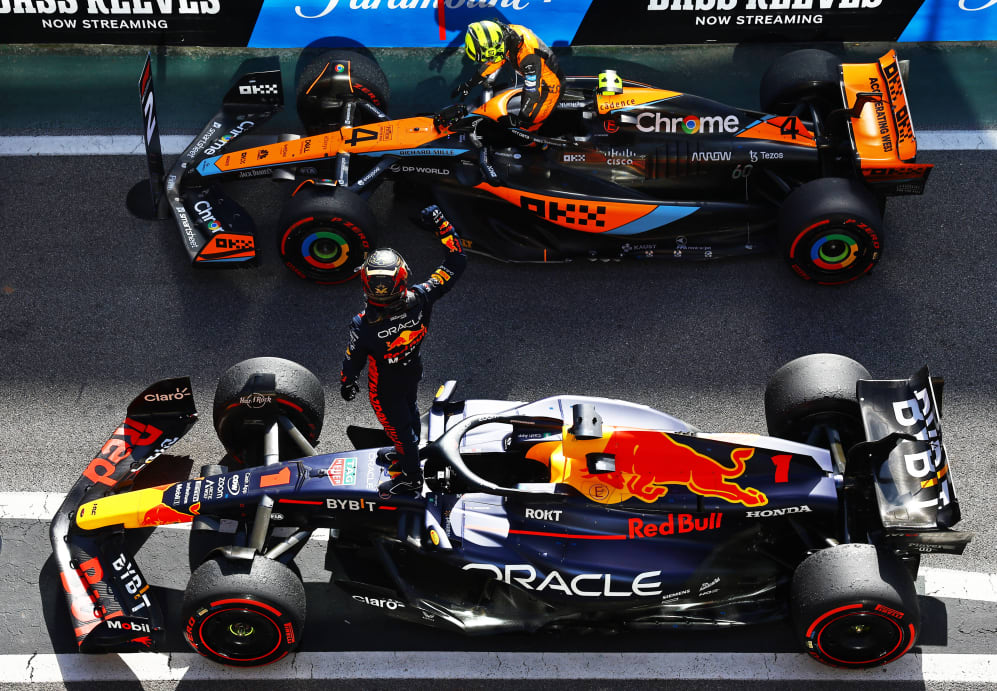 Max Verstappen put in an assured drive to take a dominant victory in the Sao Paulo Grand Prix, making it a record-breaking 17th win for the world champion in 2023.
There was drama even before the race had got under way when Charles Leclerc went off on the formation lap after losing the hydraulics, forcing him to retire. When the lights went out, Verstappen made a clean start into the lead, but a heavy collision between Alex Albon and Kevin Magnussen behind resulted in the red flags being thrown.
It was another strong getaway from Verstappen at the restart, who resisted a challenge from Norris to hold P1 before going on to clinch his second win of the weekend after coming out on top in Saturday's Sprint. Norris claimed a solid second place, while Alonso completed the podium after holding off Sergio Perez in a thrilling battle to the line.
Lance Stroll added to Aston Martin's tally by taking fifth, ahead of the sole Ferrari runner of Carlos Sainz in sixth. Pierre Gasly was the lead Alpine in seventh, while Lewis Hamilton ended a tough day for Mercedes in P8. Yuki Tsunoda and Esteban Ocon rounded out the top 10.
FORMULA 1 ROLEX GRANDE PRÊMIO DE SÃO PAULO 2023
Brazil
2023
Race results
POSITION
TIME
POINTS

1

Max

Verstappen VER

Red Bull Racing

1:56:48.894

25

2

Lando

Norris NOR

McLaren

+8.277s

19

3

Fernando

Alonso ALO

Aston Martin

+34.155s

15

4

Sergio

Perez PER

Red Bull Racing

+34.208s

12

5

Lance

Stroll STR

Aston Martin

+40.845s

10
Logan Sargeant just missed out on points in P11 and Nico Hulkenberg ended up in 12th, with both drivers running solo for their respective teams.
Daniel Ricciardo and Oscar Piastri were the last of those to cross the line in P13 and P14. The Australian pair had each suffered damage in the first-corner incident but were able to have their cars repaired during the red flag period.
There were several retirements from the race, with George Russell forced to pit owing to an oil temperature issue after a challenging afternoon, while the Alfa Romeo duo of Valtteri Bottas and Zhou Guanyu both recorded a DNF due to technical problems.
Magnussen and Albon were out following their first-lap crash, while Leclerc also recorded a DNF due to his formation lap exit.
AS IT HAPPENED
After a thrilling F1 Sprint in which Verstappen added to his tally of wins, all eyes were now on Sunday's action at Interlagos. Could the world champion repeat his success, or might his rivals have benefitted from knowledge gained during Saturday's running?
There had been some changes made to the original starting order since Friday's qualifying – Russell, Ocon and Gasly had all been penalised two grid places for driving unnecessarily slowly and failing to follow the Race Director's instructions.
Everyone barring Sargeant opted to start the event on the soft tyres, with the Williams driver instead using the medium compound. Verstappen lined up in pole on a used set, while Leclerc and Stroll in second and third had gone for fresh rubber.
Before the lights had even gone out, there was a shock when Leclerc went off at Turn 7 on the formation lap. The Monegasque reported that he had lost the hydraulics, prompting him to question why he was "so unlucky" on the team radio. He pulled down an escape road, putting him out of the race.
When things did get under way, Verstappen made a solid getaway to hold the lead, while Norris impressively shot up into P2 from P6. Hamilton also had a strong launch to move into third, getting the leap on the Aston Martin duo. There was a big collision behind, though, between Magnussen and Albon, leading to the Safety Car being deployed as both had crashed heavily.
Replays showed that Hulkenberg was squeezed and subsequently made contact with Albon, which ricocheted the Williams into the path of Magnussen. Piastri was also caught up in the incident, having suffered a broken rear wing after being clipped from behind by the Dane. This looked to have put the McLaren out of the running, while Ricciardo had also pulled into the pits after sustaining damage to his rear wing, seemingly due to a flying tyre carcass.
With the red flags being shown due to the extensive debris out on track, everybody headed into pit lane. This seemed to offer hope for Piastri, with the Australian's engineer informing him that they would try to repair the car in time to take the restart.
The pause to proceedings paid off for both Piastri and Ricciardo who, having had their cars fixed, were able to take the restart from the pit lane. Meanwhile the rest of the field made their way to the grid for a standing start, with Verstappen again acing his launch into P1 while Norris managed to stay ahead of Hamilton.
Hamilton then faced a challenge from a charging Alonso, who used the slipstream to take P3 from the Mercedes into Turn 4. Further back, Alonso's team mate Stroll had fallen backwards to seventh, while Hulkenberg climbed up to P12.
As DRS was enabled on Lap 6 of 71, Norris had managed to stay within a second of Verstappen at the front of the pack. The Briton closed the gap enough to have a look at a possible move into Turn 1, but was unable to find a way and fell back from the Red Bull into the next lap. Had Norris taken too much life out of his tyres?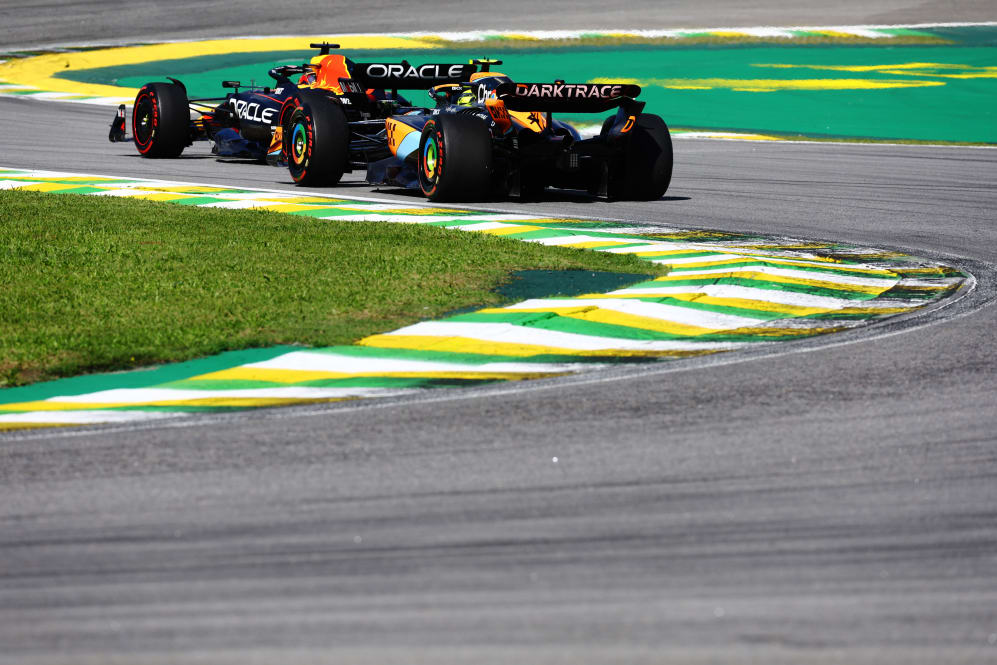 While the top three had pulled away by Lap 10, Russell was voicing some frustration at being held up by Hamilton in the fight for P4, with Perez piling the pressure on Russell for fifth place. Ricciardo and Piastri, meanwhile, found themselves a lap down at the back, while Hulkenberg dropped down to P14 after being overtaken by both Alfa Romeo cars.
Perez got ahead of Russell into Turn 1 and, while the latter tried to fight back down the straight into Turn 4, Perez ultimately was able to hold on. Losing a position prompted Russell to question his team's tactics on the radio, asking: "Are we working together here or are we just doing our own race?" The response was: "We're still discussing."
Ocon was the first to pit on Lap 15 to swap to the medium tyres, followed by Zhou soon afterwards, who looked to be trying to undercut Tsunoda. Elsewhere Perez was now hunting down Hamilton for P4 and soon swept down the inside into Turn 1, with Mercedes looking to be struggling for pace.
Hamilton headed into the pits for his first stop on Lap 19, emerging with medium tyres into clean air in 11th place. His team mate followed suit just one lap later, rejoining the pack behind the seven-time world champion. There seemed to be some concern from Hamilton, who radioed in about a steering issue with his front right tyre.
With Perez pitting soon afterwards, the undercut had paid off for Hamilton as he was ahead when the Mexican returned to the track. There was a sense of deja vu with Perez again having to chase down the Silver Arrows machine. This time he tried to overtake around the outside of Turn 1 – it didn't work, but a move on the straight proved successful.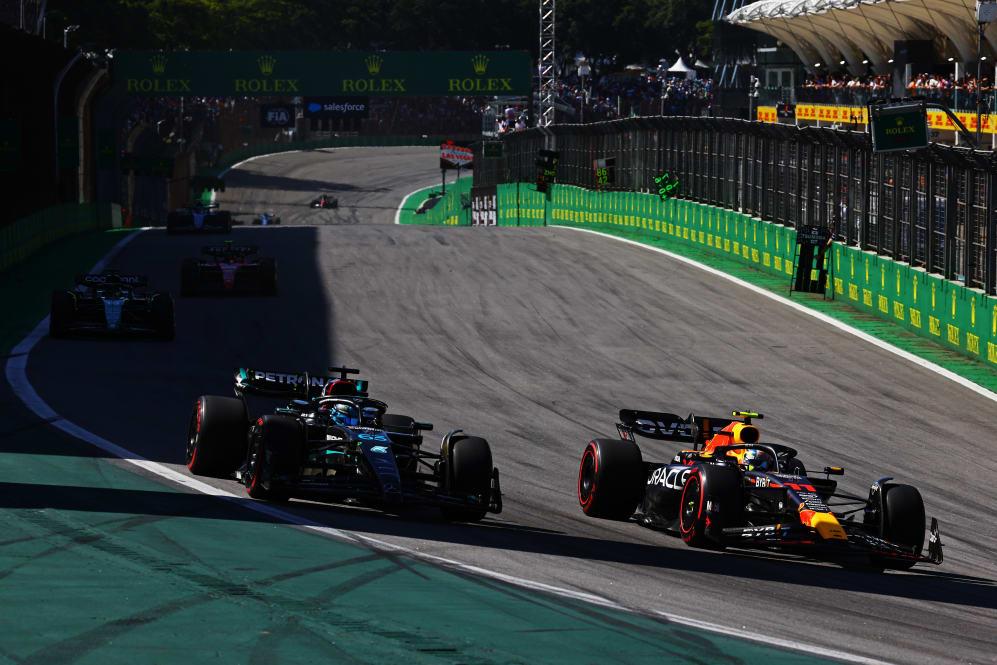 There was a fourth retirement from the race on Lap 24 when Zhou was forced to pit with a technical issue. Meanwhile Stroll had pitted and returned to the track behind Russell, but it wasn't long before the Aston Martin made a straightforward pass on the Briton to clinch P9.
Alonso became the first of the top three runners to make his stop and emerged back out into sixth after bolting on the medium tyre. Piastri, still running in last place, also visited the pits to swap to the soft compound, having complained about the medium over the radio.
As more drivers pitted, Verstappen and Norris both made their stops before heading back out in their same positions of P1 and P2 respectively. There was a bit of action in the pit lane for some, with Sainz being released from his stop just as Tsunoda was driving up the pit lane. After going side-by-side, both ultimately yielded.
While the leading three cars had held position, Perez looked to be closing the gap to third-placed Alonso by Lap 31 of 71. Stroll was four seconds back from the Red Bull in P5, but the battle for sixth was becoming intriguing, with Russell all over the back of Hamilton.
Further back, Bottas looked keen to score a point as the sole Alfa Romeo remaining in the race. Gasly overtook him for P9, but the Finn managed to hold onto 10th. Elsewhere, Sainz had dramatically closed in on that Mercedes battle, with the Ferrari within half a second of Russell.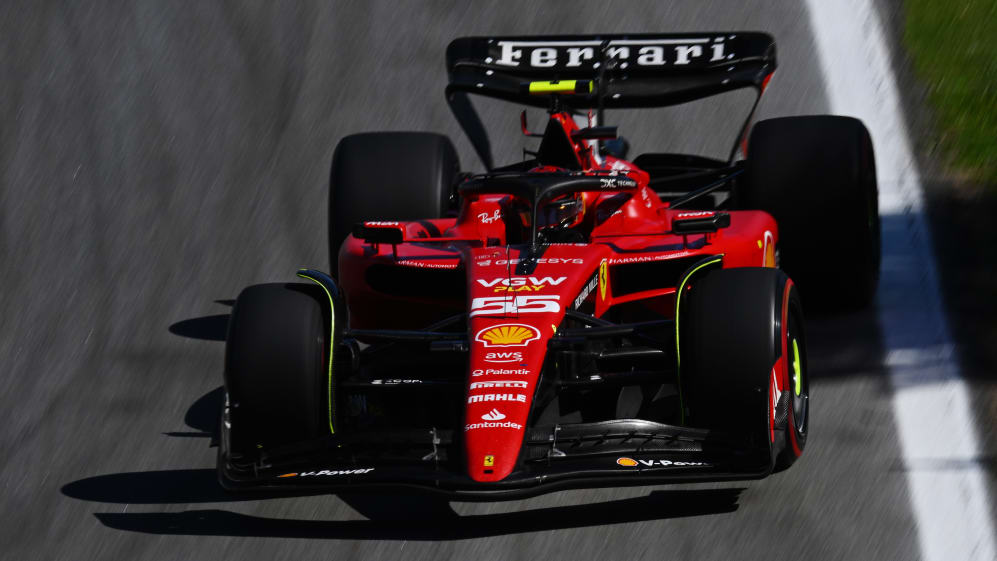 "I'm starting to struggle with the tyres," Hamilton reported on Lap 35. Just moments later, Sainz picked off Russell for seventh – would the Silver Arrows need to consider a three-stop strategy? Up ahead, Perez was continuing to eat into the gap to Alonso in the hunt for third place.
As the Grand Prix passed its halfway point, Tsunoda overtook Bottas for P10 in what could be a crucial move given the constructors' battle between their respective teams, AlphaTauri and Alfa Romeo. The Japanese driver wasn't the only one making moves, with Sainz getting the leap on Hamilton into Turn 4.
At the front, Norris and Verstappen looked to be swapping fastest lap times, but the Dutchman remained five seconds clear of the former. Alonso was 12 seconds back in third and seemed to be remaining cool about the potential challenge from Perez, with the driver from Mexico appearing to lose ground.
Disaster struck for Alfa Romeo when Bottas had to retire his car on Lap 41 with a mechanical problem, meaning that both of the team's drivers were out of the running. There also seemed to be further bother for Russell, who was told to lift and coast and consequently had the Alpine of Gasly closing in on him in a fight for eighth place.
Gasly sailed past into Turn 1 on Lap 43, pushing Russell down to ninth and potentially into the clutches of a fast Tsunoda. Cameras showed Mercedes boss Toto Wolff looking not too happy in the garage as the difficulties seemed to be continuing for his cars.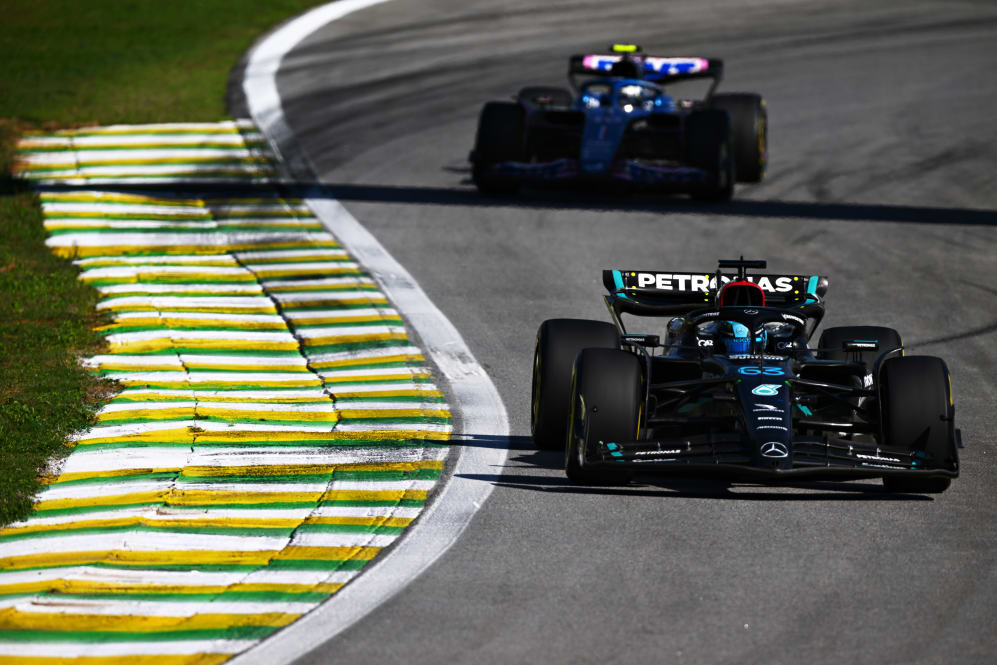 Despite moving into P8, Gasly explained that he had an issue with his brakes, while Hamilton reported that his car felt "bad in the air". Meanwhile the second round of pit stops had kicked off, with Russell putting on some used softs while Hamilton soon followed suit.
Perez overtook Tsunoda after pitting, and Hamilton made a move on Ocon to go into P8. The Briton seemed unhappy with his soft tyres, though, having told his engineer: "We should have gone for the hard tyre."
Alpine opted to switch Gasly and Ocon, putting a flying Gasly into ninth and again on the path of Hamilton. Once again the Frenchman breezed past into Turn 1, leaving Hamilton to question why he still couldn't catch him with DRS.
As Lap 53 of 71 arrived, Perez had taken a second out of Alonso's advantage in the battle for third. The other Aston Martin of Stroll, meanwhile, had a slightly slow pit stop and emerged into P6 ahead of Sainz.
Ocon made another visit to the pits for fresh soft tyres and quickly set the fastest lap of the race, with his team saying that Russell – 14 seconds ahead in P10 – was the target. Up ahead, the scrap between Perez and Alonso had dramatically heated up as the race entered into the last 15 laps, with Perez less than a second away from his rival for the final podium position.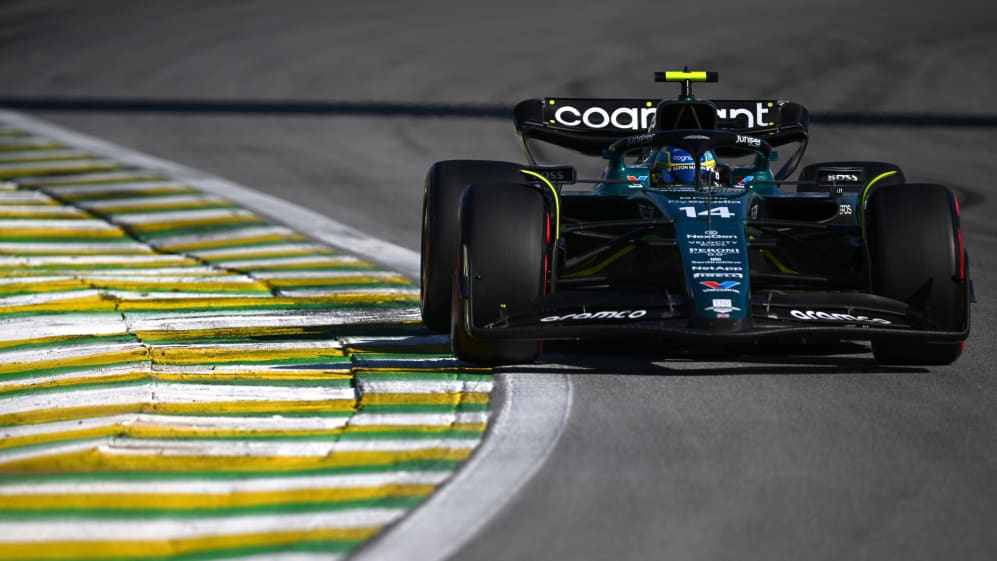 Verstappen made his second pit stop on Lap 58 to put on a set of soft tyres, which handed the lead over to Norris with a gap of 11 seconds. Meanwhile Perez had DRS but was still unable to find a way past Alonso.
Soon afterwards Russell brought an end to what had been a challenging afternoon when he was forced to retire his W14 from the race, with the team stating that it was due to "high and worsening oil temperature".
At the front, Norris headed to the pits and strapped on some used softs. The Briton returned to the circuit in P2, while Alonso was continuing to hold off Perez as they fought for third. Could the Red Bull man find a way through with 10 laps remaining?
Norris was looking speedy, having set a new fastest lap while nine seconds back on track from Verstappen. Elsewhere, Sainz looked to have lost ground to Stroll, with the Canadian holding P5 from the sole Ferrari runner in sixth.
This left all eyes on the Alonso and Perez duel. Perez seemed to be struggling with his tyres while Alonso benefitted from the fresh air ahead of him, being 28 seconds behind Norris. Sainz's position suddenly looked to be less certain, meanwhile, after reporting having no downshifts.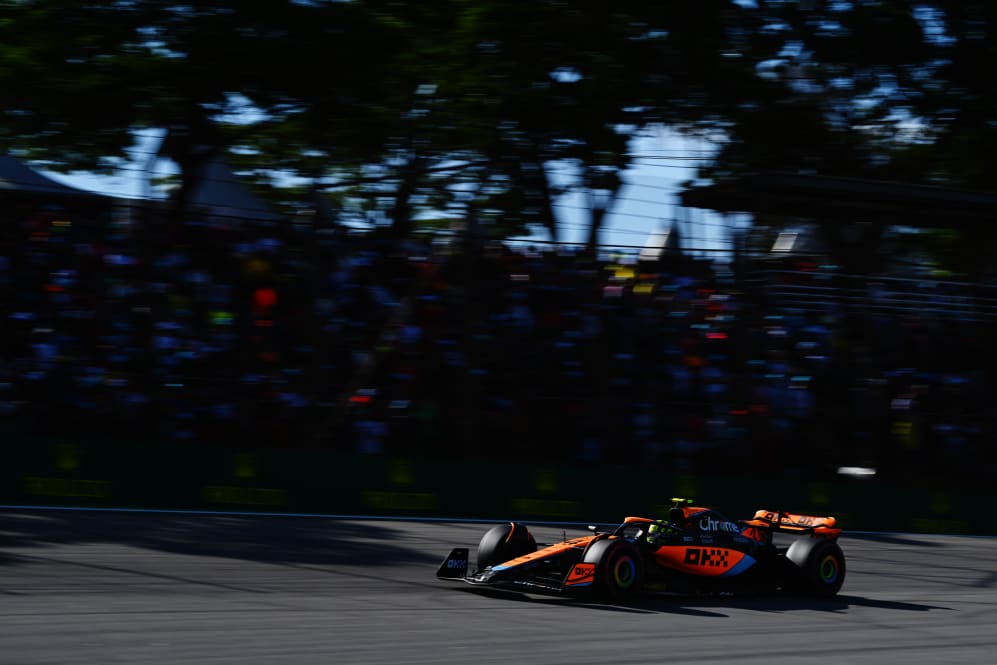 As the race moved into its final two laps, Perez finally dived down Alonso on the inside into Turn 1. The Spaniard wasn't giving up without a fight and tried to have a look into Turn 4, to no avail, while another attempt on the next lap didn't work. It wasn't over yet, though, as Alonso thrillingly returned to third place into Turn 4.
The scrap continued until the chequered flag, where Alonso clung on by less than a tenth of a second in an incredible finish. Up ahead, though, Verstappen had crossed the line to clinch win 17 of the season, with Norris remaining unchallenged in second.
Stroll bolstered Aston Martin's points for the day in fifth, while Sainz managed to hold onto sixth despite his downshift issues. Gasly and Ocon both took points for Alpine in seventh and 10th respectively, with Hamilton and Tsunoda between them in eighth and ninth.
Sargeant and Hulkenberg followed in P11 and P12, and Ricciardo and Piastri were the last of the field to finish the race following their earlier damage in the opening lap melee.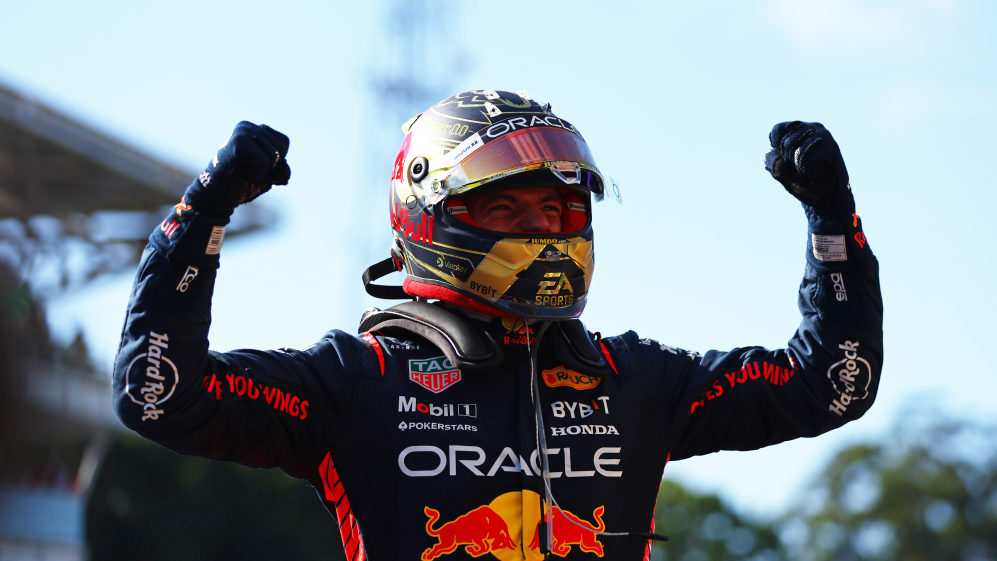 Key Quote
"The starts were very important today; both of them were very good," said Verstappen. "Then after that the whole race was about the management of the tyres. We were good on any tyre, but I think especially that middle stint, we could create a bit of a gap, so I thought that was very strong there.
"It all looked quite good but with the high [degradation] around here, you were constantly correcting the car, so your focus always needed to be there, but luckily it worked out great today."
What's next
There are now just two races remaining on the 2023 F1 calendar, with the first of those being the inaugural Las Vegas Grand Prix, which will take place from November 17-19.