Hamilton can go on to rival Fangio, Schumacher - Sir Jackie Stewart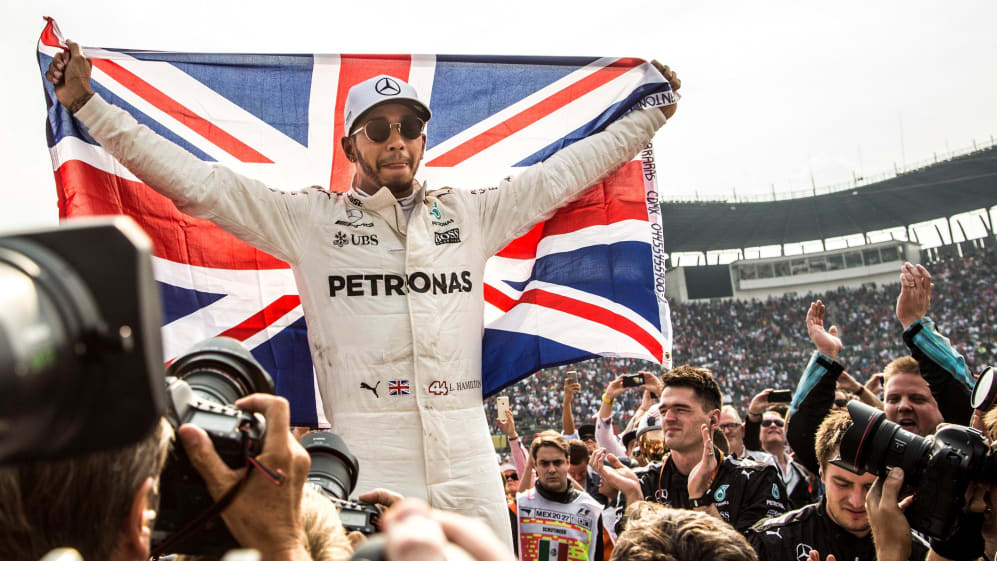 Sir Jackie Stewart says he has no regrets about losing his record for the most world titles by a British driver to Lewis Hamilton - and believes the Mercedes driver could challenge Michael Schumacher's and Juan Manuel Fangio's respective records of seven and five championships in the future.
Lewis has earned everything and deserves every recognition for winning four world championships
"I think Lewis is a worthy winner this year, particularly the second part of the season," said Stewart, whose tally of three world titles was matched by Hamilton in 2015. "He's driven extremely well and totally deserved the championship.
"A lot of questions have been asked of me because Lewis has now surpassed my record, in the British sense, of holding three world championships. I held it for 44 years, which is a ridiculous amount of time.
"From my point of view I have no regrets whatsoever – records are made to be broken. It's almost disappointing that no other British driver has come along during that period of 44 years to beat my record, therefore I congratulate Lewis completely for joining the likes of Alain Prost, Schumacher, Fangio and Sebastian Vettel [as four-time title winners].
"There's no reason to assume Lewis won't go even further and challenge Schumacher's and Fangio's records, and I wish him the very best of luck on that. He's earned everything and deserves every recognition for winning four world championships."
Stewart added that he believes the Mercedes driver still has more potential to unleash. "There's no doubt he's a better driver than when he first won his first world championship," said the Scot.
"You mature, you learn – you never stop learning. If he races for many more years, he'll become an even better driver. I don't think he's reached his true potential.
"I decided to retire at a very early age – I was 34. There comes a time when retirement is a good thing to do. No doubt he will chose that time correctly also. [But] at 32 years of age, you're just maturing."
Stewart also hailed Hamilton's decision to switch to Mercedes in 2013, saying knowing when to switch teams is an often overlooked hallmark of greatness.
"Lewis has of course been much assisted by driving for two of the best teams in the world, McLaren and Mercedes-Benz. You need to be with those top teams to achieve [titles], you can't do it just as a driver.
"He's made the right decisions of being with the right people. Fangio won five world championships with Ferrari, Maserati, Mercedes and so on. He drove a variety of different cars and teams because when he saw who was going to be the best team, he went there.
"That's part of the reason for success - that you make the right decisions. You've got to have the team behind you to achieve. You need reliable engineering of the highest level."
Between them Hamilton (2008, 2014-2015, 2017) and Stewart (1969, 1971, 1973) account for seven of the 17 world titles won by British drivers. The others were won by Mike Hawthorn (1958), Graham Hill (1962, 1968), Jim Clark (1963, 1965), John Surtees (1964), James Hunt (1976) Nigel Mansell (1992), Damon Hill (1996) and Jenson Button (2009).