Hamilton dedicates Monaco pole to Lauda as he likens lap to 'wrestling a bull'
He left it late and even had a big oversteer moment at the penultimate corner, but Lewis Hamilton did enough to secure what is only his second pole position in Monaco – with the five-time world champion quick to dedicate his 85th career pole to his friend and the Mercedes team's non-executive chairman Niki Lauda, who passed away earlier this week.
Hamilton was overcome with emotion on hearing he had done enough to take pole in the Principality, the Briton pipping Mercedes team mate Valtteri Bottas by just 0.086s.
Brimming with emotion, Hamilton climbed out of the car and leapt up onto a nearby catch fence to celebrate with the fans.
"This is definitely one of the best poles I can remember," said Hamilton. "We have had a lot of success over the years but I can't remember one that means as much as this one. It has been such a difficult week for the whole team, and personally it's been a difficult weekend.
"To have a cloud over us this weekend, we have tried to lift each other up and tried to deliver for Niki. P1 and P2 was good for me. Then the car didn't feel as good for me today. I have been throwing the car around, and I was struggling to get a first lap time out of tyres, so I did a prep lap. The timed lap wasn't very good, so I pushed on the first lap of my final run.
"I was just throwing the car around and I'm pretty sure I touched a couple of barriers along the way. There is no better way around Monaco.
"We have a great package. What people need to realise, all of us drivers, we take whatever car we have, fast or slow, we take it to limit. When you hit the limit, it's like wrestling a bull, or whatever you want to say it is, it's out of control the whole time, so it's about trying to balance it and react at the right times.
"I've been quick here but I have never quite got the perfect lap here. Today was as close as I could get to it. This one is for Niki."
Hamilton on Lauda: "He was my partner in crime"
Hamilton opted out of his media duties on Thursday in Monaco and took a moment to collect his thoughts before answering a question about Lauda, who had been instrumental in bringing him to Mercedes from McLaren ahead of the 2013 season, for the first time in the post-qualifying press conference.
"The other day, I didn't feel like I was really ready [to talk about Lauda]," said Hamilton. "Toto [Wolff, Mercedes Team Principal] felt similar and maybe for Valtteri as well. There wasn't time for us to dig deep into our feelings. Toto and myself had multiple conversations this week. I was in touch with Niki a lot through these past eight months. We were sending videos back and forth to each other.
"It was always difficult as some days he looked good, he was perky and saying 'I'm coming back, I'm feeling strong' and other days, he had lost a lot of weight. It was tough. I'm fortunate I got to see him. When I found out other day, I was here at home in Monaco, down by the pool where I live, and I remembered getting a call from Niki in 2012.
"We hadn't really spoken, me and Niki. He said 'You should come to Mercedes'. There is always talk about how Ross [Brawn, then Mercedes team boss] was the convincing element in me coming to team. I sat down with him and he explained where the team was going and I believed in the vision but Niki was the one who brought it to me and put it across.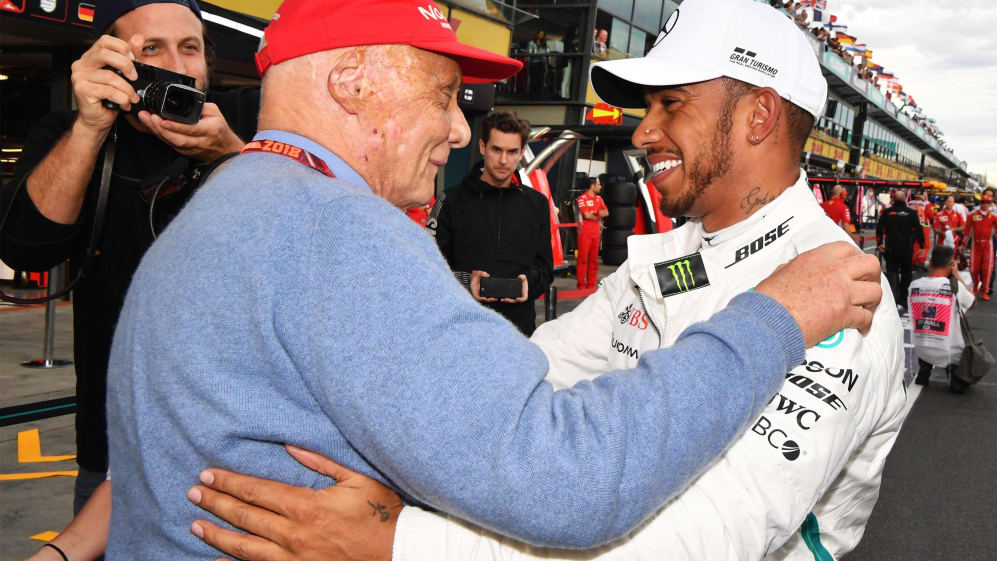 "All these years, he has been my partner in crime, in all my negotiations and in pushing for improvements on the car. He was such a racer. He would ask what needed to be improved. You would tell him and he'd go to the factory and tell them.
"He was part of the process of changing my life. If I hadn't had that call, I'd be a one-time world champion and I sit here a five-time world champion and definitely feel like I owe him a lot. We all love him and miss him. It is hard to imagine what to think, when someone goes and you don't get to speak to them again. I have great memories and he'll live on in all our memories."
Mercedes are running a red halo in honour of Lauda this weekend, while they also have a "Danke Niki" message and his signature on the car's nose, and one the silver stars on the engine cover has been switched to red.
F1 will honour Lauda with a minute's silence on the starting grid ahead of the race, with the drivers, dignitaries and a number of Lauda's contemporaries and peers each set to hold a red cap, which had becomme synonymous with the Austrian.