Hamilton explains how mental 'reset' after Q2 spin enabled him to take record-breaking pole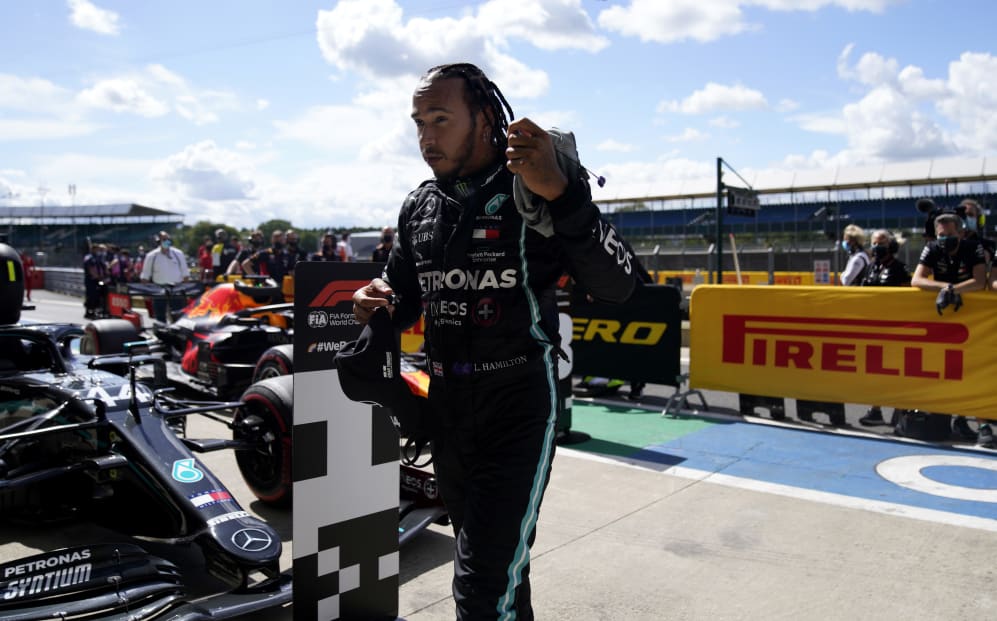 The 91st pole position of Lewis Hamilton's career looked in serious doubt midway through qualifying for the 2020 British Grand Prix, as he sensationally spun his Mercedes coming out of Luffield. But an incredible recovery from the six-time champion saw him claim a record seventh home pole at Silverstone – and he admitted he had to dig deep to get the job done.
Hamilton was on the back foot all through the first two segments of qualifying, as team mate Valtteri Bottas headed him in Q1 and Q2, while Hamilton's Q2 spin while trying to make it through to the final part of the session on medium tyres seemed to confirm his struggles.
READ MORE: Hamilton recovers from spin to take record seventh Silverstone pole
"In actual fact it really wasn't a nice qualifying session for me," said Hamilton afterwards. "I made some changes going into qualifying, and it was worse… I had this inconsistency with the balance of the car and I was struggling.
"Obviously I got into Q2 and had that big snap and spin, which is my first spin in some time. Qualifying's all about confidence building and damn, I had that spin and I was already down, I was struggling through the first section every lap.
"But then it's just really trying to recompose yourself and get yourself back aligned, because it's just building blocks when you go through qualifying. And that was probably the hardest turnaround, I would say, knowing that Valtteri had just been putting in quick lap after quick lap. So to go into Q3 with a kind of fresh reset mentally… I don't know how but with some deep breaths, I managed to compose myself."
Indeed he did, and after taking provisional pole with his first flying effort in Q3, his second put it beyond doubt, with Hamilton finishing 0.313s ahead of Bottas – and over a second clear of Red Bull's Max Verstappen in P3. On top of that, Hamilton's lap of 1m 24.303s established a new track record, while he also set a new record for the most pole positions by a driver at their home Grand Prix with his seventh Silverstone pole.
"Putting in those two laps is fab, I feel great," said Hamilton. "Q3 started off the right way. It still wasn't perfect the first lap but still a really clean lap – and the second once was even better.
"Obviously it's a relatively big gap between us and third place, but it doesn't matter," he added. "Valtteri's been pushing me all weekend, he's incredibly quick here. I think I had a tenth and a half advantage to him after the first lap and I knew that he would pick up some pace in that second run so the pressure was still on to go out and do better.
"We really missed the energy of the fans, the roar of the fans, so hopefully they enjoyed that today."
Both Hamilton and Bottas will start Sunday's British Grand Prix on medium tyres, after going through on the yellow-marked rubber in Q2, along with the Racing Point of Lance Stroll, the Ferrari of Charles Leclerc and Red Bull's Verstappen.
Meanwhile, a promising sign for Hamilton is the fact that the polesitter has won the last six Grands Prix – although you have to go back to 2017 for the last time the Silverstone polesitter (Hamilton himself) converted pole to victory at the Northamptonshire track.