Report
Hamilton wins epic season opener by just 0.7s after thrilling battle with Verstappen in Bahrain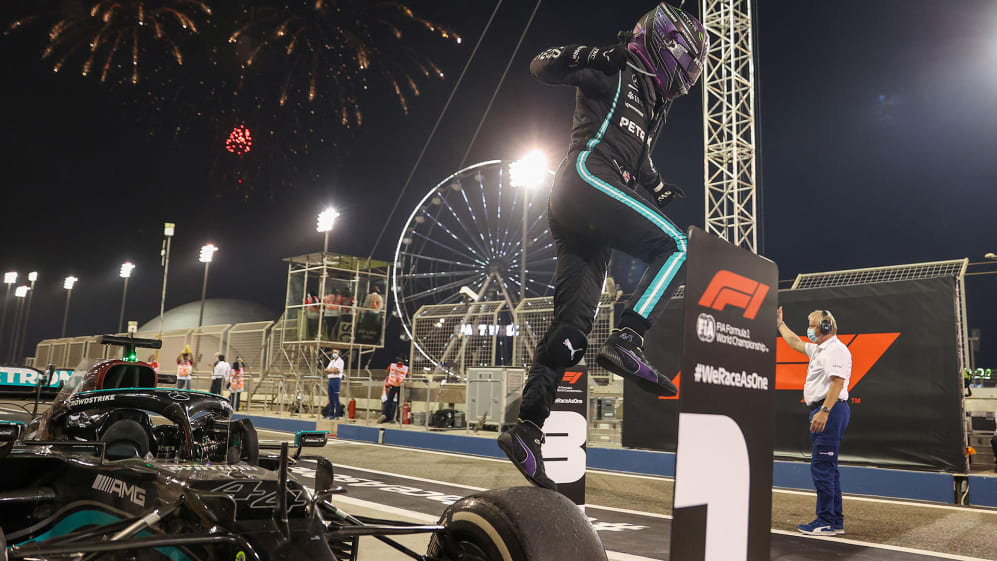 Mercedes' Lewis Hamilton won a nail-biting Bahrain Grand Prix season opener, triumphing over the Red Bull of Max Verstappen in a fantastic duel in the desert that went down to the very last lap of the race, as the second Mercedes of Valtteri Bottas completed the podium.
Starting from the fourth pole position of his career, Verstappen had taken control of the race early on, but lost his advantage when Hamilton was able to undercut the Dutchman into the lead in the first round of pit stops. Following a second stop for both drivers – Verstappen's coming 10 laps after Hamilton's – a thrilling finale was set up, Verstappen eating into Hamilton's lead before attempting a pass on Lap 53 but running too wide and giving the place back.
RELIVE THE RACE: All the action from the 2021 Bahrain Grand Prix
That would be Verstappen's last opportunity, with Hamilton able to hold on until the flag to take his 96th career win by less than a second – while Hamilton also passed Michael Schumacher's record of 5,111 for the most laps led in F1 history.
Behind the duelling lead pair, Bottas finished a distant third after a late stop to successfully gain the fastest lap bonus point, while Lando Norris equalled his result from the 2020 Bahrain Grand Prix with a fantastic drive to fourth for McLaren.
FORMULA 1 GULF AIR BAHRAIN GRAND PRIX 2021
Bahrain
2021
Race results
POSITION
TIME
POINTS

1

Lewis

Hamilton HAM

Mercedes

1:32:03.897

25

2

Max

Verstappen VER

Red Bull Racing

+0.745s

18

3

Valtteri

Bottas BOT

Mercedes

+37.383s

16

4

Lando

Norris NOR

McLaren

+46.466s

12

5

Sergio

Perez PER

Red Bull Racing

+52.047s

10
After a formation lap issue that forced him to start from the pit lane, Sergio Perez recovered to fifth on his debut for Red Bull, ahead of the Ferrari of Charles Leclerc and the second McLaren of Daniel Ricciardo.
It was the second Ferrari of Carlos Sainz who took eighth, ahead of rookie Yuki Tsunoda in ninth, while Lance Stroll gave Aston Martin points on their return to F1 with P10.
So, it was disappointment for Verstappen and glory for reigning champion Hamilton at round one – but after a thrilling battle, it looks like we've definitely got a tight struggle for supremacy in 2021 between Red Bull and Mercedes on our hands.
AS IT HAPPENED
Sergio Perez gave Red Bull a heart-in-their-mouths moment even before the race had begun, his Red Bull RB16B pulling up on the formation lap with an issue. Perez – who, like Pierre Gasly, had taken a new control electronics and energy store on his car before the race – was able to get the RB16B going and take up position at the end of the pit lane to take the race start, as the grid were forced into a second formation lap.
When the five red lights on the Bahrain International Circuit gantry were eventually extinguished and the 2021 season got under way, all eyes were fixed on how the sister Red Bull of Max Verstappen on pole would fare against the menacing black Mercedes W12s of Lewis Hamilton and Valtteri Bottas starting alongside and astern of him.
Very well, as it turned out. Verstappen smoothly covered off the threat from Hamilton, to hold the lead going through Turn 1, with Bottas coming under attack from the Ferrari of Charles Leclerc starting P4, Leclerc eventually getting ahead of the Finn before a Safety Car was called into action. That was because of Nikita Mazepin, who'd spun his Haas coming out of Turn 3 and smashed into the wall – an inauspicious, but fortunately non-serious, way to conclude his F1 debut.
WATCH: Mazepin crashes out in action-packed Bahrain Grand Prix start
The race got going again on Lap 4 of 56 (the aborted first formation lap having taken one lap off the planned 57), Verstappen waiting as late as possible to put his foot down at the restart as he tried to reduce the opportunity for Hamilton to slipstream him into the lead down the straight.
The Dutchman managed it cannily, heading Hamilton, who himself led Leclerc, Bottas, Gasly, Norris and Ricciardo – Norris having passed his new team mate before the Safety Car was called – with Fernando Alonso in eighth ahead of Stroll and Sainz.
Norris was looking fighty early doors, though, and straight away passed Gasly at the restart. Ricciardo did too, but clipped the Frenchman's front wing, ripping it from the AlphaTauri AT02 and forcing Gasly in for a change – while debutant Mick Schumacher dropped his own Haas coming into Turn 6 and spun. Bottas re-passed Leclerc for P3 on Lap 6, while Norris too was past the Ferrari driver three laps later.
WATCH: Gasly loses front wing in Ricciardo clash
On his F1 return, Alpine's Fernando Alonso pulled the trigger for the first round of pit stops on Lap 11, and with Verstappen having eked out a near two-second advantage over Hamilton in the early stages, the work of Red Bull and Mercedes' pit crews and strategists would be key as to whether the Dutchman could keep his advantage.
Hamilton was in for hards on Lap 13, and flew on his out laps. Verstappen would wait four more laps to make his own stop – but the undercut is powerful in Bahrain, and Red Bull's delay in bringing their man in meant that Hamilton was able to jump into the lead, and by a full 7s at that.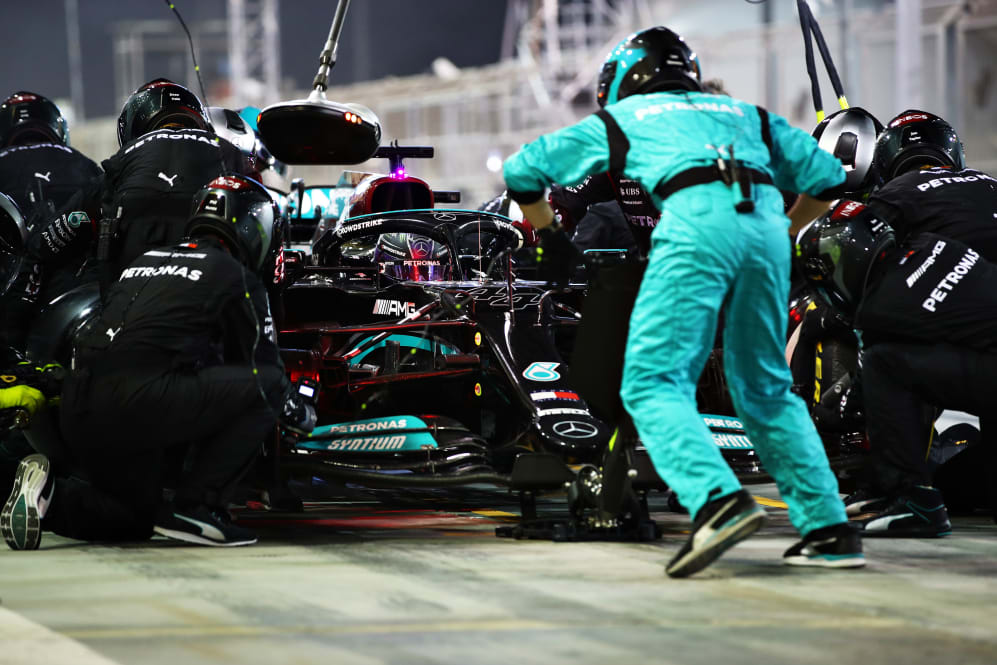 So it was advantage Mercedes after the first stops, Hamilton comfortably heading Verstappen by Lap 20, while Bottas had been able to pass Perez for P3 – the Mexican having pitted under the Safety Car on Lap 3, before managing to climb into the podium places – with Perez then pitting again for hards on Lap 22 and dropping back down the order.
Behind, and around 14s adrift, it was Norris from Leclerc, Ricciardo and Stroll, while Carlos Sainz was up to P8, having won out in a thrilling Lap 21 duel with multiple champs Alonso and Sebastian Vettel.
WATCH: 2021 Bahrain Grand Prix: Alonso, Sainz and Vettel battle in Sakhir
Verstappen, though, wasn't hanging around, and went about eating into Hamilton's lead, taking seconds out of the reigning champ's lead. It got Mercedes sweating, and after just 16 laps on his hards, Hamilton was in on Lap 28 for another set of hards.
That appeared to leave Bottas in P2 to go after Verstappen, but Mercedes brought the Finn in too two laps later, where a sticking right-front tyre kept him stationary for 10.9s, bringing him out in P5 behind Norris and Leclerc – McLaren and Ferrari then sparing Mercedes' blushes by quickly pitting those two drivers in quick succession, along with Ricciardo and Sainz.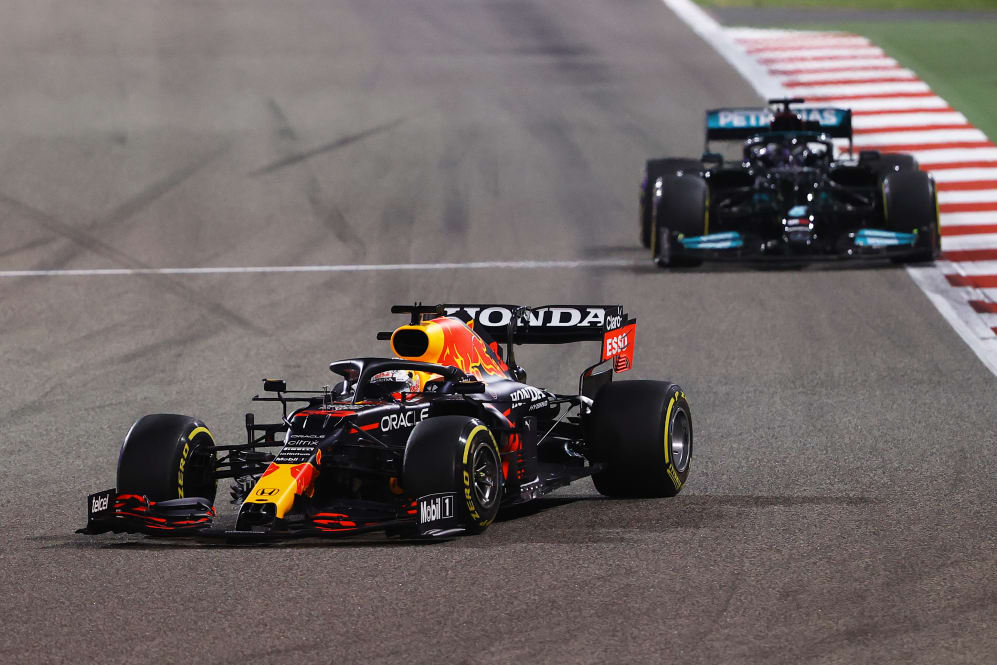 The advantage, then, had swung decisively back to Red Bull, who eventually brought Verstappen in on Lap 39, one lap after Perez, with Verstappen emerging on hards after a beautiful 1.9-second stop from Red Bull. He was now 8.5s behind Hamilton in P2, on 10-lap-younger tyres, and with 16 laps to the flag to get after the Mercedes. Game on.
Alonso's F1 return had ended on Lap 33 meanwhile with a brake issue, dropping the Spaniard out of 10th place, and meaning that by Lap 43 of 56, the order was Hamilton, Verstappen, Bottas, Norris, Leclerc, Ricciardo and Perez – who'd passed the Aston Martin of Stroll for P7 on Lap 40 – with Sainz and Yuki Tsunoda rounding out the top 10.
Vettel had been given a five-place penalty and three penalty points for a qualifying infringement ahead of the race start – and the German was in more trouble on Lap 44 as he ploughed into the rear of Esteban Ocon at Turn 1, both cars spinning around before getting going again – and with the stewards handing Vettel a further 10-second time penalty, and two more penalty points for his troubles.
READ MORE: Vettel starts Bahrain GP from last after being hit with grid penalty for ignoring yellow flags
Up at the front, though, we had a fascinating finale in prospect, as Verstappen visually eroded Hamilton's lead down as the laps ticked away. The crunch moment between the pair finally came on Lap 53 of 56, as Verstappen muscled around the outside of Hamilton into Turn 4 to claim the lead. He'd done it – only he hadn't, Verstappen having run too wide in the move, and honourably relinquishing the place back to Hamilton on the run down to Turn 11.
It would turn out to be the Dutchman's last chance at an overtake, and with Verstappen's hard tyres appearing to begin to lose grip in Hamilton's turbulent air, the Mercedes was able to hold on, Hamilton claiming win number 96 – and ending up leading his 5,126th lap by the chequered flag to take a new F1 record from Michael Schumacher to boot.
"That was a really good start for us" said a delighted Hamilton after the race – and considering that two weeks before at pre-season testing, he'd been sat in a gravel trap at Turn 13 in a Mercedes W12 that had looked borderline undriveable at times, as rivals Red Bull thrived, he wasn't wrong.
Behind Hamilton and a philosophical Verstappen – the polesitter, who'd dominated the weekend in the build up to the race, saying that it had been "great to start the year" to put Mercedes under such pressure – Bottas was a disappointed third, having never looked on the pace of his team mate all weekend, and having been unable to make it a hat trick of season opener wins. McLaren's Norris was one of the stars of the race, claiming P4 for the team as he did last year in Bahrain, three places up on new team mate Ricciardo, and with the second Red Bull of Perez and Ferrari's Leclerc in between.
The hype surrounding Yuki Tsunoda won't have been abated by the Japanese taking points on his F1 debut in ninth, behind the second Ferrari of Sainz, as Stroll rounded out the top 10 – Vettel's clumsy incident with Ocon and subsequent penalty leaving him P15 on his Aston Martin debut at the flag, ahead only of his compatriot, and another debutant, Mick Schumacher.
The two Alfa Romeos of Kimi Raikkonen and Antonio Giovinazzi ran solidly but just out of the points to claim P11 and P12, ahead of Ocon and the Williams of George Russell in P14 – Russell's team mate Nicholas Latifi and Gasly having been quietly retired a few laps from the end.
So round one, and the first blow has been struck by Mercedes. But while in seasons past, there might have been a grim inevitability to that result, don't be fooled: this looks like a proper fight in prospect between the Silver Arrows and Red Bull in 2021.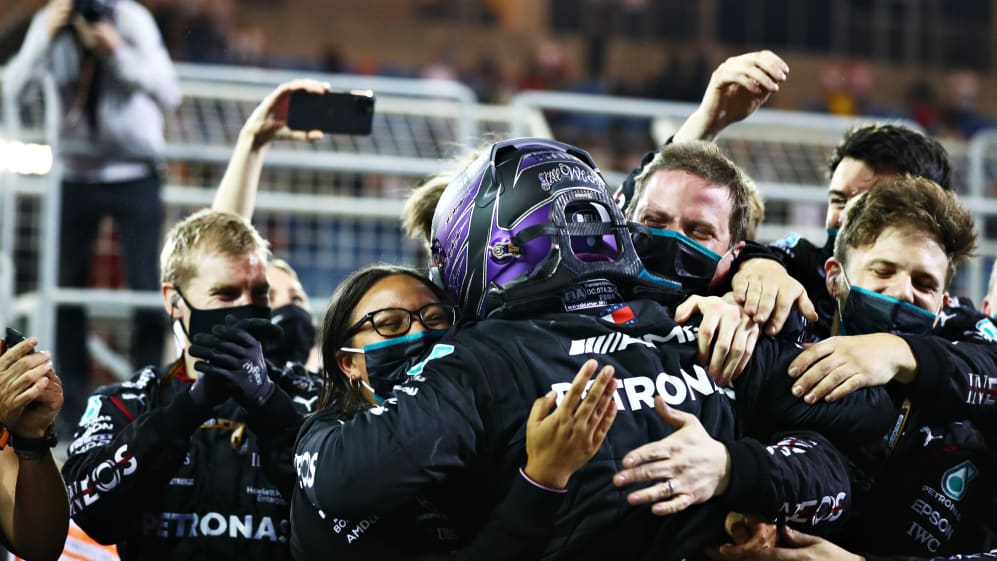 The key quote
"Wow, what a difficult race that was. Definitely stopping early, we knew it was going to be difficult, but we had to cover Max. They've had amazing performance all weekend, so it was going to take something special. We stopped for that last stint and tried to find the right balance not pushing too much and having tyres for the end of the race.
"It was difficult and Max was right all over me right at the end and I just about managed to hold him off. It was one of the hardest races I've had for a while. So I'm really grateful for it and massively thankful to the men and women back at the factory and here also for continuously pushing the boundaries and never giving up, even if we do feel we're behind" – Lewis Hamilton
What's next?
Now that the season's under way, we've got two weekends off before Formula 1 makes a welcome return to Imola for the 2021 Emilia Romagna Grand Prix. Lewis Hamilton won for Mercedes at the iconic track last year – but will he be able to repeat the feat in 2021?