Report
Morning report: Hamilton brings out red flags on Day 2 as Ricciardo and Alonso top the time sheets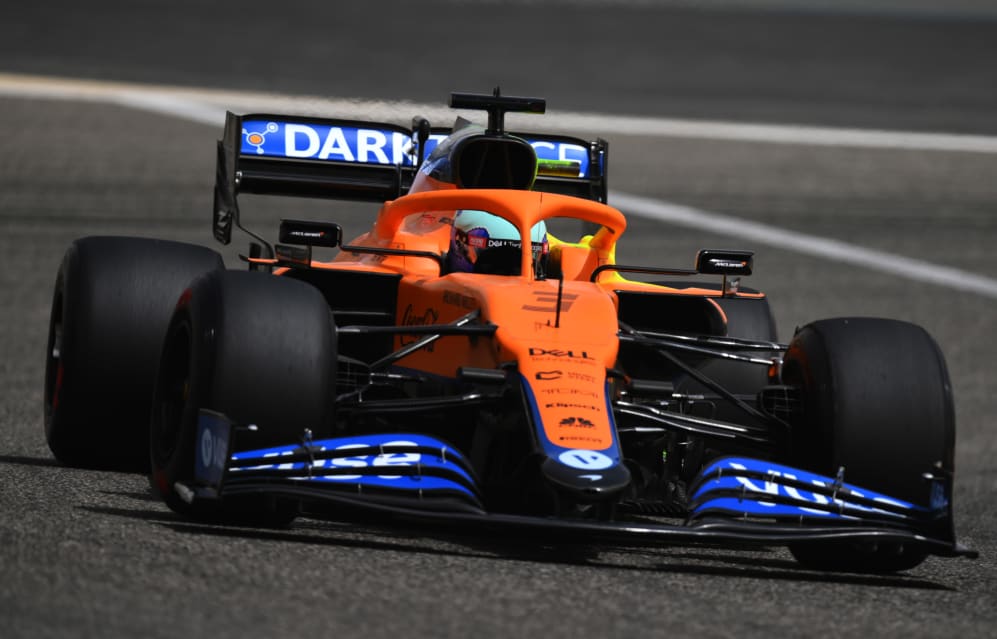 Daniel Ricciardo continued to look comfortable in his new McLaren MCL35M, as for the second consecutive day, the Australian headed the morning session of 2021 pre-season testing in Bahrain. But there was drama after seven-time champion Lewis Hamilton beached his Mercedes W12 in the Turn 13 gravel, bringing out a red flag.
Although there were no signs of the sandstorm that blighted yesterday afternoon's running, conditions were still hot and windy at the Bahrain International Circuit.
GALLERY: The best pics from Day 2 of pre-season testing in Bahrain
Those conditions contributed to dramatic spins for Ferrari new boy Carlos Sainz and Williams' Nicholas Latifi. But just after midday, Hamilton attempted a hot lap on the C3 tyres when he lost the rear of his Mercedes and spun backwards into the gravel at Turn 13, bringing out the first red flag of the day.
Once Hamilton's car was recovered to the Mercedes pits, the seven-time champion was able to head back out, completing 58 laps in total but only ending up eighth on the time sheets. But it was yet another setback for reigning champions Mercedes, who missed a large part of yesterday's running with a gearbox issue.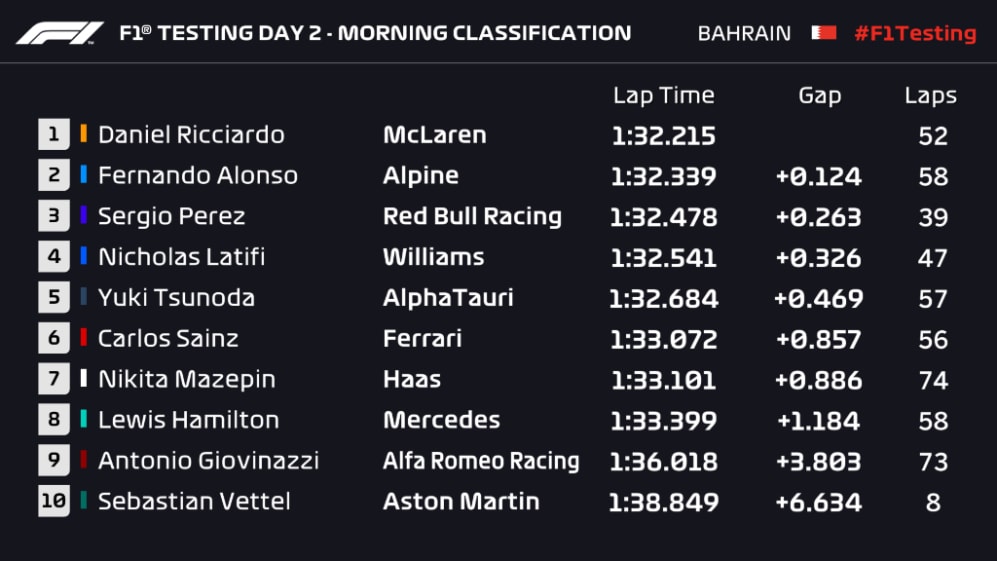 Ricciardo, however, picked up where he left off from yesterday morning – when he'd led the times in the Mercedes-powered McLaren – stopping the clocks with a 1m 32.215s, some way shy of Red Bull driver Max Verstappen's best time of 1m 30.674s from yesterday.
Behind Ricciardo, Fernando Alonso made his F1 pre-season testing debut with Alpine on his return to the sport, and quickly showed that he hadn't lost any of the old magic, going second fastest on the C2 tyre, 0.124s off Ricciardo's time.
READ MORE: Alonso to race with titanium plates in jaw in 2021 – but says performance will be unaffected
Third was another driver making their debut for their new team in Bahrain, as Red Bull's Sergio Perez overcame a brace of Turn 11 offs to take P3, 0.263s off the ultimate pace.
Latifi overcame his spin to go fourth fastest with run on the softest C5 tyres on his first day in the Williams FW43B, ahead of AlphaTauri's Yuki Tsunoda, who'd gotten his first taste of F1 pre-season testing yesterday in the team's AT02.
Sainz could only manage sixth after an uncomfortable-looking morning for the Spaniard in the Ferrari SF21, which he still doesn't appear completely at home in, while Nikita Mazepin did a solid job on his second day in the Haas VF-21 to go seventh – the Russian having one heart-stopping moment where he nearly drove into the back of the slow-moving Hamilton, who ended up behind him in P8.
Antonio Giovinazzi was P9 for Alfa Romeo. But it was a challenging second day in the Aston Martin AMR21 for Sebastian Vettel, who managed just six laps before a gearbox issue confined him to the garage for much of the rest of the session – with Vettel emerging with just minutes of the session to spare to complete a practice start.
LIVE COVERAGE: Follow all the action from Day 2 of Pre-Season Testing in Bahrain
And with Lance Stroll due to take over the car for the afternoon session, Vettel will be all too aware that he has just one more half day to get himself dialled into the new car ahead of the season start.
So that was how it looked in the morning on day two. But with track temperatures set to dip in the afternoon session as the sun goes down and the floodlights flash on, we should expect to see the times tumbling in Bahrain.