Hamilton: 'I was too friendly in Turn 1' at the start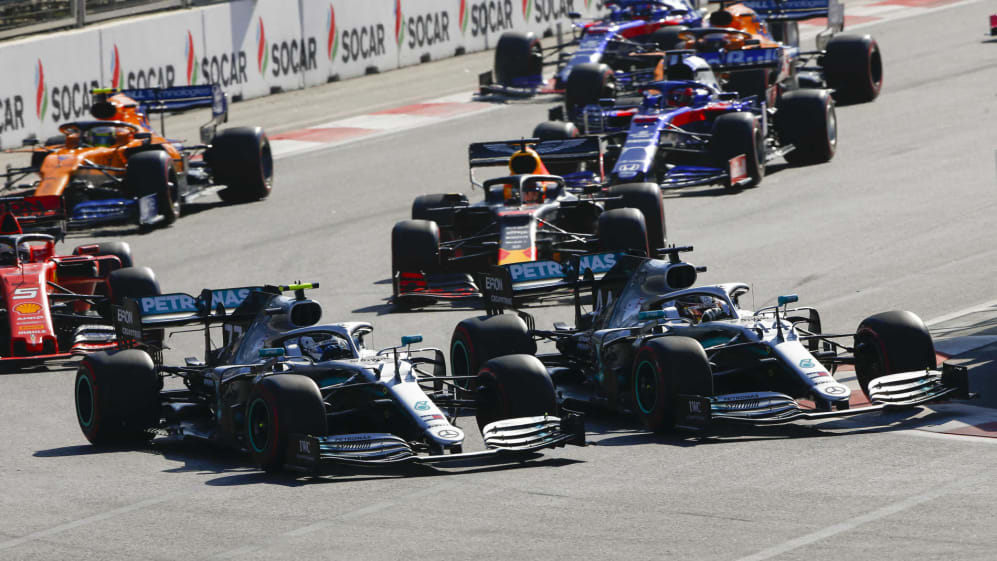 Mercedes Team Principal Toto Wolff must have been holding his breath when the racing got underway in Azerbaijan, as he watched his two drivers going wheel to wheel for the first few corners of the Baku City Circuit before Valtteri Bottas eventually came out on top.
But having made the better start of the two off the line, Lewis Hamilton was left wondering afterwards whether he'd been too kind to his team mate.
As he did at the Chinese Grand Prix two weeks ago, Hamilton enjoyed a better initial launch than Bottas from second place on the grid, and once again appeared to have the advantage heading into Turn 1.
READ MORE: Bottas wins in Baku to secure fourth straight Mercedes 1-2
But the onboard cameras from Hamilton then picked up the nose of Bottas' W10 coming back at him, the Finn toughing his way back ahead on the run down to Turn 2 before decisively sweeping across a respectful Hamilton to take a lead that would eventually see him record his second win of the season, as Hamilton went on to finish second.
For a team boss, the opening three corners of the Grand Prix had been a perfect demonstration of how team mates should handle wheel-to-wheel racing. But the selfish racing driver in Lewis Hamilton couldn't help thinking after the chequered flag that he may have left too much on the table in the on-track battle...
"I was too friendly in Turn 1," said Hamilton simply, "and basically gave it to him, but he drove a fantastic race, made no mistakes and so he deserved the win this weekend."
Hamilton went on to justify his deference to his team mate, however, explaining how he'd been conscious of not wanting to hand any advantage to the chasing pack behind – and especially the Ferrari of Sebastian Vettel, who eventually finished the race third.
"It's very difficult," said the world champion. "Ultimately, you always have to remember when you're a team as a big as this, you're only one. Selfishly, I could have pushed a lot harder, I could have gained, he could have lost and maybe lost to Ferrari. So while I wanted to overtake, I had to be cautious so we could block the front row. We did that and sometimes that sacrifice, you have to make if you want to win.
"Valtteri [and I], we've always had respect for each other. We discussed it before race. We're real gentlemen."
Hamilton can at least take comfort in Mercedes have secured a new record for one-two finishes at the start of the season, the Silver Arrows now having headed the first four races of the year – to trump Williams' record of three from 1992 – while Hamilton and Bottas now have two wins apiece – although Bottas' fastest lap from Australia sees him enjoy a one-point advantage over Hamilton in the drivers' standings.