Hamilton pleasantly surprised to be so close to favourites Ferrari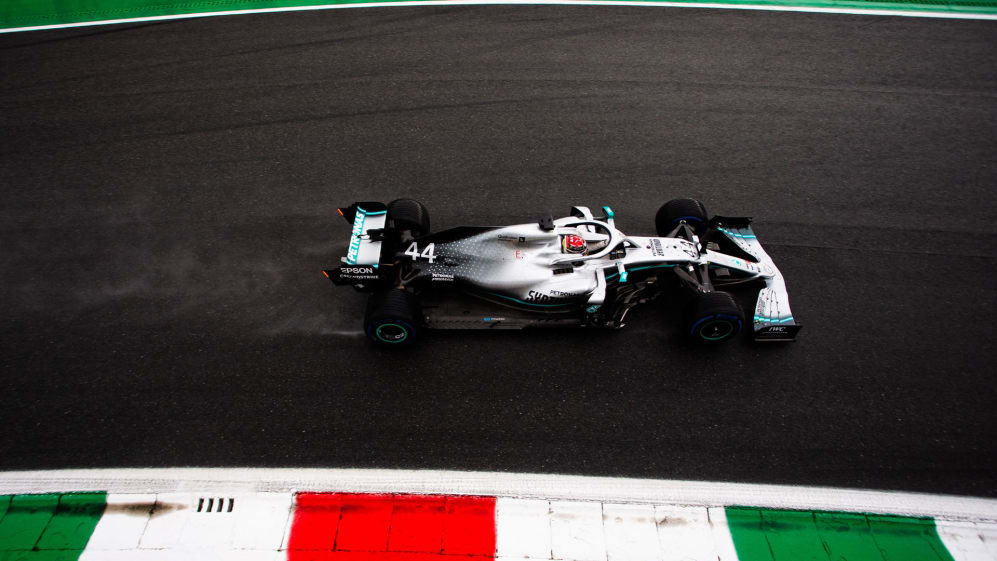 Lewis Hamilton described Mercedes' pace as 'surprising' compared to Ferrari's at Monza after he finished FP2 in second place on Friday, just behind leader Charles Leclerc. The Mercedes driver spoke after a tough pair of practice sessions in which red flags and rain hampered the teams' running.
Leclerc began Ferrari's homecoming on the warpath by leading both Monza sessions, but Mercedes may have something up their sleeve. Hamilton was taken aback by the Silver Arrows' speed after he split the two scarlet cars in FP2, just 0.068s adrift of Leclerc.
"It definitely is surprising," said Hamilton. "I didn't know what to expect this weekend. I expected them to be quick on the straights, which they are, but there's enough corners where we're able to gain it back. They're not really that quick through the corners, so it kind of balances us out."
In Belgium, Mercedes couldn't compete with Ferrari's might in qualifying as Leclerc headed Sebastian Vettel in a 1-2 for the Scuderia, so will it be the same here? Not quite, said Hamilton.
"They're quite quick in a straight line. We're quite strong on race pace, but actually perhaps a little bit closer [than at Spa] on single-lap pace. It looks like we're going to have a fight. We are on a similar level, which is really quite nice. I don't know where the Red Bulls are, but I'm sure they'll tell me."
And Hamilton's team mate Valtteri Bottas, who finished ninth in a stop-start FP1 session and fourth in FP2, said that he had a "good feeling and good pace, so that is promising for Sunday."
"It feels a little bit messy in terms of run plan we had and actually making it happen, but [it's the] same for everyone," commented the Finn. "There was a couple of corners it was raining at times, so that made it a bit more difficult to get really detailed data of the tyres and the car behaviour, but I got a bit of a feel and it didn't feel too bad."
So with both Mercedes drivers convinced that their W10s can stand up to the powerful SF90s, it looks like Ferrari's 'favourites' badge isn't attached as quite as firmly as once thought.