Hamilton predicting even tougher fight with title rival Verstappen in second half of season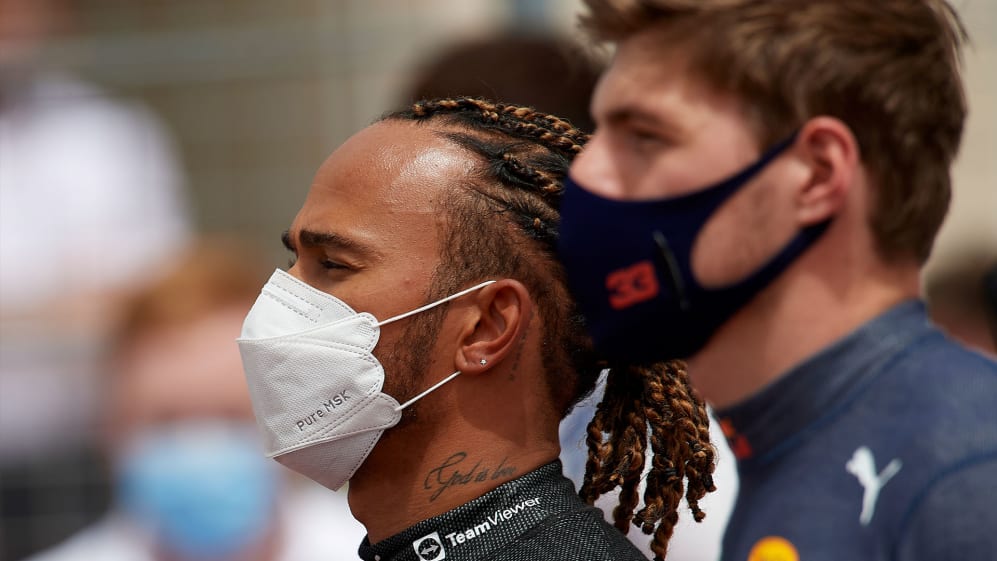 We've already seen some tense moments in the fascinating battle between Lewis Hamilton and Max Verstappen so far in 2021, and Hamilton is predicting the tension between the pair will ramp up to an even greater extent as the second half of the season gets under way in Belgium.
There have been various flashpoints between the Mercedes and Red Bull drivers throughout the year, culminating in their Lap 1 contact at the British Grand Prix that saw Verstappen retire from the race as Hamilton went on to win.
READ MORE: Verstappen looking to 'reset' championship fight at Spa, as he prepares for 50th Honda-backed outing
Hamilton enters the second half of the season at the head of the drivers' standings by eight points, with Verstappen having scored just five points in the previous two Grand Prix weekends. But asked at Spa-Francorchamps ahead of the Belgian Grand Prix weekend whether he was more wary about taking on a Verstappen keen to re-establish his authority at the top of the championship, Hamilton replied: "I don't feel like I'm more wary than I was at the beginning of the year.
"We knew how good [Red Bull] would be at the beginning; we've obviously seen the speed and the competitiveness of them in the past. Of course, as we've got through the season, they've got stronger and stronger and it's been harder for us as we've gone on, we've had a bit of as difficult patch but we got back to operating how we have done in the past.
"But it's going to be close," he added, "it's going to be tough this second half of the season. The first half was definitely one of the toughest and I expect it's going to be pretty much the same in the second half, if not more difficult."
Hamilton has faced close title battles in the past. But asked what the difference was between fighting a team mate for the championship – as he did most recently in 2016 with Nico Rosberg – and fighting a driver from another team, Hamilton said: "It's exactly the same, if I'm really honest, whether you're fighting your team mate or another team, I would say in terms of how much you need to dig.
READ MORE: 'No news to share yet' – Russell and Bottas tight-lipped over 2022 plans as they vie for Mercedes seat
"But it's a different journey that you go on when it's internal, the journey you go on with a smaller group of people within your own team, as opposed to a whole team fighting another team. It's a much better dynamic, a much more enjoyable journey."
Hamilton goes into this weekend seeking his fifth victory at Spa-Francorchamps – with Verstappen gunning for what would be his first at the iconic Belgian track.