Hamilton rues mistakes after 'painful' Bahrain loss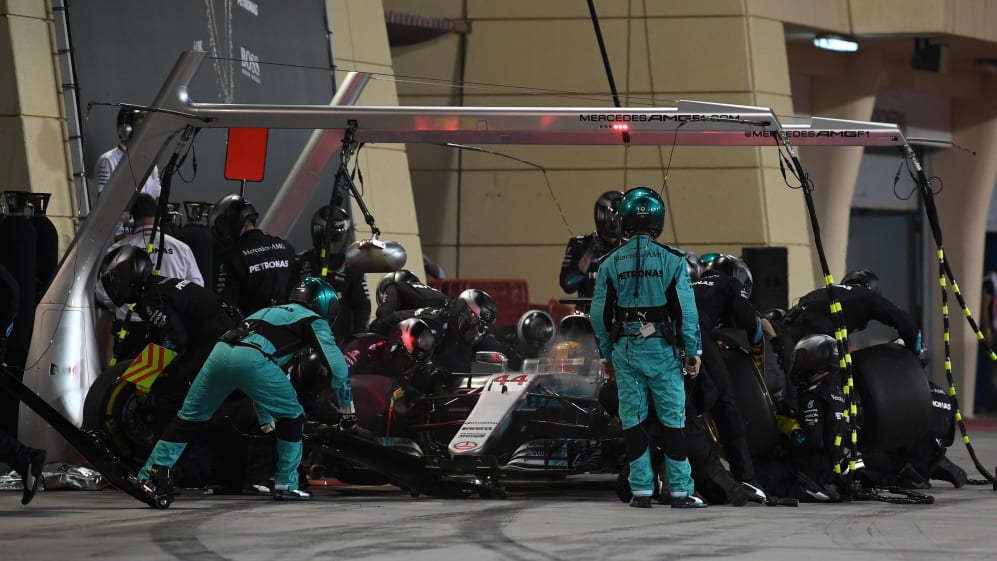 Lewis Hamilton said it was 'painful' to finish second to title rival Sebastian Vettel in Bahrain after acknowledging that it was his own mistakes that hurt his victory bid.
Hamilton started second on the grid in Sunday's race, but slipped to third at the start and then lost further ground later in the race as he was hit with a five-second time penalty for delaying Red Bull's Daniel Ricciardo in the pit lane while waiting for team mate Valtteri Bottas to exit the Mercedes pit box during the safety car period.
The three-time world champion put in a storming final stint, aided by Bottas allowing him through, but ultimately finished 6.6s behind Vettel, who pulled out a seven-point championship lead in the process.
"Over the years nothing changes that I feel pain in my heart not winning," Hamilton explained afterwards. "People say: 'wow, you should be happy finishing second' - but that is not why we exist. If anyone ever thinks that a driver - or I - should be happy with second, I just can say it again: that's not why we exist! I cannot say it better.
"Yes, if you had a good fight and finished second, why not - I felt good on the podium - but then things pop up in my head: I lost two tenths from Turn 10 to 11 because the DRS didn't engage, and I lost half a tenth on the last corner in qualifying and know that I should have been easily on pole position. I lost position at the start, then the time lost in the pit lane - all these things pop up!
"You practice, and practice - you have only twenty chances a year to get it right - so not getting it right is really painful! You simply feel gutted afterwards - and then again try to move forward.
"In Australia it was a matter of the tyres and I had to pit. But [in Bahrain] in some ways I am also responsible for being in that position - and that hurts."
People say: 'wow, you should be happy finishing second' - but that is not why we exist
Asked if he expected the rest of the season, and his battle with Sebastian Vettel, to be decided by such fine margins, Hamilton said: "Yes, ultimately that is what it's going to be this year. I think that is exciting and it means that all of us need to perform at the optimum.
"If I look back at my 2016 season maybe a handful of races weren't perfect - but then others were awesome and every year I try to reduce the number of races that weren't good - or increase the number that were awesome! I think the race in Australia was still a high, China was a high - this one was a bit of a dip - so I have to bring it back to the high level at the next race. That's the plan for Russia."
Ahead of the race in Sochi, both Hamilton and Vettel will be taking part in the two-day post-race test in Sakhir that begins on Tuesday.
"I am trying to prepare the best I can for the next race," Hamilton explained. "I am testing on Tuesday to strengthen the car, get more knowledge of the tyres - and then hopefully be in a better position in the next race.
"Our car is obviously good; it is just how we use our tyres in the race - particularly when it is a bit warmer - that is a big question mark for us."