Hamilton says engineer Pete Bonnington is 'like a brother to me' as they gear up for 11th season together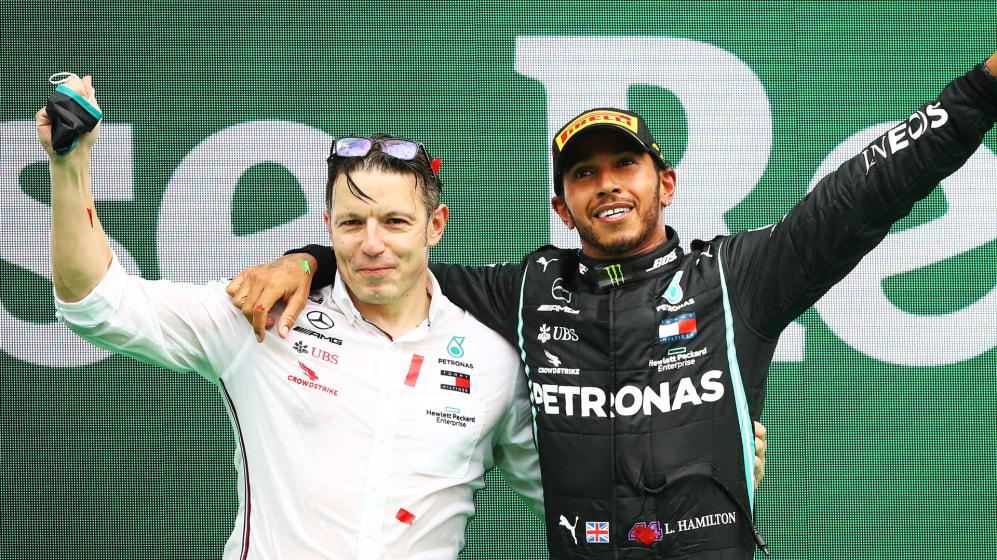 Lewis Hamilton and race engineer Pete 'Bono' Bonnington are preparing for their 11th campaign together at Mercedes, where Hamilton will equal Michael Schumacher's record for most seasons spent with one team. Ahead of the new campaign, the seven-time F1 champion looked back on the "amazing journey" he's shared with Bono and explained the origins of the famous 'Hammer Time' radio call…
Hamilton has started 200 Grands Prix with Mercedes – no other driver having entered more races with one team – and in 2023 the Briton will embark on his 11th season with the Silver Arrows to equal Ferrari legend Schumacher's record. This season also marks 11 seasons alongside race engineer Bonnington, hailed as a "brother" by Hamilton.
"I'm incredibly grateful for Bono. I've had an amazing journey with him, I think we've got one of the longest, if not the longest standing driver-engineer partnerships that there's been, and he's been hugely integral to my success," he said.
READ MORE: Wolff provides update on new Hamilton contract as seven-time champ enters final year of current deal
"We've had an amazing journey together, we've supported each other on and off-track, through good and bad times, and I love working with Bono; he's like a brother to me, a brother from another mother.
"I think he's probably one of the few people that can truly stand me, I would say, on the good and bad days – except for Roscoe [Hamilton's dog] – and how calm he's able to be throughout a race, and how he's able to help guide and help me navigate through a race. I don't think there's many people that can do that."
The pair have achieved six drivers' championships, eight constructors' championships and more than 80 wins together – as Hamilton's performance engineer Marcus Dudley stepped in for a couple of races in 2019 and 2022. Of course, they've also immortalised MC Hammer's lyric 'Hammer time', which Bono uses to tell Hamilton it's time to push as hard as he can.
"I think I came up with Hammer time," said Hamilton. "I think because there was a point where he was like, 'Now it's time to push', and I got frustrated with it because I'm like: 'Dude I'm already pushing!'
READ MORE: Wolff praises Hamilton for 'really admirable' approach to 2022 setbacks – and makes Schumacher comparison
"But I was like, if you're trying to signify 'now's the time to go all out, use everything you have', just tell me it's 'Hammer time'. That was part of the growth we had."
Mercedes have already fired up their new F1 car, and have announced a February 15 launch date for the machine they hope will propel them to a ninth constructors' championship – and perhaps net Hamilton a record-breaking eighth drivers' title in 2023.