Hamilton says 'fun' Bahrain pole lap was 'a release' after championship pressures
Lewis Hamilton may have secured his seventh world championship two weeks ago at the Turkish Grand Prix, but according to the Mercedes driver that was no reason to slow his pace in qualifying for the Bahrain Grand Prix, as he swept to the 98th pole position of his career – and admitted that the relief of having won the title was actually helping him to drive faster.
Hamilton led both of Friday free practice sessions in Bahrain before appearing to slip back behind Red Bull's Max Verstappen in FP3, as he failed to get within two-tenths of the Dutchman.
But order was restored in qualifying, with Hamilton top in all three segments, eventually stopping the clock in Q3 with a 1m 27.264s to establish a new track record, as team mate Valtteri Bottas helped Mercedes to their 11th front row lock-out of the season – but 0.289s down on Hamilton.
Qualifying report: Hamilton on pole from Bottas as Red Bull lock out the second row in Bahrain
"It's been a good weekend so far in terms of the steps we've taken and understanding the car," said Hamilton after the session. "It was quite a difficult day yesterday with the practice and using different tyres, it was quite confusing, but today has been a good day. I think we… did some really good work overnight and the decisions we took after P3 into qualifying were pretty spot on. I was really happy with the car from the get-go of Q1.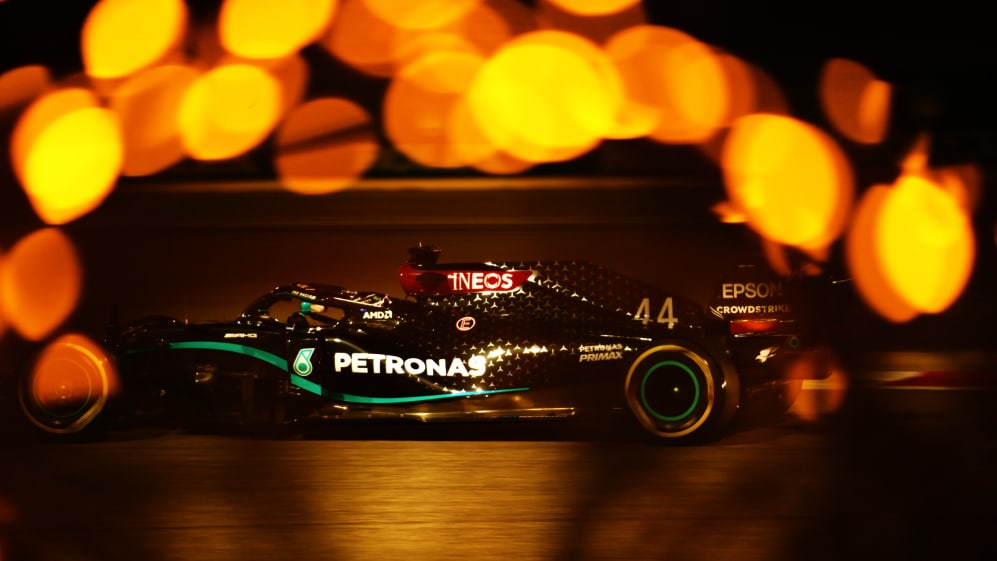 "The Q3 run one was okay, but there was plenty of room for improvement," said Hamilton, who would ultimately improve that first Q3 effort by a full 0.413s. "Fortunately I managed to do that on the last lap… It was a very clean lap. I generally stayed around two and a half tenths up the whole way through, so I was pretty happy with it."
AS IT HAPPENED – Qualifying in Bahrain
With two races to go in 2020, Hamilton is on course to take 100 career pole positions before the season is out should he start from P1 at both the Sakhir and Abu Dhabi Grands Prix. But as to whether, with he and Mercedes having clinched both the drivers' and constructors' titles this year, he should be easing off the pace a touch, Hamilton said that the relief of winning those two championships was actually helping the whole team – including himself – perform at their peak.
"I'm really grateful to the guys, who I think this weekend seem a little bit more relaxed naturally as the pressure is off and I think we're all enjoying it a lot more," said Hamilton. "It's definitely more enjoyable when you don't have the pressure as much and you can just do what you do to the best of your ability without the additional added pressure.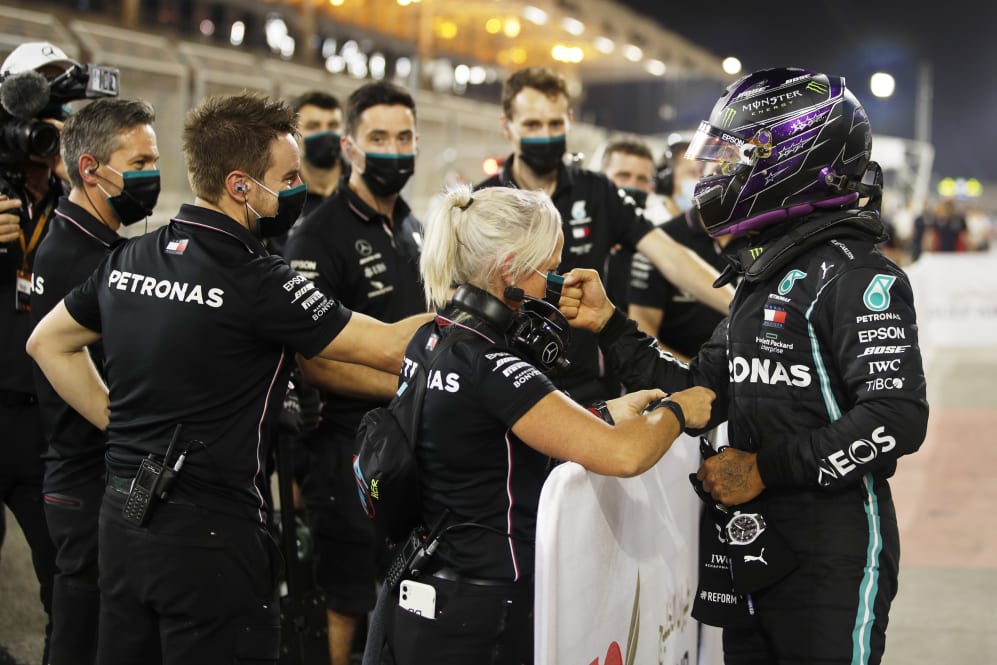 "You know, I came today and I was like, let's just have fun and enjoy it, and that's the most important thing, to enjoy what you're doing, and with the pressure a little bit off, it's a bit of a release to go and drive like I just did."
READ MORE: Sainz left 'very disappointed' as technical problem causes huge spin and damages race chances
To make life even sweeter for Hamilton, he'll now have the added advantage of starting Sunday's race from the clean side of the track – something which could be a key factor at the dusty, sandy Bahrain track. But with Verstappen in third right behind him, it should be an interesting run down to Turn 1, as Hamilton guns for his fourth Bahrain Grand Prix victory.