Feature
Friday Pace Analysis: Can Red Bull or Racing Point spoil Mercedes' party in Bahrain?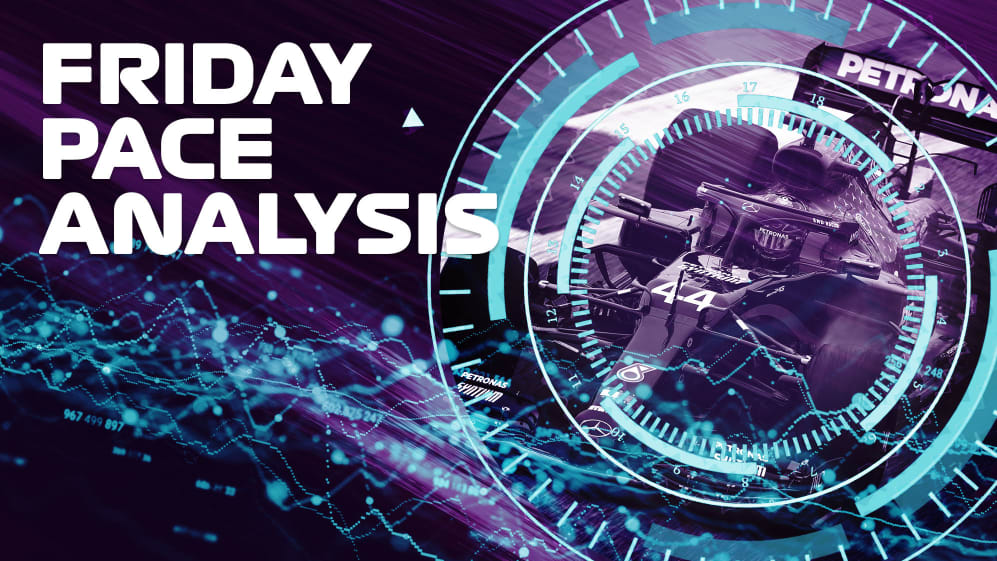 The Bahrain International Circuit and its warm weather provided Formula 1 teams with more familiar conditions than the last race in Turkey, but Friday practice was not straightforward. Lewis Hamilton came out on top, but are he and Mercedes once again the ones to beat? Let's have a look at the numbers...
One-lap pace
Pirelli gave the teams their first taste of the tweaked 2021-specification tyres that have been homologated for next season, with two sets that could be run across the two sessions, with teams required to run them for a minimum of six laps apiece.
That made for a busier than normal session, with teams needing to get mileage on that rubber, then focus on qualifying prep before switching their attention to race pace and understanding the tyres and critically the degradation.
Lewis Hamilton admitted he wasn't particularly happy with the balance of his car on the 15-turn 5.412km Sakhir circuit, but he was still able to grind out a lap on the soft compound of tyre which could not be bettered by anyone else.
READ MORE: Mercedes drivers wary of Red Bull threat despite session-topping Friday in Bahrain
The Briton, who was crowned world champion for the seventh time at the last event and is an eight-time podium finisher in Bahrain, reckons Mercedes have got work to do, but if that's the case, it's looking very good for the Silver Arrows. According to our data, they are 0.5s quicker than nearest rivals Red Bull, who are matched impressively by Racing Point in this metric.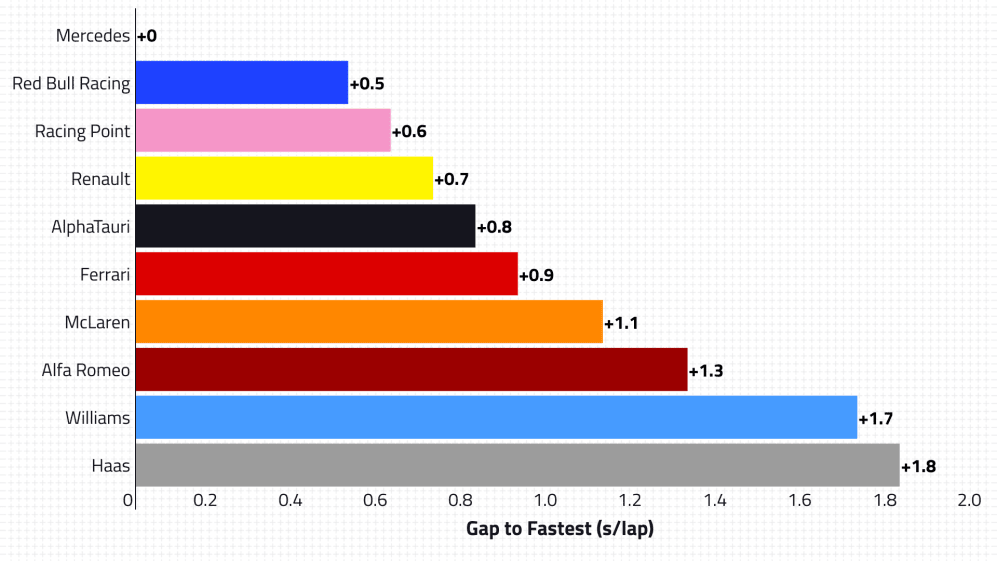 This is a track where overtaking is certainly possible, the best opportunity coming at Turn 1. That means that while getting the best grid slot possible is always the aim, drivers know their race will be determined more by good race strategy and tyre management, with degradation traditionally high in Bahrain on what is high-grip but highly abrasive asphalt.
Behind the top three, Renault, AlphaTauri, Ferrari and McLaren are separated by just 0.3s, which suggests it's going to be a mighty tight battle to get into Q3.
READ MORE: Ricciardo predicting two-stop excitement after finishing fifth fastest in Bahrain FP2
Our pre-simulations suggested Ferrari were going to be more of a force, but they seemed to struggle under the lights, with Charles Leclerc admitting he expected better as they chased a good balance.
Alfa Romeo will likely be battling to get out of Q1, 0.3s off McLaren's one-lap pace, but they do at least look to have the measure of recent rivals Williams and Haas, the latter two separated by 0.1s.
Long run pace
Gathering data for the race was hampered by two red flags in FP2, the first of which was caused by Alex Albon, who lost control of his Red Bull at the final corner and hit the wall with a big impact before walking away uninjured, while the second was required because a dog had made its way onto the track, first spotted by Renault's Daniel Ricciardo.
READ MORE: Albon crash 'frustrating' says Horner as Thai driver admits he 'should have backed out'
But from what the drivers were able to learn, the overwhelming feeling was that protecting the rear tyres was going to be key, given the high degradation; with two stops – and maybe three for teams who really struggle – a real possibility.
From our data, Mercedes look like they are in the best shape for the race, but they are closely matched by Red Bull, who are only around 0.1s/lap slower, which may explain why Max Verstappen was feeling pretty happy with his afternoon's work.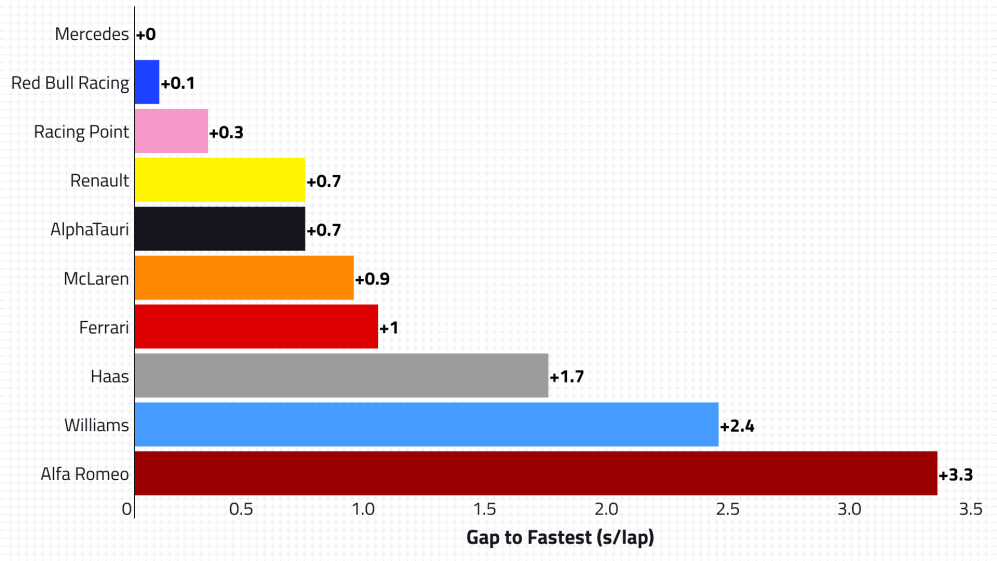 Racing Point were looking very strong in this metric, the pink cars pulling clear of their midfield rivals to sit third, 0.2s/lap off Red Bull's pace. With Sergio Perez looking very quick on Friday, and given that the Mexican is renowned for his incredible feel for the tyres, he's looking like a strong contender for a podium, which would be his second in as many races.
READ MORE: Sainz expects 'crazy close' midfield battle in Bahrain as fight for P3 hots up
Renault and AlphaTauri are locked together in fourth and fifth respectively, the latter in particular impressing their immediate rivals with their speed once the sun had set and floodlights flickered on. McLaren were 0.2s/lap off, but both Carlos Sainz and Lando Norris were optimistic about their chances, as they focus on fine-tuning their set-up rather than making sweeping changes.
Verdict
Mercedes, as they usually do, look in good shape across both qualifying and the race, with the Silver Arrows showing such an advantage in qualifying trim that they are favourites to lock out the front row.
But things open up for the race, with Red Bull only a smidgen behind and Racing Point even in the mix.
IDEAL LAP: Hamilton quickest on day 1 in Bahrain – but is Verstappen actually the man to watch?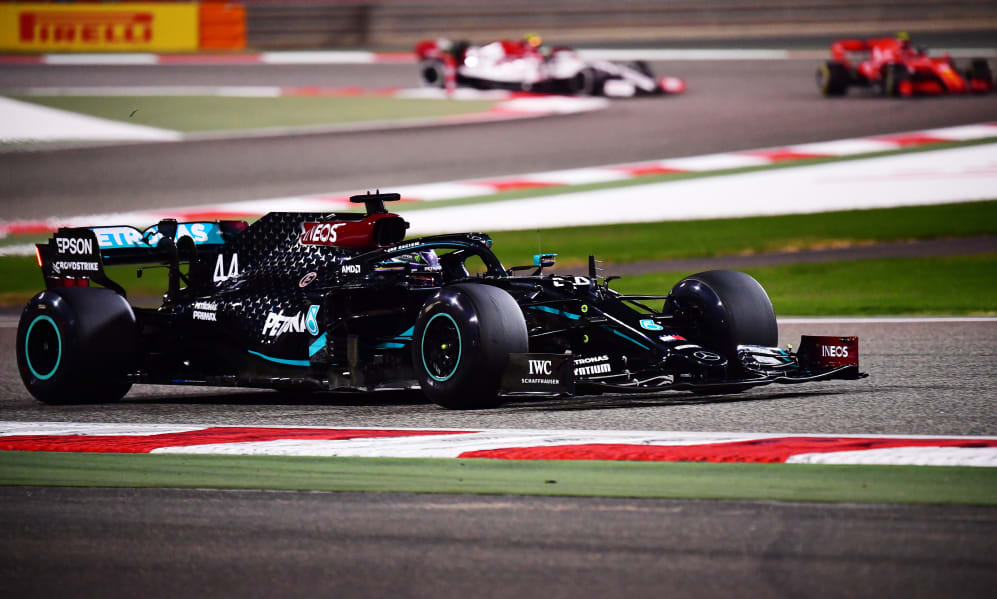 Pirelli have brought compounds which are one step softer than they were last time and that means pulling off a one-stop here is likely impossible. That means two stops, and maybe even three if a team suffers with overheating the rear tyres, could be on the cards on Sunday. Strategy will be key.
That, combined with the fact this track, where traction off the slower corners is particularly important, offers a plethora of overtaking opportunities, means we have all the ingredients for a classic race. Bahrain has form for delivering spectacular Grands Prix, after all.