Hamilton says he 'gave it everything' in Miami GP as he reveals background of tense Mercedes pit wall discussions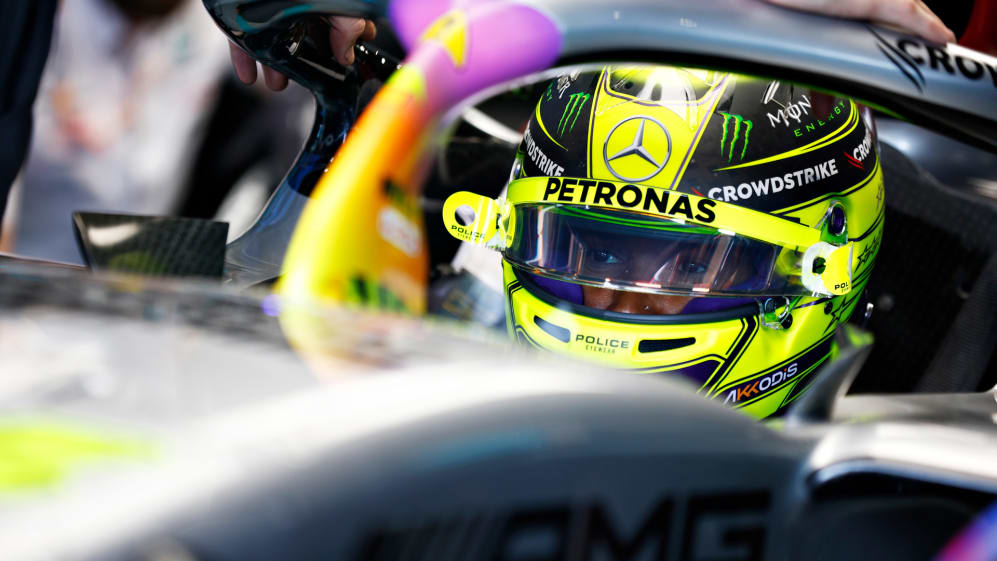 Lewis Hamilton left Miami feeling that a pair of unfortunate incidents cost him a chance of finishing higher than P6. But while the Mercedes driver felt slightly hard done by, he was at least satisfied with another solid points score.
Hamilton and Fernando Alonso made contact at the start of the Miami Grand Prix, the seven-time champion briefly losing position before re-passing Alpine's two-time champion. Hamilton then passed Pierre Gasly for P6 and finished in that position – behind his team mate George Russell, who recovered from P11 on Sunday.
READ MORE: Exploring the roots of Mercedes' perplexing Friday pace drop-off in Miami
"I was giving it everything but a bit stuck behind a few people at the beginning. A bit unlucky, but you learn and I got back to sixth, we got points, so we didn't lose anything today, really," said Hamilton.
As for the effects of the contact with Alonso, Hamilton said: "The car definitely didn't feel the same as it did on the laps to the grid. So I'm sure they will check it but probably corner weights; it was quite a hard hit… but otherwise okay. I did the best I could, a bit unfortunate, but we got good points as a team and we'll take them and move on."
Team mate Russell managed to overhaul Hamilton at the end of the race, having pitted for medium tyres during the late Virtual Safety Car. That triggered lengthy discussions on the radio between Hamilton and his side of the garage over whether he could have done the same – with Hamilton heard answering tersely to engineer Pete Bonnington when asked which strategy he would prefer. And the seven-time champion explained the back-and-forth after the race.
"In that scenario I have no clue where everyone is, so when the team say it's your choice, I don't have the information to make the decision," explained Hamilton. "That's what your job is! Make the decision for me, you've got all the details. I don't.
READ MORE: Russell pleased to rescue weekend with 'total fluke' strategy in 'brutal' Miami Grand Prix
"That's why you rely on the guys. Today they gave it to me, but I didn't understand. Just a bit unfortunate under the Safety Car. As I said, at least we got points today, we're finishing, reliability is good. I'm excited to, at some stage, take a step forwards, which we haven't yet."
Hamilton is sixth in the championship heading to the sixth round of the 2022 season, the Spanish Grand Prix.