Hamilton says Mercedes are 'making history' after eighth straight win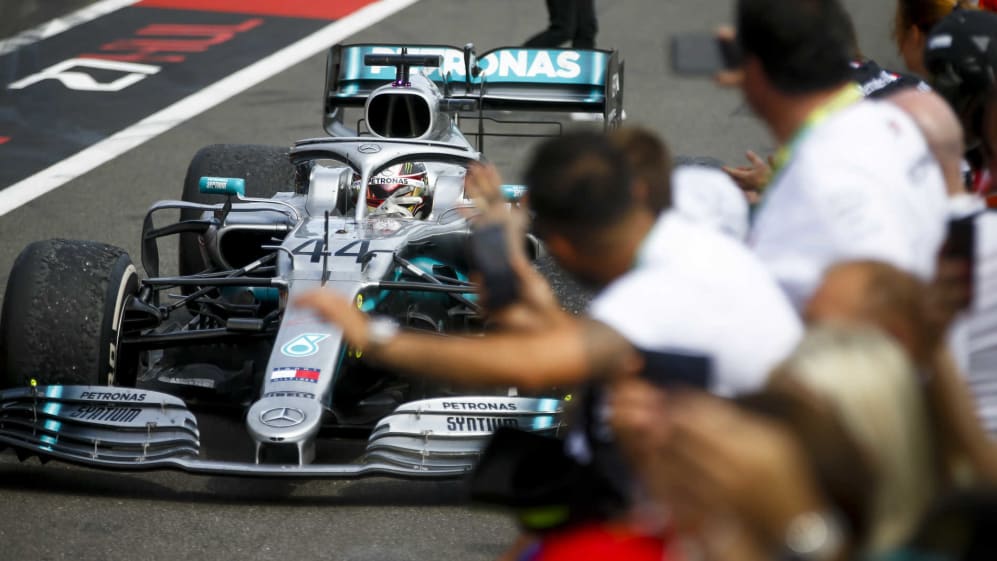 Thirty six points. That's Lewis Hamilton's lead over Valtteri Bottas after winning in France while in the constructors' championship Mercedes' advantage is a staggering 140 over Ferrari – that's more than the equivalent of three one-two finishes. It's no wonder the reigning world champion said after the race in Circuit Paul Ricard the team are 'making history'…
This was one of Hamilton's most commanding victories – and there's been plenty of them over the years – with the Mercedes able to control the pace and the race from the minute he comfortably converted pole position into the lead before going on to win – his sixth in seven races – with team mate Valtteri Bottas unable to offer any genuine threat.
Mercedes were arguably in a class of their own in France, maintaining their record of having led every practice session and qualifying segment in which they have competed at Paul Ricard. In the race, they were untouchable, though Ferrari's Charles Leclerc did attack Bottas, who was struggling to switch his tyres on after the VSC, late on.
"It's definitely been a really good weekend," said Hamilton. "I've been racing a long, long time but it just never gets old. It's always such a challenge out there and I just love that, trying to find the edge and just bridging the gap and really being on top of this machine.
"But I couldn't do it without this incredible team, this group of guys here and all the guys back at the factory. We're creating history together and I'm so proud of everyone, I'm so proud to be a part of this team, this group of people and Valtteri did a good job this weekend as well, so yeah I'm high."
There's never a moment when you shouldn't be pushing. The moment you sit back is the moment you lose. I don't plan on doing that
With the race as good as won, Hamilton turned his attention to the fastest lap – and the bonus point that comes with it – in the closing stages of the race. Impressively, he still had life in his hards to do so, only to be usurped on the final lap by Sebastian Vettel, who had bolted on a set of softs the lap before.
Hamilton reckons he and Mercedes are able to maintain such a high level of motivation after so much success because if they ease up, they will lose.
"It's something we try to remind each other all the time," said Hamilton. "My team is calm, you kind of get the sense it's what they expect. They're like 'yeah, pole position, it's what we expect', so they are internally happy. It's a bit of an odd one. Otherwise, it's always just wanting to elevate. After every race, we have something we could do better.
"After this one, like from today, there was something small at the end, they said 'don't bother with the fastest lap'. [I replied] 'What do you mean? We have nothing to lose, I'm going for it!' And I went for it! And I nearly got it!
"It's just switching the mentality to always be fighting, always be hungry, and always be hungry, and always be pushing. There's never a moment when you shouldn't be pushing. The moment you sit back is the moment you lose. I don't plan on doing that."
Mercedes Team Principal Toto Wolff hailed the car and driver performance as "our best of the season", adding "This weekend was the best, we've see mechanics that have taken the car apart two days ago again and have had really rough days in the last few weeks and us trying to continue to push with development and on the power unit front and with the chassis, aerodynamically we are relentless and continue to push."
It was Mercedes' 50th one-two finish in Formula 1 and their 10th consecutive race win, matching their best-ever run and one short of McLaren's all-time record of 11, set in 1988. However you look at it, it's a remarkable run.