Report
Hamilton signs off title-winning campaign with dominant Abu Dhabi victory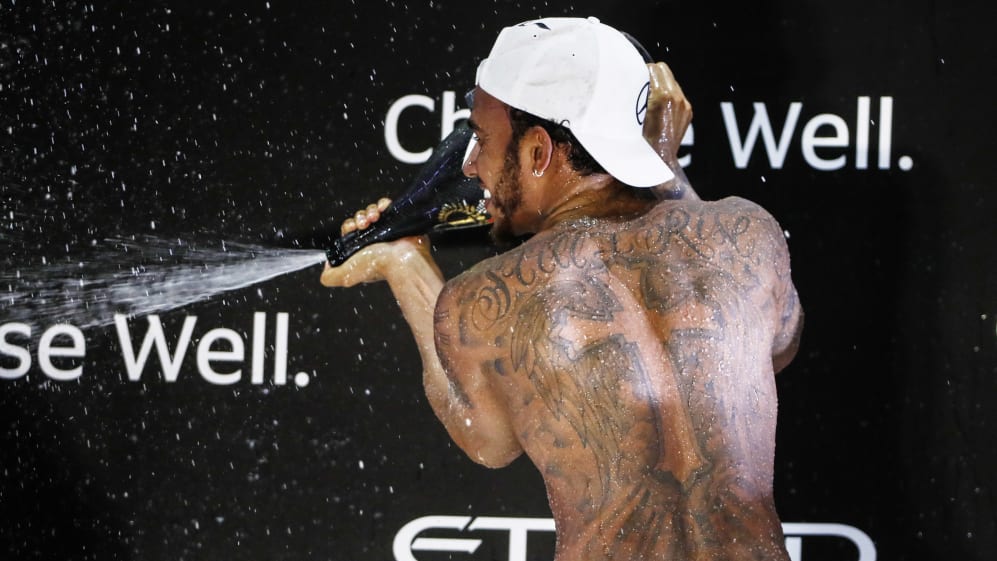 As it played in their championship battle this year too, Sebastian Vettel was forced to play second fiddle to an imperious Lewis Hamilton at the Abu Dhabi Grand Prix season finale as the Mercedes driver took his 11th win of the season, enjoying a serene performance that perfectly reflected his majestic run to his fifth title this year.
Strong from the very start of the race, having recorded his 11th pole position of the year on Saturday, Hamilton benefitted from an early switch to supersoft tyres under a Virtual Safety Car – brought out after Kimi Raikkonen was forced to retire on lap seven in his final race for Ferrari – before biding his time to re-inherit the lead and sweep to his 73rd career victory.
Behind him, Vettel had a lonely run to second place, after dispatching Hamilton's team mate Valtteri Bottas mid-race, while he was followed home by the Red Bull pair of Max Verstappen and Daniel Ricciardo, Ricciardo unable to claim that podium he so dearly wanted in his 100th and final race for Red Bull before he moves to Renault. Bottas ended up fifth.
Carlos Sainz, in his own last race for Renault before switching to McLaren, enjoyed a strong run to sixth place to help Renault to seal fourth place in the constructors' title, while his team mate Nico Hulkenberg fared less well, clashing with Romain Grosjean on lap one and barrel rolling into the barriers, although fortunately not suffering any ill effects from the ugly looking incident.
Charles Leclerc was seventh in his final outing for Sauber before he moves to Ferrari for 2019, ahead of the Force India of Sergio Perez and the Haas of Grosjean in ninth – who managed to continue after his first-lap brush with Hulkenberg.
Kevin Magnussen's run to 10th denied Fernando Alonso the chance to up his points tally in his final Grand Prix before retiring, the McLaren driver employing some questionable cornering techniques in the final part of the race – and getting a five-second penalty for his troubles – in his bid to get after the Dane, but ultimately ending up 11th in his 311th race.
Meanwhile apart from Raikkonen, Force India's Esteban Ocon, Toro Rosso's Pierre Gasly and Sauber's Marcus Ericcson all retired from their last races with their respective teams due to technical trouble.
FORMULA 1 2018 ETIHAD AIRWAYS ABU DHABI GRAND PRIX
United Arab Emirates
2018
Race results
POSITION
TIME
POINTS

1

Lewis

Hamilton HAM

Mercedes

1:39:40.382

25

2

Sebastian

Vettel VET

Ferrari

+2.581s

18

3

Max

Verstappen VER

Red Bull Racing

+12.706s

15

4

Daniel

Ricciardo RIC

Red Bull Racing

+15.379s

12

5

Valtteri

Bottas BOT

Mercedes

+47.957s

10
The race as it happened
Both Mercedes drivers made incisive starts off the line, Hamilton gapping Bottas while the power of Charles Leclerc's Ferrari helped him to pass the Red Bull of Daniel Ricciardo for fifth place. Max Verstappen, meanwhile, bogged down on his getaway and dropped to 10th – slotting in neatly behind his Brazilian Grand Prix sparring partner Esteban Ocon.
Romain Grosjean and Nico Hulkenberg were squabbling on lap one, and as the Haas and Renault pair ducked and dived around each other through Turns 8 and 9, Hulkenberg attempted to swipe across the front of the Frenchman. He appeared to misjudge Grosjean's track position, however, and as he pulled right, he clipped the Haas and was sent spectacularly rolling towards the barriers, ending up upside down and with worrying licks of flame emanating from his R.S.18. As the world anxiously watched, there was relief when Hulkenberg's radio message finally played out: "Holy f*** I'm hanging here like a cow!" Phew…
Nonetheless, it had been a big shunt and necessitated a Safety Car. When racing resumed, Hamilton's restart was lightning, as he and Bottas quickly gapped the Ferraris of Vettel and Raikkonen behind them. Behind, Ocon and Verstappen were lapping deliciously closely. At the Turn 7 hairpin Verstappen lunged bravely down the inside of the Frenchman. He made the pass stick, but was outdragged by both Ocon and Sergio Perez down the next straight, before he snuck back past Perez.
The next lap, Verstappen repeated the move on Ocon into Turn 7, this time adding a wheel-on-wheel love tap for good measure, before ultimately make the move stick following a little more needling between the pair. Justice for Brazil, is presumably what Verstappen was thinking as he accelerated off in eighth place.
That became seventh a lap later when Kimi Raikkonen pulled his Ferrari to the side on the start/finish straight, the display screen on his Ferrari a darker shade of black, a sad end for the Finn in his final race for the Scuderia before he heads to Sauber for 2019. Raikkonen's stricken car brought out the Virtual Safety Car, and leader Hamilton took the opportunity to dive into the pits for the hardest supersoft tyres, emerging in fifth place on lap eight of 55. There was still a long way to go – had Mercedes blinked too soon?
Up and down the grid, there were enjoyable fights to be found, meanwhile, Marcus Ericsson enjoying a fun dice with the Toro Rosso of Pierre Gasly before his sickly Sauber flew the white flag in what looks set to be the Swede's final Grand Prix, while Ocon and Sainz were battling over P7.
By lap 23, it was the Red Bull of Daniel Ricciardo leading the race, the Australian opting to try and long-stint his ultrasoft tyres, while team mate Verstappen had dived into the pits for supersofts on lap 18, emerging in fifth behind his team mate and the other pitted cars of Hamilton, Bottas, and Vettel. It was now that the cameras started to pick out a lesser spotted sight in Abu Dhabi – real genuine rain, albeit not enough to bring out the green-walled intermediates, or even to significantly alter lap times, plus a lick or two of lightning for good measure.
Ricciardo threw in the towel with his ultrasofts on lap 34, not deep enough into the race to allow him to run the super quick hypersofts and instead meaning he had to put on the slowest supersofts. That brought him out in fifth place, eight seconds off his team mate Verstappen in P4. Up ahead on lap 35, Vettel took advantage of a Bottas lock-up into Turns 5 and 6 – a place he'd locked up even making his way around to the grid – the German breezing past the Finn for second and setting off after Hamilton, while a second lock-up for Bottas, brought him into the clutches of Verstappen, while allowing Ricciardo to close up.
On lap 38, another error for Bottas allowed Verstappen to nip through in Turn 12, the pair briefly touching wheels, while the fast-approaching Ricciardo slipped through on the Finn a lap later, the Red Bulls now third and fourth, Bottas fifth. Mercedes brought the Finn in a few laps later, alarmed by something they'd spotted on his right-rear tyres and effectively signalling the end of his 2018 challenge.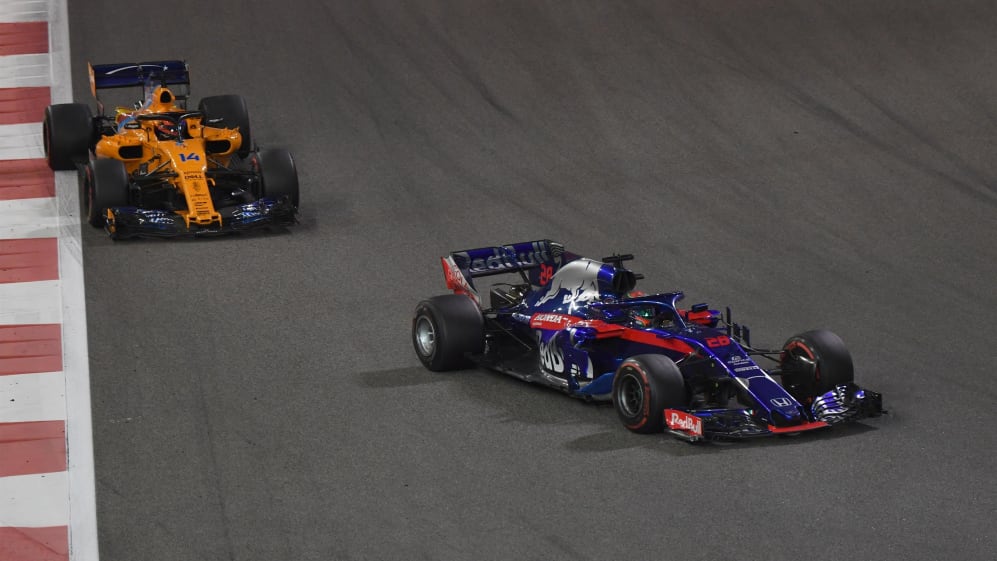 With just a handful of laps to go, the strain of the season proved too much for Ocon and Gasly's cars, Ocon's giving up the ghost in the pit lane entry, while Gasly pulled off to side of the track with oil pouring from his STR13.
Up front there were no such problems for Lewis Hamilton. It was a smooth evening drive for the five-time champion as he breezed to his 11th victory of the year – the chequered flag flown by Will Smith – while he was followed home by the Ferrari of Vettel, the German having had an anonymous run to second after ultimately not quite having the pace to challenge for the lead. Max Verstappen overcame some engine braking worries in the final laps – which brought about a terse exchange with his engineer – to finish on the podium for his fifth race in a row, the Dutchman clearly not feeling generous enough to take his foot off the gas and let Ricciardo make his final rostrum appearance for the team.
Bottas finishing fifth resulted in Kimi Raikkonen taking third in the drivers' standings, meaning that he'll need to head to St Petersberg in Russia for the FIA Prize Giving Gala on December 7, while Bottas takes the unwanted mantle of being the first Mercedes driver to finish a season without a win since Michael Schumacher in 2012. Carlos Sainz put in a fine performance to take 'best of the rest' and push Renault over the line to fourth in the constructors' standings, their best placing since returning to Formula 1 in 2016.
Having run ahead of Daniel Ricciardo in a straight fight in the first few laps of the race, the ever-impressive Charles Leclerc had to settle for seventh in his final race before he moves to Ferrari, while for Fernando Alonso, points were a step too far in what could well be his last ever Grand Prix. He tried hard to get after the 10th placed Haas of Kevin Magnussen, but the stewards judged him to have tried too hard, the Spaniard gaining an advantage as he repeatedly locked-up and ran over the chichane in his pursuit of the Dane in the final few laps. That meant he was handed a five-second penalty that resigned him to an 11th placed finish.
As Alonso, Hamilton and Vettel lined up on the start/finish straight and launched into a series of smoking donuts that delighted the crowd, the 2018 season reached its close. Hamilton had been the best man on the day in Abu Dhabi, and you'd be hard-pushed to argue that he hadn't been the best driver across the year too, with early championship-leader Vettel falling a step behind as the season wore on.
For Alonso, meanwhile, there were fitting tributes and meaningful embraces as he was interviewed alongside the top three finishers, the drivers in no doubt that a very special driver was walking away from the sport after 17 drama-filled seasons. There were goodbyes up and down the grid, too, as many of the drivers prepared for new chapters in their racing lives. For now, though, it was time for the weary drivers and teams to take a well-earned break at the end of what has been a fantastic 2018 season.
The key quote
"It's been a real honour and a privilege racing against Sebastian [Vettel]. I've known him since the F3 days and he's always been an honest, hard working racing driver and he's always raced his heart out. He did a fantastic job this whole season. There's so much pressure on us all so don't look at our shortcomings as anything less than us giving our best. I know next year he's going to come back strong and I've got to do my best to come back with it, but I'm really grateful for the good times." – Lewis Hamilton
The key stats
Lewis Hamilton's 11th win of the season marks his joint best win tally in one season from 2014, although he took those 11 wins with two fewer races back then.

Hamilton also becomes the first man to score 400 points in a single season, and the first man to pass 3,000 career points too.

Max Verstappen's five straight podium finishes in the final races of the season marks his best ever career run, while he also moved ahead of Valtteri Bottas for fourth in the drivers' standings.

It was Daniel Ricciardo's seventh fourth-placed finish of the year, as the Australian becomes the first man since Jochen Rindt in 1970 to take multiple victories with no other podium finishes.

With seven P2s this year, Valtteri Bottas sets a new record for the most second place finishes without taking a win in a season.

Charles Leclerc took Sauber's first points in Abu Dhabi since 2012 in his final race for the team.

Carlos Sainz's sixth place marked the first time he's ever scored points at Yas Marina.

On Fernando Alonso's final lap in F1, he drove the fastest Sector 2 of anyone in the race.

Alonso ends his career having raced the equivalent of 20% of the way to the moon.

The season finishes with just 20 drivers having raced, the lowest number in Formula 1 history.
DRIVER OF THE DAY – Fernando Alonso
DHL Fastest Lap
Sebastian Vettel (Ferrari) – 1m 40.867s
What's next?
Barcelona testing 2019! Yep, it's all over by the shouting after another fantastic Formula 1 season – although many of the drivers will be back on track next week for Pirelli's tyre test at Yas Marina, so they can't relax just yet.