Hamilton 'surprised' to see Mercedes matching Red Bull and Ferrari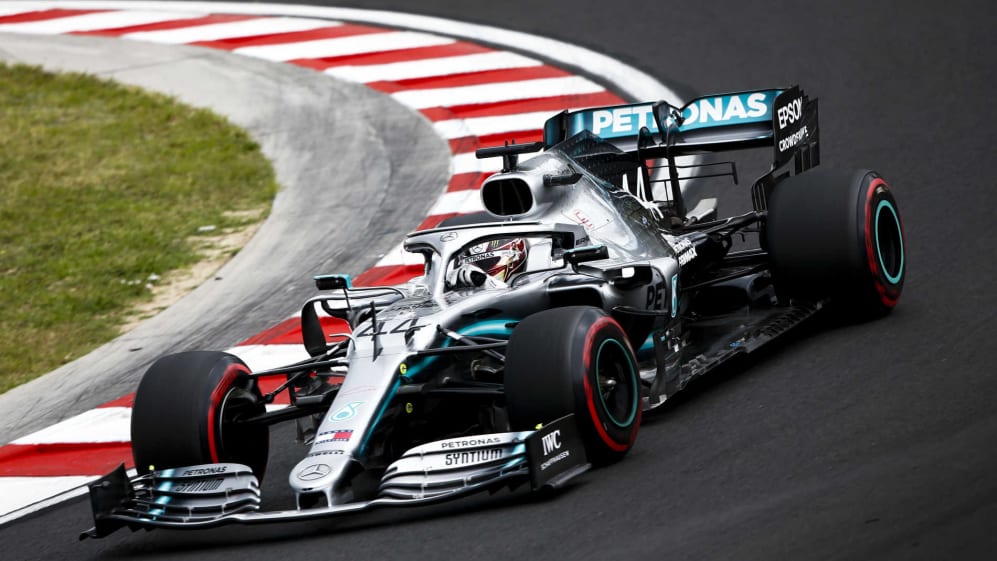 Top in FP1 and third in FP2, Lewis Hamilton began his comeback from the chaotic German Grand Prix in typical form – but the championship leader downplayed Mercedes' speed heading into the Hungarian Grand Prix weekend.
In fact, Hamilton went as far as to express his surprise – not at the unpredictable weather, nor Red Bull's topping of FP2 for the first time this season, but that Mercedes were 'catching up' to their rivals.
"We were surprised to see this morning that we were so close to the Red Bulls and Ferraris, so hopefully that remains the same through the weekend," he said.
It's a multi-championship winning team, they've always had a very good car
To Hamilton, it's no surprise that Red Bull, 192 points behind Mercedes in the constructors' standings, are in a resurgent form given their pedigree of four constructors' and drivers' championships and the genius of Chief Technical Officer Adrian Newey.
"I think what people need to remember is that it's a multi-championship winning team, they've always had a very good car," he added. "You've got Adrian Newey there, one of the best designers there is in the sport, and so they had a slump with I think a little bit less power than they had, a period of time where they had a little bit less downforce than most people."
That "slump" was Red Bull's fourth-place finish in 2015 with Renault, a partnership that ended in 2018 as the team decided to use Honda power for the first time. It was only at the ninth round, the Austrian Grand Prix, when Red Bull won a race this season, which indicates to Hamilton that the team is starting to threaten Mercedes' place at the head of the field.
READ MORE: How drivers tackle Hungary's tricky Turns 8 and 9
"They've definitely crept back up and started to utilise this car more and both drivers are now starting to put in good performances, the second driver [Pierre Gasly] is starting to put in good performances so they're there.
"And it's clearly a very good car and we're in a period of time that suits them [in terms of circuits]. And people need to remember that sometimes a car's better in some places. A car's not always the best through a whole season: In Austria, the Red Bull was the better package at that circuit, it worked well in the temperatures and everything, even compared to us it's a good car and against the Ferraris. It might be the way this weekend.
"I think Singapore will be strong for them. When we get to the longer places like Monza [with longer straight], it could be different this year, let's see now that they have a new power unit. They're not lower than us in power, I think in some places they have got more power than us, so it will be interesting to see how they go in those other races."
After falling ill in Germany last time out, Hamilton was raring to go, saying he felt "a million times better" on Friday. But the fragmented FP2 session provided little in the way of answers for him.
"This afternoon we got a slight run on the harder tyre, but a couple of laps, and that was about it," he explained. "Whatever we ended up doing, then we obviously stopped because of the weather and there was not really much point going out on the wet.
"If you know Sunday's going to be wet and Saturday's going to be wet, a completely wet weekend, you can make subtle changes to help with the wet balance, but it's kind of irrelevant, especially when you know the race is going to be mostly dry," he said. "Then you just focus on getting the best set-up in the dry and then you deal with it in the wet."
Even then, Hamilton managed 41 laps – more than anyone else on the grid – in FP1, showing just how determined he was to get going in Hungary. After all, a win here could add 26 points to his towering tally of 225 and move him well clear of team mate Valtteri Bottas.