Hamilton: Tactical defending only way to beat 'faster' Ferrari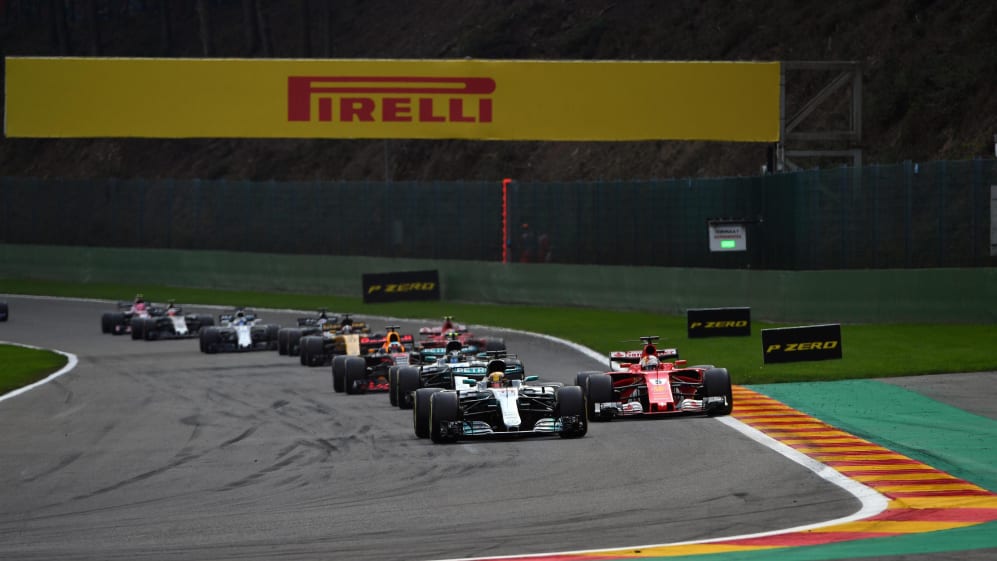 Lewis Hamilton has revealed how only some excellent defensive tactics kept Sebastian Vettel's 'faster' Ferrari at bay in Sunday's Grand Prix at Spa-Francorchamps.
The Briton's slender lead was eradicated by a mid-race safety car, and his restart was then compromised by being in the wrong engine mode, allowing Vettel to close in. But while the pair went nose-to-tail through Eau Rouge, Hamilton - who went on to win by barely two seconds - explained a defensive trick had helped him stay ahead.
"I did a little bit of weaving and managed to catch Sebastian out on the restart, but I had power in the wrong setting so as I pulled away I didn't pull away as I'd hoped – and he caught me up into the last corner which was not great and then he was on my tail," Hamilton said.
"Obviously into Turn 1 I struggled with the front tyres – and he was too close on the exit of Turn 1 and he had to lift, which was actually great.
"Going down the straight I let off the power a little as well, just to keep him right up my tail, because if he was further away he would have had the chance to gain momentum and then slipstream past.
"That's what he really wanted and I didn't give him that, so when we got to the top of the hill he was there and as soon as he pulled out he was facing the full force of the air just as I was and he had no hope – so I was really happy with that move!"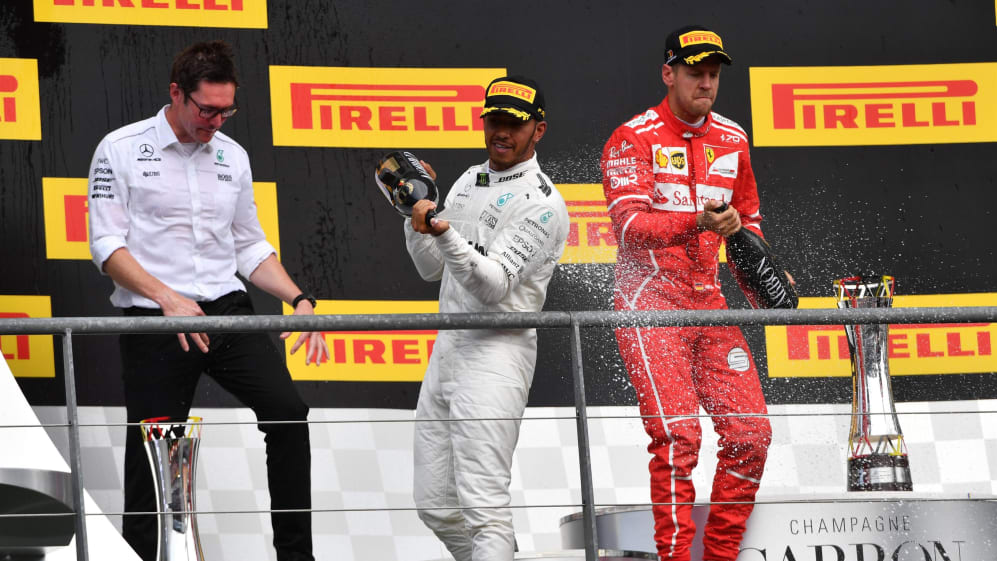 Over the remaining 10 laps Vettel never got another chance to pass Hamilton, and conceded afterwards that he may have missed an opportunity by sticking to the silver car so tightly as racing resumed.
"It was difficult to find the right timing and the right gap and with hindsight I was probably a bit too close," said the German.
"It's not that straightforward, as I need to look at what people are doing behind, and if you are too far away then it's just silly as you've missed even half a chance. So yes, if I had to do it again maybe I would try it a bit different."
Despite beating Vettel and halving his rival's championship lead to just seven points, Hamilton – who started his 200th Grand Prix on Sunday – insisted Mercedes did not have the fastest car at Spa-Francorchamps.
"I think Ferrari were ultimately quicker today. I was just able to keep him at bay. If the cars were reversed today I don't think I'd have been able to hold just as close as he did with me, so it was good.
"What's comforting is 200 races and I'm stronger than ever. They say you get worse with age but I think it's the other way round – I feel pretty good."