Report
Hamilton wins in Brazil as Verstappen punted out of lead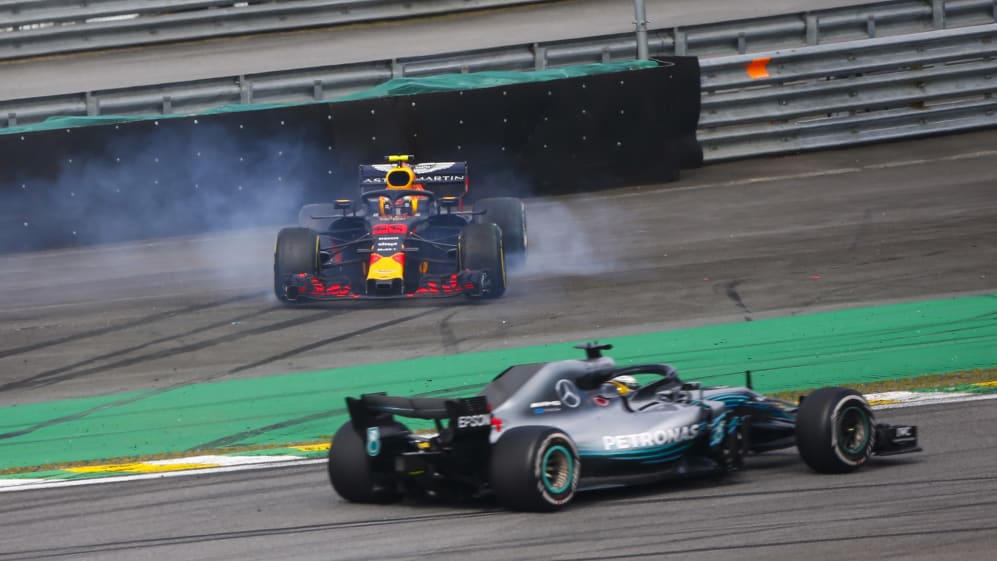 Red Bull's Max Verstappen was cruelly robbed of what looked set to be a remarkable win at Interlagos on Sunday, after a dramatic collision while battling the lapped Force India of Esteban Ocon allowed Lewis Hamilton through to take the race victory, helping to secure Mercedes' fifth consecutive constructors' title in the process.
Verstappen was enjoying a strong Brazilian Grand Prix, and had seized the lead from Hamilton when Ocon attempted to unlap himself down the pit straight on lap 44. Both drivers refused to yield, with Ocon holding out around the outside of Turn 1 before the pair touched, sending both drivers into a spin, Hamilton gratefully nipping through between them before going on to record his 72nd career win. Verstappen was left unimpressed, as were the stewards, who duly handed Ocon as 10-second stop-go penalty.
Bad for Verstappen but great for Mercedes, who become only the second team – after Ferrari – to claim five consecutive constructors' crowns, to add to Hamilton's fifth drivers' title from last time out in Mexico.
In a thrilling final few laps, Ferrari's Kimi Raikkonen just managed to hold onto the final podium position from a charging Daniel Ricciardo who finished fourth in the second Red Bull. Mercedes' Valtteri Bottas took fifth and Ferrari's Sebastian Vettel sixth, while Sauber's Charles Leclerc drove a fine race to claim the best-of-the-rest prize in seventh.
FORMULA 1 GRANDE PRÊMIO HEINEKEN DO BRASIL 2018
Brazil
2018
Race results
POSITION
TIME
POINTS

1

Lewis

Hamilton HAM

Mercedes

1:27:09.066

25

2

Max

Verstappen VER

Red Bull Racing

+1.469s

18

3

Kimi

Räikkönen RAI

Ferrari

+4.764s

15

4

Daniel

Ricciardo RIC

Red Bull Racing

+5.193s

12

5

Valtteri

Bottas BOT

Mercedes

+22.943s

10
The race as it happened
There were ugly scenes in the driver weigh-in area following the Brazilian Grand Prix, as Verstappen angrily shoved his old junior category rival Ocon before walking away, disgusted. Considering how close Verstappen had just come to winning his second race in a row at this year's Brazilian Grand Prix, the 21-year-old's anger was perhaps not surprising. But how had Verstappen, starting from P5 for a Red Bull team who hadn't led a lap around Interlagos since 2013, managed to get himself into a race-winning position in the first place, having written off his victory chances ahead of the Grand Prix?
For starters, he'd been decisive off the line, pulling a fantastic move around the outside of the fourth-placed Raikkonen into Turn 1, although the Finn quickly paid him back three corners later to retake the place. Further ahead, Vettel was beaten off the line by Bottas after failing to make a decisive getaway, as Hamilton enjoyed a silky start from pole to hold onto the lead, Vettel slotting into third behind the two Mercedes.
Behind, Sauber's Marcus Ericsson and Haas's Romain Grosjean played bumper cars into Turn 1, Ericsson suffering floor damage that would ultimately put him out of the race on lap 21 – a shame for the Swede after he'd enjoyed the best Saturday of his career in what looks set to be his penultimate weekend as an F1 driver. Meanwhile, Lap 2 saw the Renaults of Nico Hulkenberg and Carlos Sainz jinking angrily around each other, there appearing to be no love lost between the soon-to-be-parted team mates.
It was the Red Bulls on the move in the early part of the race. Having started in 11th following a five-place grid penalty for a turbocharger change, Ricciardo was up to P6 by Lap 5, while team mate Verstappen repeated his bold Lap 1 move on Raikkonen, going around the outside on Lap 3, before poaching third off Vettel a lap later, the Dutchman looking ominously rapid in the early part of the race.
He wasn't done either. On Saturday morning, Verstappen announced on Twitter that he'd be focussing on race pace over qualifying glory this weekend, and that decision seemed to be paying dividends as he snuck past Bottas for second on Lap 10, the Finn failing to defend robustly enough to halt Verstappen's charge, as the Dutchman now set off after Hamilton in the lead.
Mercedes appeared to be struggling more than their rivals on the grippiest supersoft rubber, and duly decided to pull their drivers in for mediums earlier than expected, Bottas then Hamilton coming in on Laps 19 and 20 respectively. Verstappen out in the lead seemed to be comfortable on his own supersofts, pounding in quick laps as he sought to try and get himself on net terms with Hamilton, while the Ferraris looked to be the third-quickest car around Interlagos.
Red Bull brought Verstappen in on Lap 36, putting him on the soft rubber. But for all of Verstappen's hot lappery whilst he'd been in front, Hamilton had been covering him, the Brit ending up three seconds ahead when the Dutchman emerged from the pits. The Red Bull driver had told reporters on Sunday morning that victory was probably out of the question for his team today, but he appeared to have changed his tune by Lap 40 of the race as he breezed past Hamilton down Interlagos' banked start-finish straight on his 16-lap fresher tyres to definitively take the lead.
That looked to be job done, Verstappen seemingly set to claim the first back-to-back wins of his career, at a track where he'd already enjoyed one of his finest performances to date back in 2016, when he put in a masterclass in the wet to finish third.
As Verstappen pulled away from Hamilton at the front, he was surprised to find his old European Formula 3 rival Ocon attempting to unlap himself on lap 44. Clearly unwilling to compromise his own race for the benefit of Verstappen, Ocon robustly held his line through Turns 1 and 2, leaving the two cars to touch and sending both he and Verstappen rotating into the run-off area, while Hamilton snaked through and back into a lead that he wouldn't relinquish. It was a bizarre and sad end to what had been a fascinating fight between these two exceptional drivers.
Hamilton duly took the chequered flag for a gift of win, his 72nd, while also helping Mercedes to record the fifth straight double title of their remarkable post-2014 run of form. Verstappen looked sickened as he spoke to TV crews after the race, the Dutchman in no doubt that a win had been denied him today, while his angry altercation with Ocon later led to him being summoned to appear before the stewards.
It was still, on paper, a positive day for Red Bull, with Ricciardo narrowly missing out on the final podium spot after a fascinating final lap chase-down of Raikkonen, the Finn just holding on for third place. Neither Vettel nor Bottas ever really looked at the races on Sunday, Bottas not seeming to have the pace of his team mate as he finished fifth, 22 seconds down the road, while Ferrari pitted Vettel late in the race for supersoft rubber to see if they could roll the dice strategically, the German ultimately not able to make in-roads enough into Bottas' advantage and ending up P6.
Leclerc capitalised on Sauber's impressing looking race pace from Friday, claiming 'best of the rest' ahead of the similarly Ferrari-powered Haas duo of Grosjean and Kevin Magnussen – good news for them, given that their rivals for fourth place in the constructors' standings, Renault, failed to score. It was Sergio Perez who rounded out the top 10 for Force India, on a day when his team mate played a hugely significant, hugely controversial part in the outcome of the race.
That wouldn't have stopped Hamilton from enjoying taking an incredible 50th victory in the post-2014 hybrid era, however, with both he and his Mercedes team seemingly set to carry on rewriting the record books.
The key quote
"I saw [the incident with Ocon and Verstappen] happen. I wasn't surprised by it. I saw them racing but he wasn't racing for the same position. In my mind I would have been in a different frame of mind. Fortunately he was able to keep going, no-one got hurt and they kept going. A racing incident I guess. Max is like that. He's a go get it guy and every now and then it comes to bite you. But I'm really, really proud, I don't care about anyone else." – Lewis Hamilton
The key stats
This marks the first time that Lewis Hamilton has ever won a Grand Prix after clinching a title

Hamilton now has the incredible record of 50 wins out of the 99 post-2014 hybrid era Grands Prix

Mercedes will now seek to match Ferrari's record of six straight constructors' titles from 1999 to 2004 after clinching their fifth successive triumph in Brazil.

He might not have got the position he wanted, but Verstappen's second place was his best ever result in Brazil, while his current run of four podiums is the best form of his career to date.

Verstappen being taken out of the race lead was perhaps racing god revenge for his father Jos taking race leader Juan Pablo Montoya out in 2001.

That was Kimi Raikkonen's 150th start for Ferrari, his seventh career podium at Interlagos and his second in a row in Brazil.

Daniel Ricciardo has yet to finish on the podium in Brazil, although fourth is his best result here.

Valtteri Bottas has now finished fifth in the last three races.

Having never scored a point in Brazil before, both Haas cars finished in the top 10 to take their first double points since the Belgian Grand Prix, both Grosjean and Magnussen equalling their best ever results here.

Hulkenberg's retirement ends his 100 percent record of scoring points at Interlagos.
DRIVER OF THE DAY – Max Verstappen
DHL Fastest Lap
Valtteri Bottas (Mercedes) – 1m 10.540s
What's next?
We now head to the season finale at the spectacular Yas Marina circuit in Abu Dhabi on November 23-25. With both titles now decided, this is set to be an enjoyable romp for personal glory, as the drivers – with no championship pressure to dictate their strategies – go all-out for the final race win of 2018.