'Hard work' pays off for polesitter Bottas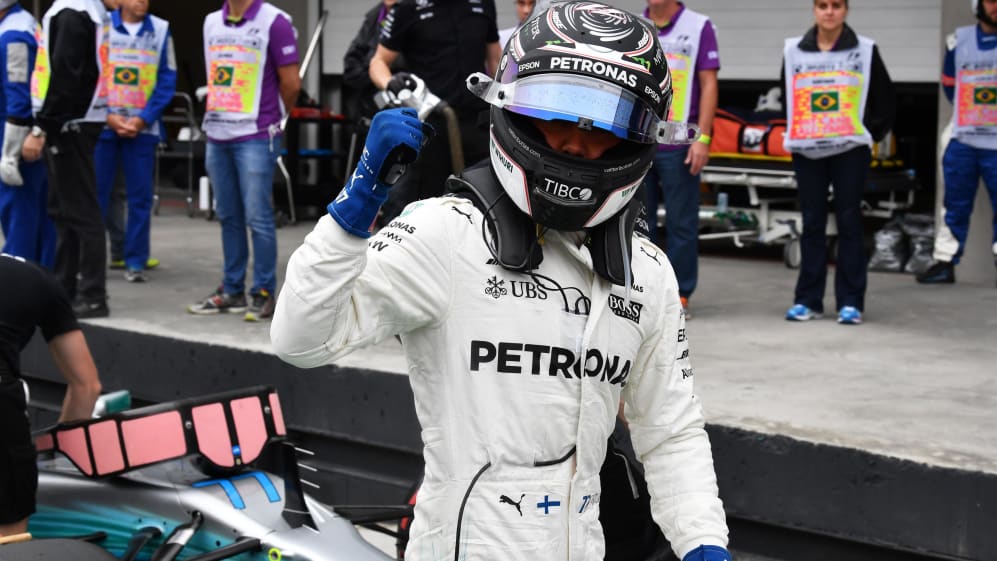 After living firmly in the shadow of his team mate in recent weeks, Valtteri Bottas came to the fore in Brazil on Saturday, ensuring Mercedes of pole position at Interlagos despite Lewis Hamilton's early exit.
Bottas refused to be rattled by either Hamilton's accident or the searing speed of Sebastian Vettel, and he held off the Ferrari to top the session by the narrowest of margins – just 0.038s – and clinch the third pole of his F1 career.
"It definitely feels good," said the Finn. "It is so close. Of course it is a shame Lewis wasn't there in Q2 and Q3 to fight for the pole, but yeah, I'm happy that after we proceeded out of Q1 with just the one car I could still deliver and we could still get the pole."
The result was great news for Bottas, who has struggled for speed and consistency in recent races. In Brazil, however, he has been right on Hamilton's pace throughout the weekend, and would doubtless have been in contention for pole even had the world champion not crashed out.
"We've been working hard on the issues – I know there were many," he said. "Everybody knows there were many difficult races for me, but I managed to learn from those, solving every issue one at a time, going deep into myself to know if I needed to change anything.
"Working with the engineers and myself, the last three races I think it has been every time a step up. Here it was a lot better – hard work will always pay off."
Pole position means Bottas is now in the best possible place to go about beating Vettel not only in Sunday's race, but also in their battle to finish runner-up to Hamilton in the driver standings. He currently trails the German by 15 points.
"Always having a good goal, a good target, makes everyone in the team work harder – and we have a good goal in still trying to be second in the drivers' championship for me. So I need to have a good, clean race but it's not going to be easy – they're quicker."
Even if Bottas does believe Vettel has the faster car, the odds at least are on his side – the last four Grands Prix at Interlagos have all been won from pole position, the last three of them by Mercedes.