Hartley sore but fit to race in Spain after FP3 smash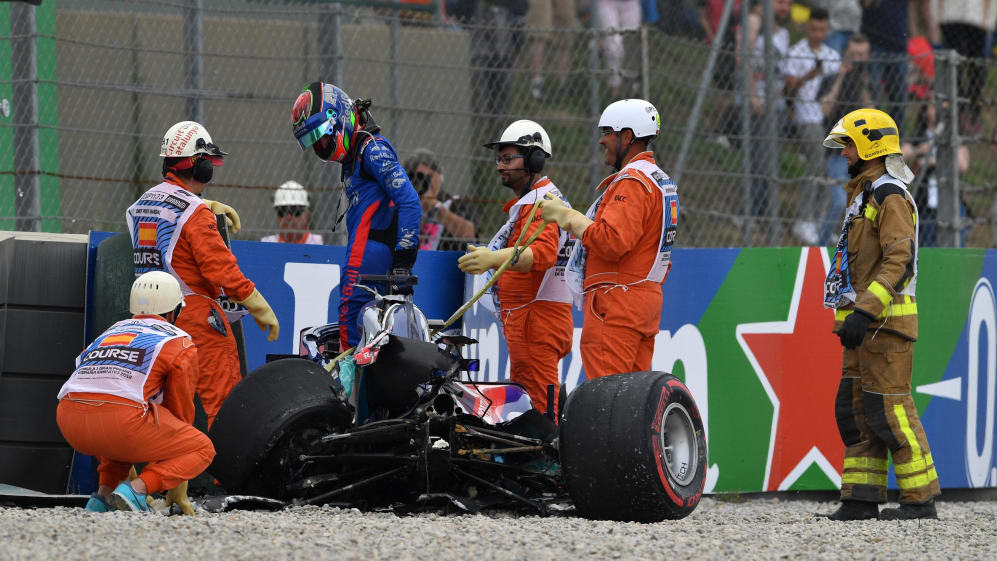 It certainly looked a painful hit, so it's no surprise Brendon Hartley is feeling the effects of his huge shunt in FP3. Fortunately the New Zealander climbed out of his Toro Rosso without serious injury, and is ready to compete in the Spanish Grand Prix on Sunday.
The third and final practice session in Barcelona was red flagged late on after Hartley got a wheel on the grass entering Turn 9 at high speed, spun and hit the barriers hard, ripping the rear off his Honda-powered car.
His Toro Rosso suffered severe damage, and he was unable to take part in qualifying as his team worked on the repair job. But despite experiencing one of the biggest crashes of his driving career, Hartley is ready to return to his seat for the fifth race of the season.
"Yeah I'm a bit sore. It was a big hit. I can feel it in the neck and head a little bit," he said. "It was a big impact - but everyone is working hard to get the car fixed for tomorrow. I'll be fine, and physically fit the drive the car.
Amazingly, Toro Rosso are not expected to have to replace Hartley's chassis, though Honda have confirmed a power unit change will be needed.
"I think there is no chassis damage which is important," confirmed Hartley. "Most of the other parts are replaceable, I don't know what it means going forward in terms of news parts introduced to the car. But I think they should have no problems getting it fixed in time."
Hartley also admitted that he didn't know when the impact was coming, having spun on the gravel and hit the barrrier backwards.
"It happens in slow motion. It felt like the car was slowing down, but I was heading backwards towards the wall. So you don't really know when the impact is going to come.
"I'm not looking in my mirror to know exactly when the impact was going to come. You brace yourself a bit, but it's never a lot of fun."
This was the second race in a row Hartley has failed to qualify for and while he can count himself lucky that he escaped unharmed, it was a blow to not get a chance to battle for a grid position in Spain.
"I'm a bit disappointed I didn't get a crack in qualifying because the car felt good this morning," he added. "I was quite happy with the balance but we will have to see what we can do from the back.
"I know Toro Rosso started from last position last year at this track and scored points so that has to be the goal."
Hartley, who will be last on the grid as he will race at the discretion of the stewards, will be hoping to climb up the drivers' standings in Barcelona - he is currently 18th after grabbing his first F1 points last time out in Baku.