Feature
BOUNCING BACK: Has Carlos Sainz turned a corner?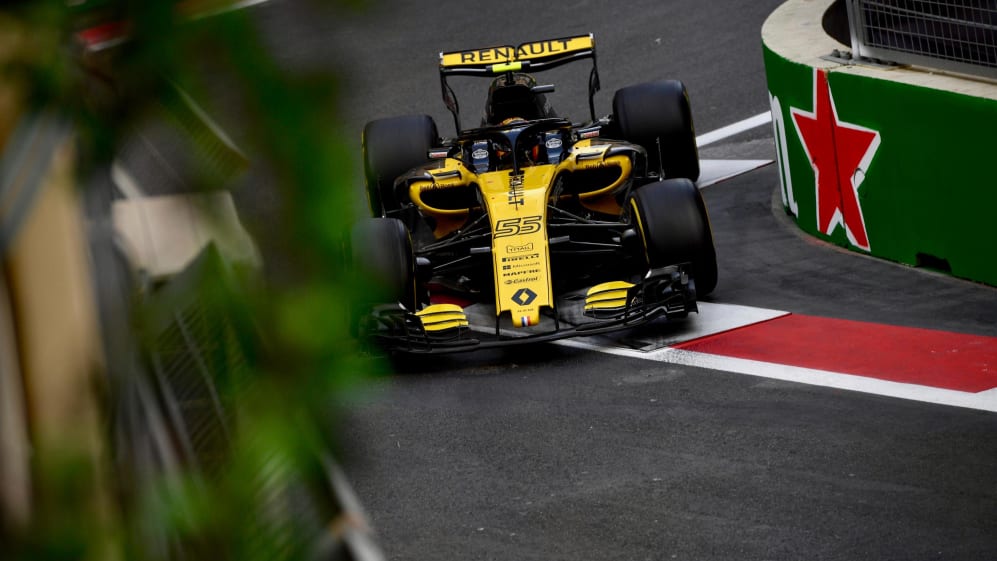 There's no hiding from the facts: Carlos Sainz was outperformed by Renault team mate Nico Hulkenberg in the opening three races of the season. But the Spaniard reacted brilliantly in Baku with a superb fifth-place, and now he – and his boss Cyril Abiteboul – are hopeful he's now on an upward curve, as Lawrence Barretto explains…
When Sainz joined Renault with four races to go last year, the former Toro Rosso driver had a major challenge on his hands. Nico Hulkenberg had been drafted in ahead of the season. He was chosen to spearhead Renault's charge back to the sharp end of the field. The season had gone well. He was thrashing team mate Jolyon Palmer.
But Sainz appeared unfazed. He was excited to make the next step, after nearly three years with Toro Rosso. Seventh on debut was impressive, and though that was his only points-scoring finish, it was crucial in ensuring Renault snatched sixth in the constructors' championship - a two-place rise on the last year.
This season, he hoped to be on par, if not ahead, of Hulkenberg. But the German was on fire in the opening three races, finishing seventh, sixth and sixth, to sit seventh with 22 points in the drivers' standings. In the same period, Sainz managed just three.
He may have only been a couple of tenths off his team mate, but the tightness of the midfield meant that equated to several places on the grid. In the race, he often got stuck in traffic, while his team mate had clearer air behind the big teams and therefore more optimal strategy options.
Sainz has put some of the deficit to Hulkenberg, who leads the qualifying head-to-head 4-0, down to the fact he is playing catch-up and still learning his team mate's "little tricks". But he's also not yet comfortable in the car.
"There's a bit of margin of improvement from the feeling in the car, the general comfort," he said. "It's not the same as it was in Toro Rosso. They are different philosophies and give a very different feeling. I'm still discovering new things, new set-ups, driving styles for different kinds of corners and because of that, it takes a bit of time.
"But I'm convinced we're doing a good job and going in the right direction, and little by little getting where I want to be - and hopefully it'll be sooner rather than later."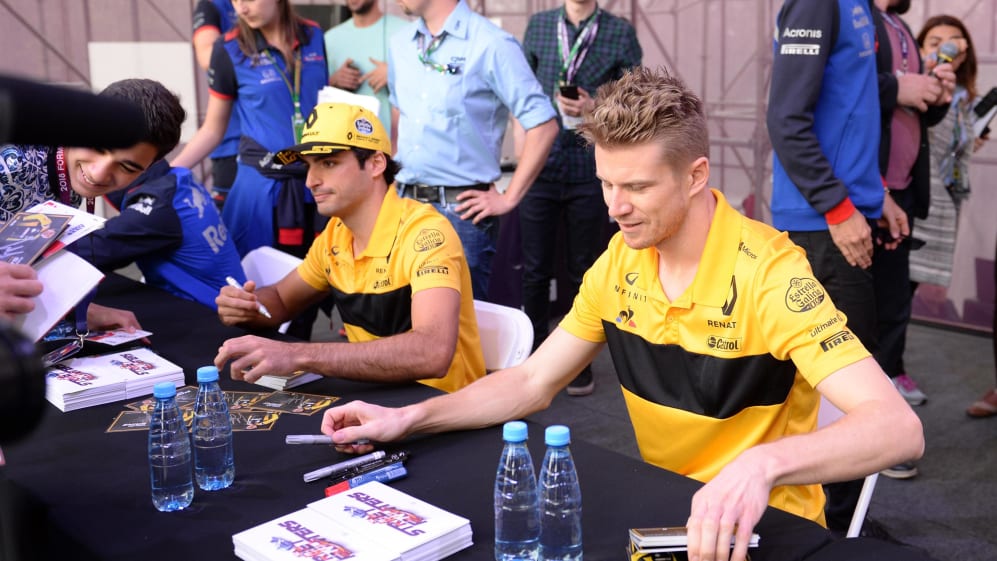 Part of the reason for the lack of comfort is his struggle with stability on corner turn in, relative to Hulkenberg.
"It [instability on turn in] is something the car has had over the first three races," said Sainz. "We saw it in Barcelona [testing]. Australia for me was a very good baseline and since then, it's like I've never got the feeling back from Australia. It's something we're working hard on.
"Nico is dealing very well with it. He's a super experienced driver, super talented. It's something that must help for this. It's no secret he's one of the fastest drivers in F1 at the moment.
"But we're not talking about a huge gap [between us]. As I said many times, I was probably a step ahead in Australia in qualifying, he was very good in Bahrain, as he was last year.
"In China, it was a two-tenth gap, which can easily go one way or another depending on the race, so I'm not very concerned."
But in China, he and the team found something in the set-up they could change reasonably easily for the following race, while Sainz is also making adjustments to head back towards the good feeling he had with the baseline in Australia.
Azerbaijan is only one race but while Sainz admits there's still work to do to get the car to his liking, the tweaks made at race four delivered a positive reaction.
He still lacked in qualifying, a quarter of a second and one place behind Hulkenberg, but he showed great pace in the race – and crucially in Baku – kept his car out of the wall unlike his team mate, who was forced out of fifth for the second successive year.
Sainz retains the faith of his boss Abiteboul, who has been impressed by the Spaniard's pace and work ethic since joining the outfit late last year.
"We need to be extremely careful not to overreact or overestimate the gap between our two drivers," Abiteboul told Formula1.com. "Nico is an amazing benchmark, which makes the job of any team mate challenging.
"Sometimes, you can wait for the guy to have a weakness or a bad weekend, but Nico generally doesn't have them. Carlos has a tough job. But we've quantified that deficit. We're talking between two and three tenths in qualifying or in race trim on average.
"Carlos is extremely calm, professional and quick. He can respond. He has a very good understanding of the car. They are both pushing in the same direction, too, which is great for the team.
"Carlos is approaching that deficit in a very professional manner. He knows where he's losing, he knows what he's losing and he has set himself clear targets to reduce and bridge that deficit and I have absolutely no doubt, with that type of approach, he can be there.
"He's a great driver and the type of driver that we need right now."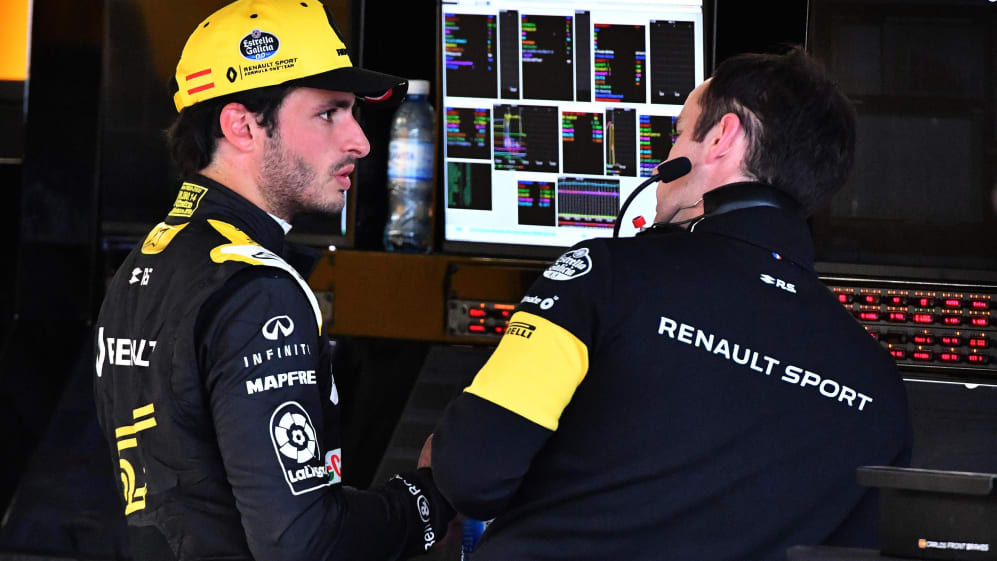 Azerbaijan was Sainz's best result since last year's Singapore Grand Prix - and the best for Renault since they returned to F1 as a works outfit. It came at just the right time too, with his home race next on the calendar.
He has a strong record on home soil, having scored points in each of the three races he has contested to date – ninth, sixth and seventh.
"In my whole career in Barcelona I've always been the fourth fastest car there since the start of my F1 career, so hopefully we can keep it that way with the Renault," he said.
If Sainz keeps on this upward trajectory, he'll be pushing Hulkenberg hard, which in turn will help push the whole team forward. Renault would like to keep him and are currently working on the basis that he will be with the team next year, even though Red Bull have the power to recall him if Daniel Ricciardo leaves and they need to fill the seat.
Sainz, though, is unperturbed. "I'm obviously still having some contact with them [Red Bull]. It's a good thing to be in contact with the whole programme, especially the guys who have given you the opportunity to be in Formula 1.
"But from my side I'm still at the Renault project, I'm still working here as if I am going to be here forever and not thinking about 2019. When it comes the right moment to talk about 2019 don't worry - I will be the first one to start talking about it, but I think I owe Renault and this team a full focus. They are pushing flat-out for me to keep climbing up the ladder."
Right now, it's that team effort that is helping both driver and team improve and get results.