Having Ocon as team mate helped me learn 'how younger generation are wired', says Ricciardo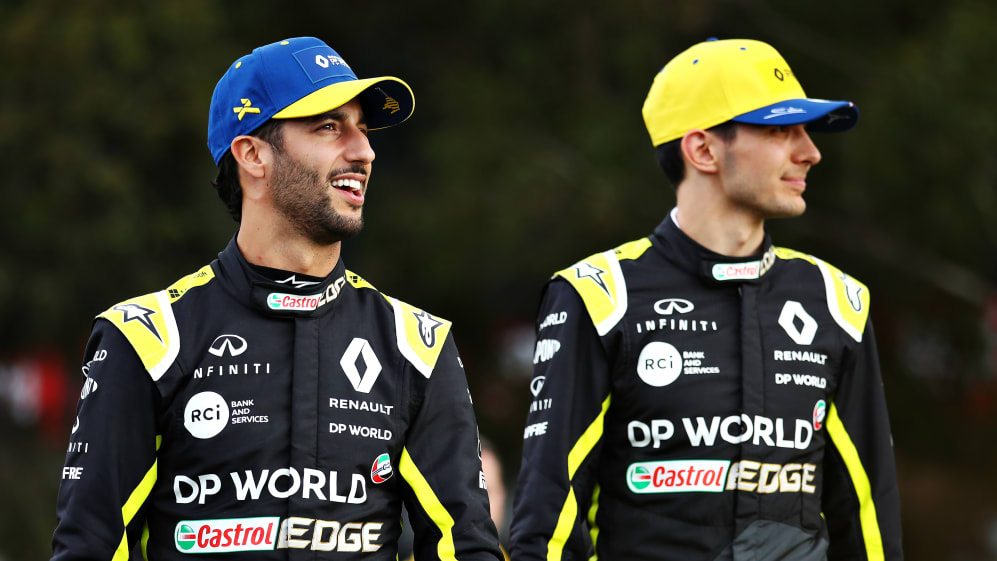 It hardly seems possible but this year marks a full decade since Daniel Ricciardo first joined the Formula 1 grid. And as one of the most experienced drivers in the sport, the Australian says he loves racing alongside youngsters as it helps to "keep him on his toes".
Ricciardo, who made his F1 debut in 2011, spent almost three years driving with Max Verstappen – who is eight years younger than him – at Red Bull, before a season with Esteban Ocon (seven years his junior) at Renault.
READ MORE: 5 bold predictions for the 2021 F1 season - how many will come true?
But seven-time winner Ricciardo, now 31, says he embraces the challenge of facing young rivals across the garage, as it helps him get a handle on how they approach their racing.
"I've always enjoyed and embraced a new team mate," says Ricciardo. "It's no secret that they are your first rival. They are always the guy that deep down you want to beat the most because they represent your fairest competition.
"And [Ocon] is a young, hungry kid coming up – a bit similar to Max [Verstappen] in some respects. It's been an opportunity to learn, and to understand how the younger generation are wired."
In 2020 Ricciardo comfortably outperformed Ocon at Renault, with the qualifying head-to-head 15-2 in the Australian's favour, while he scored 119 points to Ocon's 62, and finished seven places ahead of him in the drivers' championship.
READ MORE: 10 things every F1 fan should be excited for in 2021
"I've had good success up until now, but I enjoy the challenge," Ricciardo added. "I think with the younger drivers you see they are pretty quick learners. If I go out and do a fast corner, full-throttle, then in the next session, or on the next lap even, they're going to do it too, so I like that. I like being kept on my toes and it's forcing me to grow and get better."
Ricciardo will be facing another younger team mate in 2021 at McLaren, with Lando Norris a full ten years his junior.