Feature F1 Unlocked
'He had to fight for it all' – David Tremayne on how 'people's champion' Nigel Mansell finally tasted F1 title glory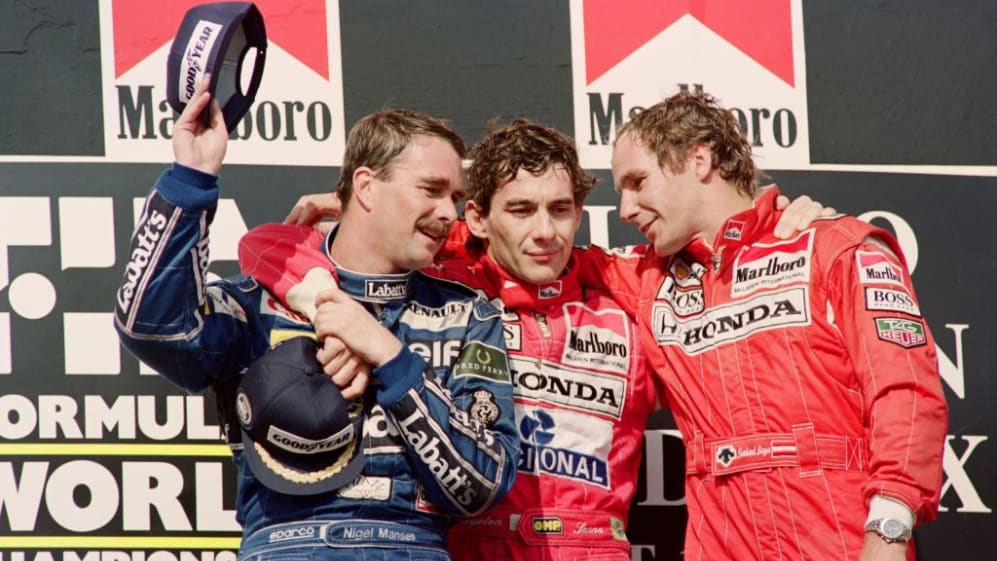 It's August 16th, 1992. Exactly 31 years ago today. And as he stands on the second step of the podium of the Hungarian Grand Prix, alongside the victorious Ayrton Senna and the Brazilian's team-mate Gerhard Berger, Nigel Mansell at last knows a moment of glorious, impeccable triumph. He has won the world championship, and done so by the 11th of the 16 races. At the time, nobody had ever clinched it so early.
After all the much-publicised heartache and tribulation in a dramatic career, so eagerly feasted upon by the red-top media, he is finally Number 1. And as he struggled to take it all in, Ayrton put an arm round his shoulders and said quietly, "Well done, Nigel. It's such a good feeling, isn't it? Now you know why I am such a bastard. I don't ever want to lose the feeling or let anybody else experience it." Nigel never forgot that.
BEYOND THE GRID: Mansell on battling Senna, overcoming adversity, and why his 1992 title win left him 'empty'
I'd first become aware of Mansell towards the end of 1977 after some impressive races in Lola's unfashionable T570 F3 car, and began following his career. He'd already shown great resourcefulness in giving up his electronics engineer's job with Lucas and selling his house to race, and win, in Formula Ford.
Six from nine races in 1976, 33 from 42 as he became Brush Fuse Gear champion in 1977. He began to show well in Formula 3 and Formula 2, and in late in 1979 he'd starred in testing for Lotus at Paul Ricard.
Colin Chapman liked what he saw. The Brummie's no-nonsense approach, engineering ability and raw speed left their mark. And when he made his F1 debut with the team in Austria in 1980 he showed great courage in keeping going until his Lotus 81's engine failed, despite sitting in a bath of leaked fuel.
Over the years there were standout performances, even though things got difficult once Chapman had died in September 1982 and he didn't get on with new boss Peter Warr. But when he switched to Frank Williams' team for 1985 he rewarded his faith with a brace of victories, on home ground at Brands Hatch and then Kyalami.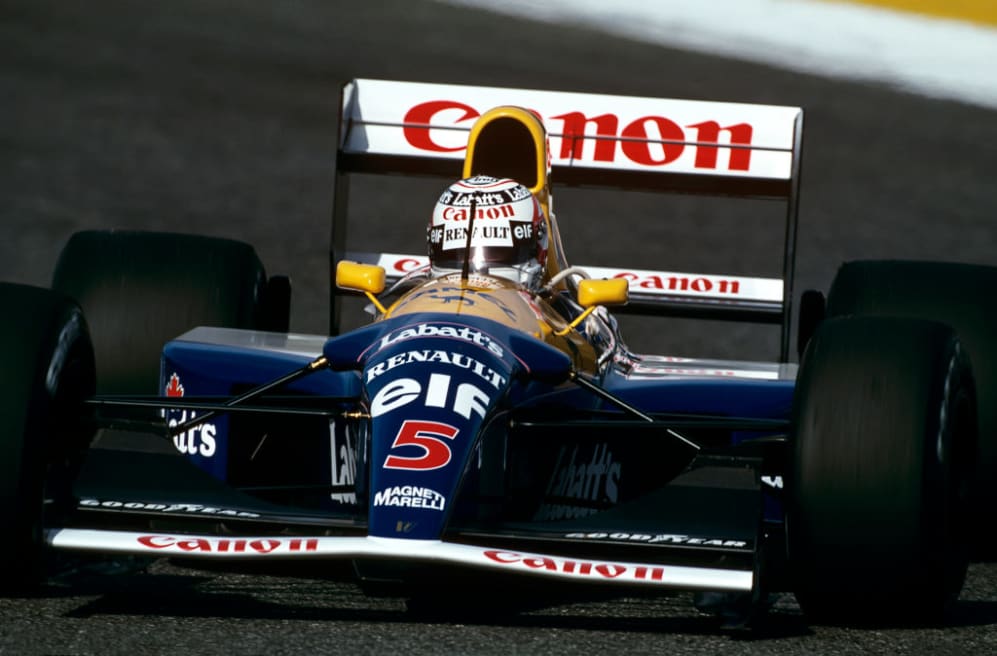 Could we ever forget his home race wins, in 1987, '91 and '92; the mystery of being in the wrong gear in Mexico which compromised 1986's title tilt; or that spectacular tyre failure later in Adelaide which finally snatched the world championship crown from his grasp? The maiden win with Ferrari in Brazil in 1989, and the finger-cutting aftermath with the glass trophy? Pure Mansell!
Or the flipside: the back-straining shunt in Japan in 1987 which ended that year's title fight; the various run-ins with Senna, by whom he utterly refused to be intimidated; the meeting of his forehead with a stanchion in Austria in 1987 and then Murray Walker's probing digit; the drama of the sock drawer which fell on his foot at Monza in 1989?
READ MORE: Prost vs Senna, Mansell vs Piquet and more – F1's fiercest team mate rivalries
The collapse at the end of the roasting GP in Dallas in 1984 (see the clip below)? Rolling on the ground in apparent exhaustion in front of the Royal Box after late misfortune cost him the 1992 Monaco race?
We loved his wins, but could smirk about these Bette Davis acts. But then you'd remember how he'd survived a serious shunt in karting, a broken neck in his Formula Ford days, then further back injury courtesy of Andrea de Cesaris in F3 at Oulton Park in 1979, yet had forced himself to get fit enough to do that Ricard test which so impressed Chapman.
If you make your own luck in life, Nigel seemed to have a monopoly on it thanks to his towering commitment. Nothing came easily. He had to fight for it all.
Of course, being Nigel, nothing could truly run smoothly for long even when he finally made that historic breakthrough in 1992. Even in that greatest moment of his career, there was hair on the cake. Not just a strand, but sufficient hirsuteness for a temple of Shaolin monks.
WATCH: 10 moments of brilliance from 1992 champion Nigel Mansell
He had agreed a contract with Frank Williams the day before the race, and thought everything was basically copacetic. He wasn't happy that he was going to have to be reunited with former Ferrari team-mate Alain Prost, but then it suddenly transpired that Senna had offered to drive for Williams, allegedly for free.
Soon everything fell to pieces and in the end, in understandably high dudgeon, Nigel quit F1 just when he had finally scaled its Everest, and decamped to America. There he joined his first F1 team-mate, Mario Andretti, at Newman-Haas in Indycars.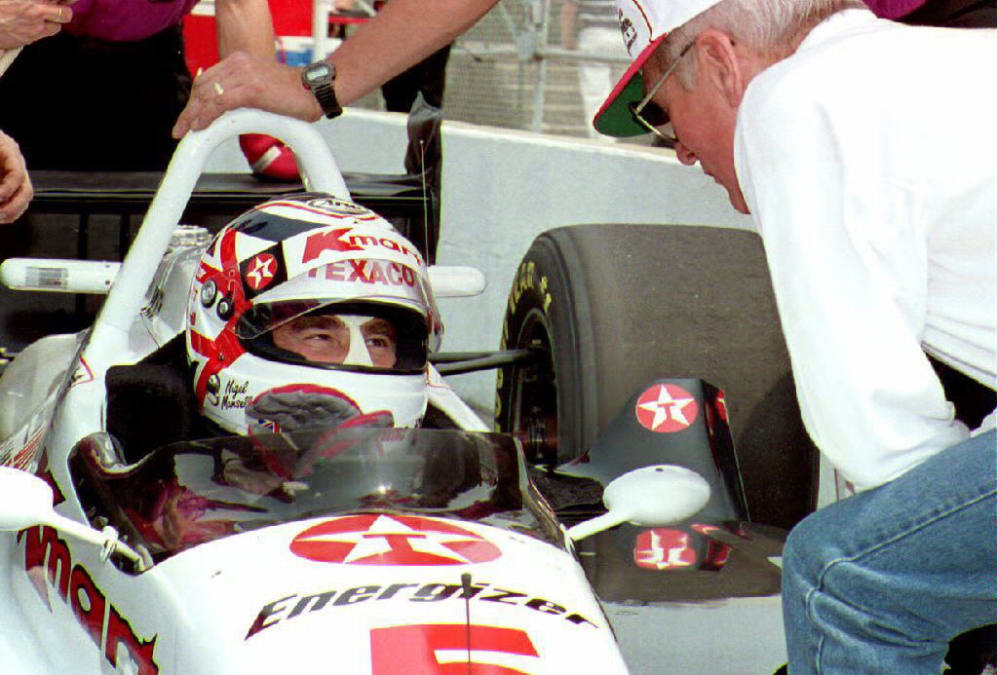 And, being Nigel, his bravery overruled everything in his first major test on an oval, at Phoenix. To lap at speeds of 230 to 240mph you needed to be brave enough to hang on to the car no matter how skittish it felt, and tell your brain to keep your right foot planted. Nigel, of course, possessed such bravery. But perhaps he had too much. He crashed. Heavily.
A 187mph backwards impact with the wall when the rear end let go in Turn 1 saw the gearbox casing punch a hole through five-inch concrete. He damaged his back yet again and, naturally, there was great drama that the daily newspapers in the UK lapped up.
MUST-SEE: Vettel drives Mansell's iconic 1992 Williams FW14B at Silverstone
But he recovered, and learned the lesson to keep feeling just what the car was doing, especially in relation to tyre temperatures. And he didn't crash again.
Relations with Mario were never great, but he won five races, even on the ovals which had long been seen as the terrain of US-bred racers rather than European 'roundy-round' drivers, to dominate the season and win back-to-back championships.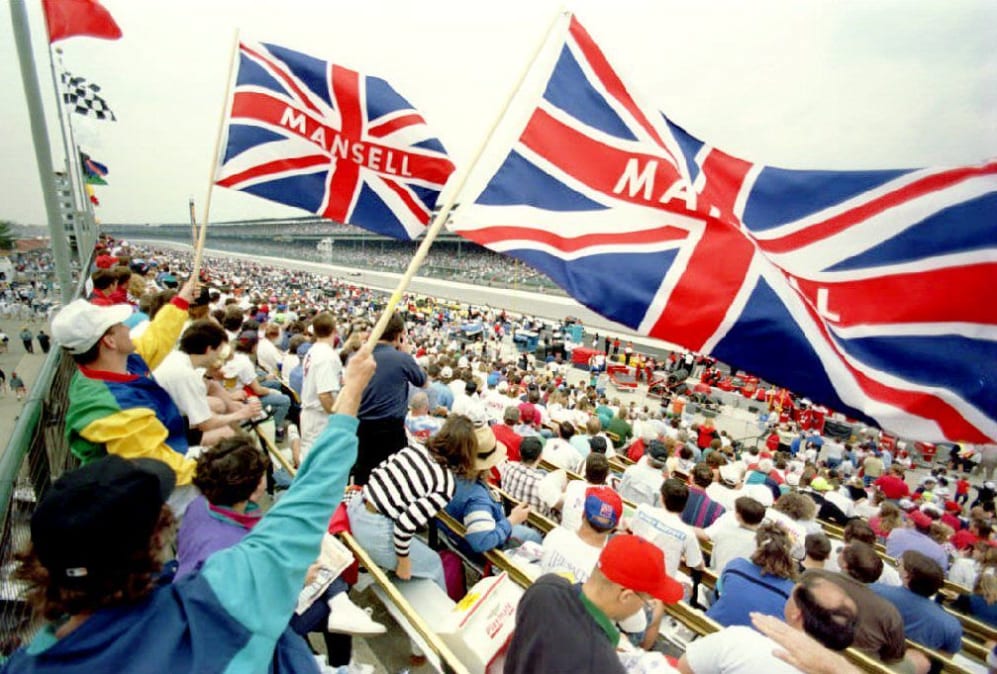 It was by any standard a stunning achievement, a blend of raw courage, mighty speed, and that fierce determination he had always exuded right back to his early days in Formula Ford. The perfect riposte to his critics.
Of course, there was then the comeback to F1 after Ayrton's death at Imola. The strong performance for Williams in France, and the final, 31st, Grand Prix victory in Australia. It might be fairer to forget the horrendously ill-starred switch to McLaren, which finally ended so ignominiously in Spain where he appeared to park a healthy car.
READ MORE: From Hamilton's crystal ball to Mansell's McLaren nightmare… 5 bold driver moves that paid off – and 5 that didn't
Like a movie star who made one film too many and suffered a box office slump, he doesn't deserve to be judged on that. When, like James Hunt before him, you operate on the highest level where winning becomes absolutely everything, running in an uncompetitive car can quench your fire and destroy your soul. Only Gilles Villeneuve seemed capable of overcoming that.
A few years back, Nigel and I had a lengthy conversation in the media café at Silverstone during the British GP weekend. I'd begun by saying thanks very much for dropping in to say "hi", after I'd spotted the photo on the front page of the Northern Echo of him during some national cycle ride through our locality.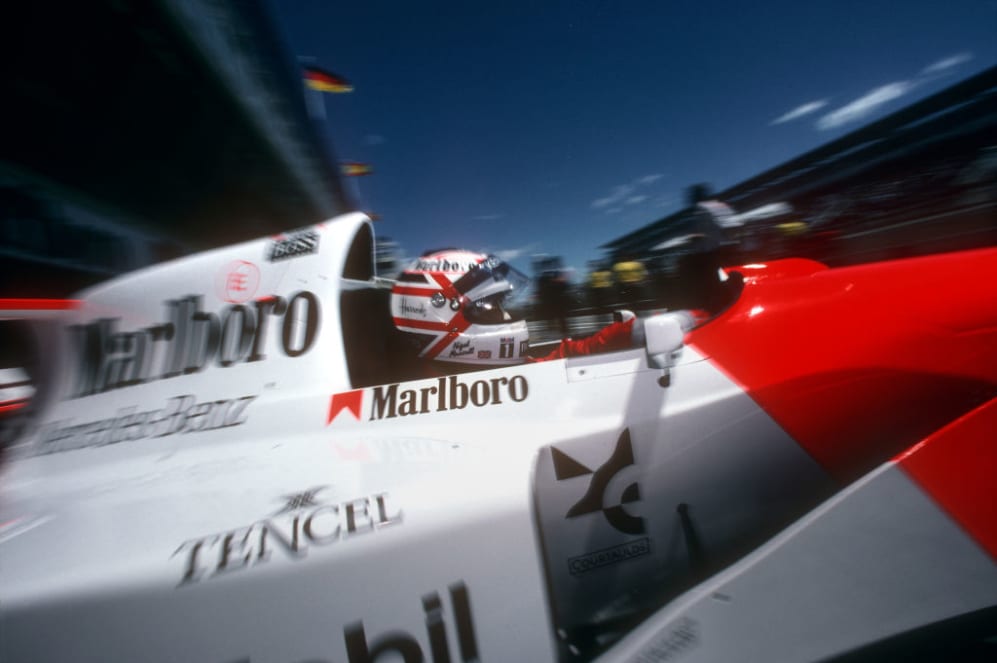 He immediately launched into an improbable tale of how he knew he had torn his Achilles tendon, yet had carried on with the charity campaign. It was pure Nigel, a litany of pain heroically overcome. Curiously, it was somehow comforting to know those old fires still burned.
The conversation went to many places, not least family, marriage and children. Rosanne had been with him through everything, his faithful soulmate, and had recently been fortunate to survive some horrible health issues.
WATCH: Mansell, Hamilton and Raikkonen star in our top 10 moments of tyre drama
It was 30 years at least since the day I'd first interviewed him, at home in Birmingham's Hall Green, and had failed to lift the dumbbells he could raise with apparent ease. We are of similar age, and there was something poignant yet affirming about reflecting on his stellar career from such a distance, especially when it still seemed like only yesterday.
"Do you realise, this is probably the longest, most grown-up conversation we've ever had," I asked him, and we both burst out laughing. "Yeah," he replied. Perhaps it means we've finally grown up." If nothing else, I thought, it suggested that he had finally found a measure of peace, and it sat well on him.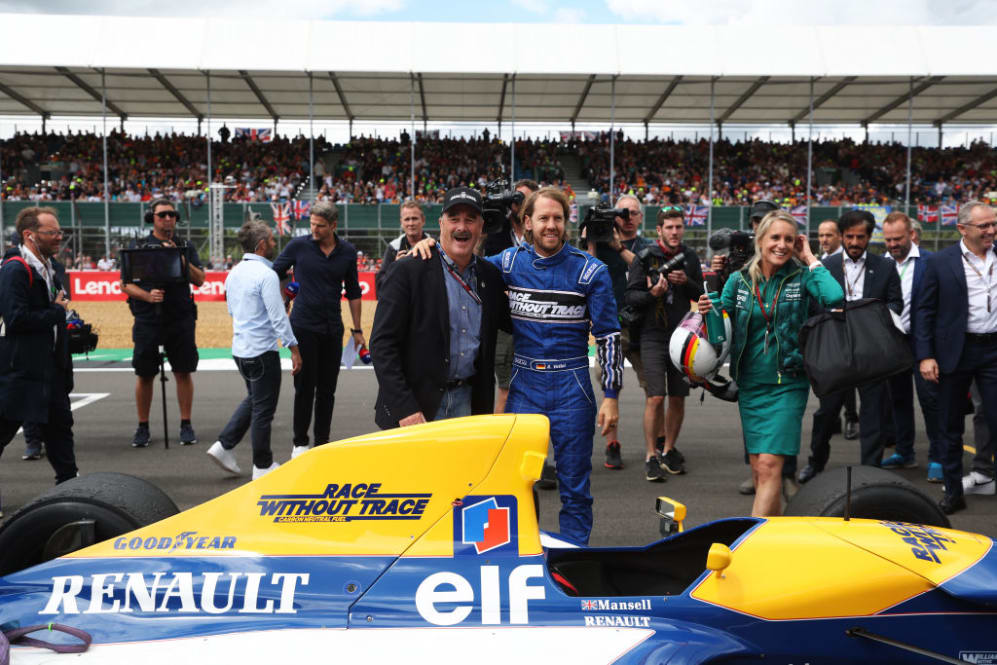 He seemed finally at ease with who he was, and what he had achieved. Which was, let us never forget, a great deal. Above everything else, he was a purebred racer.
Outside on the grid the following day he might have felt more comfortable hanging out with people he knew, the hacks with whom he'd had his ups and downs over the years, but there was no doubt how warmly the crowd regarded a noble warrior.
WATCH: Hamilton's first Silverstone win, Mansell mania, and more – 5 British GP feelgood moments
Nigel Ernest Mansell. Was there ever another racing driver quite like him? Of course not.
As strong as an ox and well able to deal physically with everything that fate threw into his path, he might yet have needed that continuous moaning to generate the fantastic impetus that drove him to succeed.
He seemed fuelled by the belief that the world was against him, and that ever-present cloud of drama always seemed to wrap itself around him.
But everyone has their own way of trying to squeeze the absolute best from themselves, and who could ever argue that his unusual way of motivating himself didn't work?
BEYOND THE GRID: Alain Prost on Ayrton Senna, his 1993 title – and almost rejoining Ferrari
To many thousands of fans across the globe he deservedly remains a hero, a winner, a world champion. One of the most spectacular drivers we have seen, with a leaden right foot and a lion's heart.
Not a Senna. Not a Prost. Nor a Clark or Stewart. He was Nigel Mansell. The People's Champion who could pull off the unexpected through sheer force of character. And it was simple. To them, he was 'Our Nige'. And they adored him for that.
To read on, sign up to F1 Unlocked for free
You'll unlock this article and get access to:
Live leaderboard data
Epic experiences and rewards
Money-can't-buy competitions