'He thinks about it 24-hours a day' – Pedro de la Rosa on what makes Alonso such a formidable racer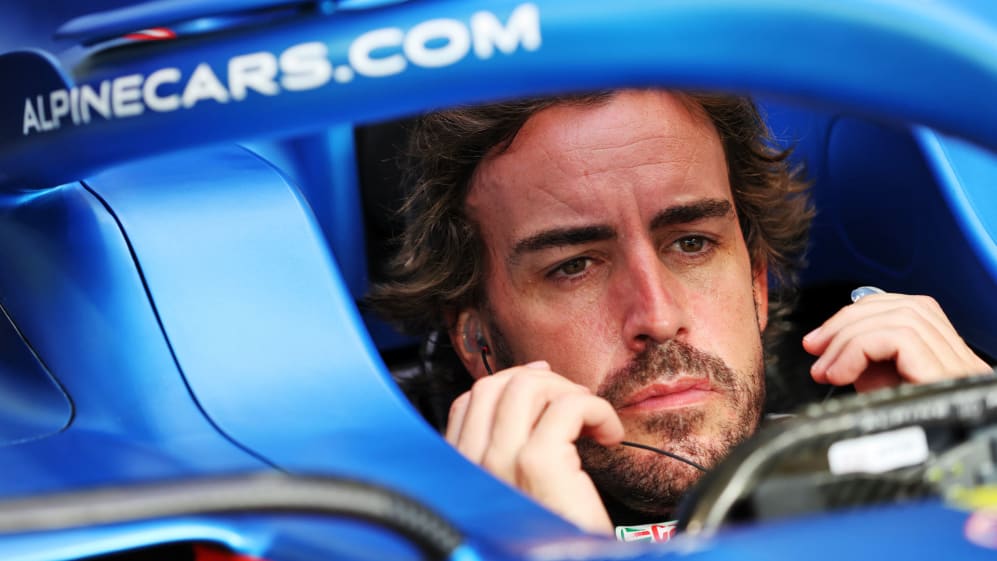 Fernando Alonso's return to F1 after two years out of the sport has been one of the biggest stories of the season, with fans keen to see whether he'll be the same relentless racer of old. The evidence from Bahrain, where he qualified P9 and raced well within the top 10, is that he's lost none of his sharpness – and according to friend and countryman Pedro de la Rosa that's what makes the two-time world champion so special.
Speaking to Damon Hill and Tom Clarkson on the new-look F1 Nation podcast, De la Rosa - who worked with Alonso at McLaren and Ferrari - said the 39-year-old remained as focussed now as he was in the early 2000s when he first began his F1 career.
READ MORE: Tsunoda describes 'emotional' pass on hero Alonso – and what he learned from shadowing him
"That's his strength really – Fernando thinks about motor racing 24 hours a day. Everyone says the same about a champion, about a racer, but actually when you say it about Fernando you mean it," said De la Rosa.
"I've been with him when he's not racing in Formula 1 or in WEC [World Endurance Championship] and he's thinking about 'we should do a karting race together again'. He's always thinking 'what can I race this weekend?'.
"This is quite unique – I've been with many drivers. Myself, the weekend I had off I wanted to do other things – I wanted to be at home, I wanted to see my kids, I wanted to be on the bike. But for him it's not his work, it's his passion. He's a passionate man and I think that's his biggest strength – he doesn't have any other distractions in his life. He's a committed man, 100%."
De la Rosa added that he had no concerns about Alonso's advancing years slowing him down.
"To see him, at his age, coming back, being this hungry is really fantastic," he said. "I personally get a bit disappointed that everyone is asking him about his age and if he's quick enough now that he's close to 40. But I always got those type of jokes that young drivers made about myself.
"It's part of the game, you know?" he added. "When you see a potential weakness on a competitor you always try to pull the string. The important thing really is how hungry you are inside and how confident you feel inside – have you lost the speed? Have you not?
"It is a bit unfair to say he has been retired from F1 for two years, I mean he has been racing at full level in WEC or Dakar, he's always been karting, he's always been in contact with motor racing – it's not like he's been out of the sport."
You can listen to the full episode of F1 Nation in the player above, with Damon and TC also taking a closer look at the Mercedes versus Red Bull rivalry, and how it compares to the classic Williams versus Benetton rivalry of the mid-Nineties. You can also listen on Apple Podcasts, Spotify, Google Podcasts or your favourite podcast app.