'He will forever be part of the Mercedes family', says Wolff as Bottas announces Alfa switch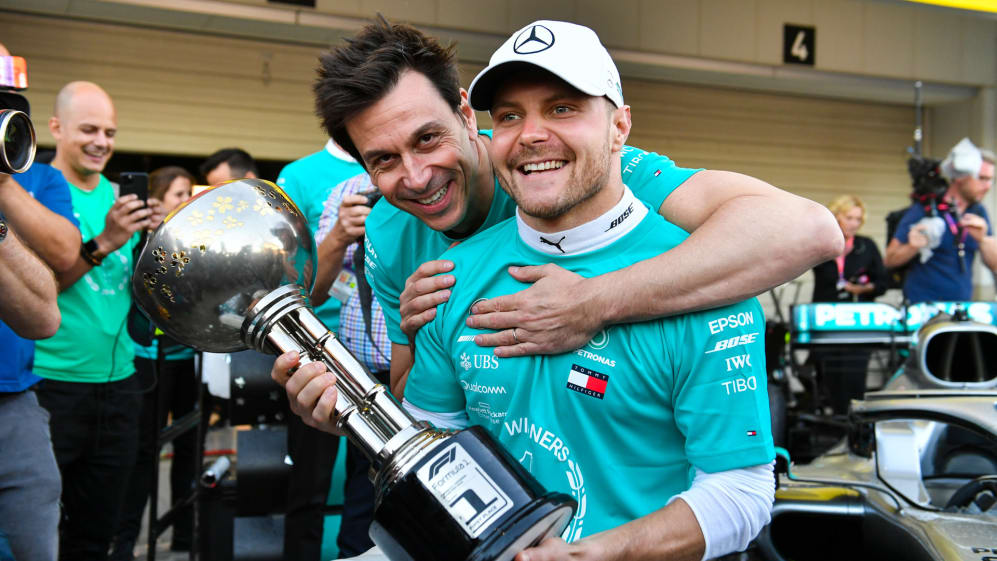 Toto Wolff has paid tribute to Valtteri Bottas as the Finn prepares to leave Mercedes for Alfa Romeo at the end of this season, calling the driver part of a "benchmark partnership" with team mate Lewis Hamilton.
Bottas will join Alfa Romeo in a multi-year deal at the end of the season, having announced the news on Monday after the Dutch Grand Prix. So far he has Silver Arrows with 54 podiums, nine wins and 17 poles with the Silver Arrows – and has helped them win four consecutive constructors' championships.
READ MORE: Alfa Romeo move a chance for Bottas to emerge from Hamilton's shadow, says Vasseur
Team Principal Wolff hailed the 32-year-old's impact as he said: "Together with Lewis, he has built a benchmark partnership between two team mates in the sport, and that has been a valuable weapon in our championship battles and pushed us to achieve unprecedented success.
"He would absolutely have deserved to stay with the team, and I am pleased that he has been able to choose an exciting challenge with Alfa next year to continue his career at the top level of the sport; when the time comes, he will leave us with huge goodwill from every single member of the team, and he will forever be part of the Mercedes family."
Wolff, who signed Bottas from Williams in 2016, added: "This hasn't been an easy process or a straightforward decision for us. Valtteri has done a fantastic job over the past five seasons and he has made an essential contribution to our success and to our growth."
Bottas sits third in the championship after the race at Zandvoort, having finished third there for his seventh podium of the season. He said: "When I look back on my time with Mercedes, I want to be able to say that I squeezed every drop out of this opportunity and left nothing on the table, and I want to make sure that we finish our time together as champions.
ANALYSIS: Why Bottas signed for Alfa Romeo – and what it means for Mercedes, Williams and the rest of the driver market
"It has been a privilege and a great sporting challenge to work with Lewis, and the harmony in our relationship played a big part in the constructors' championships we won as team mates. Later this year, the time will come to say goodbye – that's not for now, but I would like to thank Toto and the team for the respect in how we took the decision together.
"I'm as hungry as ever to race for results and when the time comes, for wins. But for now, my mission is clear: maximum attack for Mercedes, all the way to the final lap in Abu Dhabi," he concluded.