High penalty points tally leaves Grosjean fearful of race ban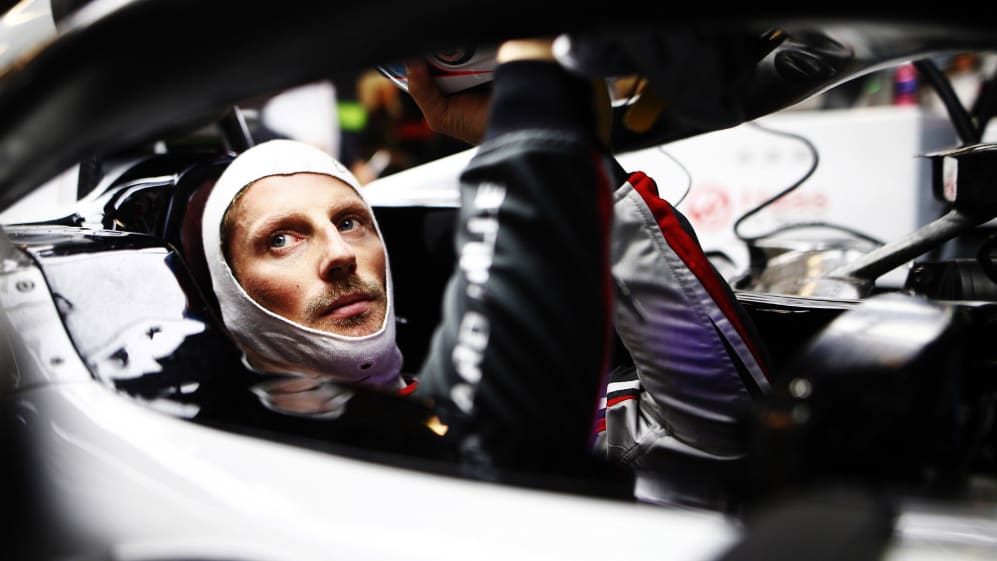 Austin was not kind to Romain Grosjean. The Haas driver picked up a penalty point for his collision with Sauber's Charles Leclerc, meaning he is now just two shy of triggering an automatic one-race ban. No wonder the Frenchman is concerned heading into this weekend's Mexican Grand Prix…
Should Grosjean accrue two points in Mexico, it would lead to his second career race ban, having incurred one following his spate of incidents that culminated in a big first-lap crash at the 2012 Belgian Grand Prix.
The Haas driver admitted the Austin incident was his mistake, but was disappointed to receive the penalty points and a three-place grid drop for Sunday's race in Mexico City, particularly as he was trying to be careful. "You could have seen it as a lap one race incident," he told reporters at Autodromo Hermanos Rodriguez.
"Yes, I made a mistake. Because I didn't want to take risks, I didn't brake hard enough, I didn't slow down and find dirty air. It's lap one of the race, things happen."
One point will expire after the Mexican Grand Prix, while another two will disappear after Brazil. But for Mexico, he must keep his nose clean from the start of practice tomorrow, where he could pick up additional points for infringements such as failing to slow down sufficiently under red-flag conditions, like Sebastian Vettel in FP1 in Austin.
When asked by Formula1.com if he was worried about his situation, with a race ban looming, he said: "Yes. I'm in a shit situation. I have two points left – okay, I get one back after the race and two back after Brazil so then it will be a bit nicer, but sometimes you take a penalty point and you don't know why.
"The blue flag in Singapore, why did I get two penalty points and five-second penalty? Okay, I blocked Lewis and I apologised. I was in my fight as well. By the time I was in front of the Williams, the Williams didn't let the other car by either so I couldn't move straight away. Barcelona, two points, three places, fair enough, I made a mistake."
Wary of getting in more hot water with the stewards, Grosjean says he will 'try to be as good as I can', adding: "In Austin, I didn't want to be aggressive, and I lifted off out of the fight, and then I got caught in dirty air. I trust my good star to be aligned and everything is going to go well.
"I accept the penalties. I move on and I'm ready to drive here and make sure I try to avoid as much as I can any troubles, saying we still do a job that is on the limit all the time. Get one point back next week. Brazil same thing. And then it will pass."