Feature F1 Unlocked
HINCH'S HEROES: Who makes Hinch's list after a dramatic weekend of action in Miami?
This season, former IndyCar star James Hinchcliffe is taking stock after every Grand Prix and presenting his 'heroes' from the weekend, exclusively for F1.com. Here are his picks from the second running of the Miami Grand Prix…
A red flag in Q3 gave us a bit of a shaken up starting order for the second running of this unique Grand Prix around the Hard Rock Stadium, and set the stage for some great drives on Sunday. The drivers had to tackle a new surface and cooler than expected temps on race day leaving some teams with questions over tyre degredation, so let's take a look who best tackled the 57 laps around Miami.
George Russell, Mercedes – P4
After fairly concerning practice pace – save for FP1 when both Mercs used an extra set of tyres to top the session – Russell did well to get into Q3 when his team mate could not, and benefitted from the errors made by both Charles Leclerc and Max Verstappen to start further ahead of where he realistically should have been.
That would lead one to expect a fall down the order once the lights went out. Instead, Russell put on a clinic in race craft. He was on the popular medium-hard tyre strategy and pitted from fifth, running just over three seconds behind Carlos Sainz in fourth.
READ MORE: 'We couldn't have done more today' insists Russell after taking P4 in Miami
While Sainz pitted the following lap to cover and emerged in sixth, the tight nature of the midfield meant that Russell exited the pits in 12th. From there he exhibited controlled aggression and precise passes to catch and pass the Ferrari, bringing home an unexpectedly strong result. Making genuine on track passes while taking care of the hard tyres rewarded the team with a top-five finish.
Lewis Hamilton, Mercedes – P6
Hamilton couldn't match Russell's pace to get into Q3 and was relegated to a 13th place start. From where he was, Mercedes decided to split the strategies and put Hamilton on the slightly less preferred hard-medium tyre approach. Hanging on to position in the first stint as the lead in a train of hard tyre runners, he picked up spots as the medium shod cars peeled off for their stop.
Nursing the hards until Lap 39, Hamilton emerged in 13th with 18 laps to run. Utilising the fresh mediums and low fuel, he cut his way through Ferraris and Astons and Alpines alike to cross the line sixth. Only Verstappen out-performed Hamilton on the less favourable hard-medium strategy, which, when you consider the pace advantage Verstappen has on the field, makes Hamilton's drive all the more impressive.
READ MORE: Wolff lauds Hamilton's 'mega' Miami performance as he admits W14 is 'poisonous' to drive
Yuki Tsunoda, AlphaTauri – P11
Having spent the entire weekend between 16th and 18th on the time charts, there wasn't much for Tsunoda to be happy about going into the race. But like we've seen so many times already this year, he showed up on Sunday with his "New Yuki" approach to Grand Prix racing, and dragged his under performing Alpha Tauri to the brink of the points.
He started back in an area of the field where every tyre strategy was employed, but opted for the hard-medium route and ran a mistake free run that brought him within a second and a half of Kevin Magnussen for the final point. His consistency – he's finished 10th or 11th in every race so far in 2023 – and his mistake free running have shown that this young driver has taken the team leader role seriously and he continues to impress.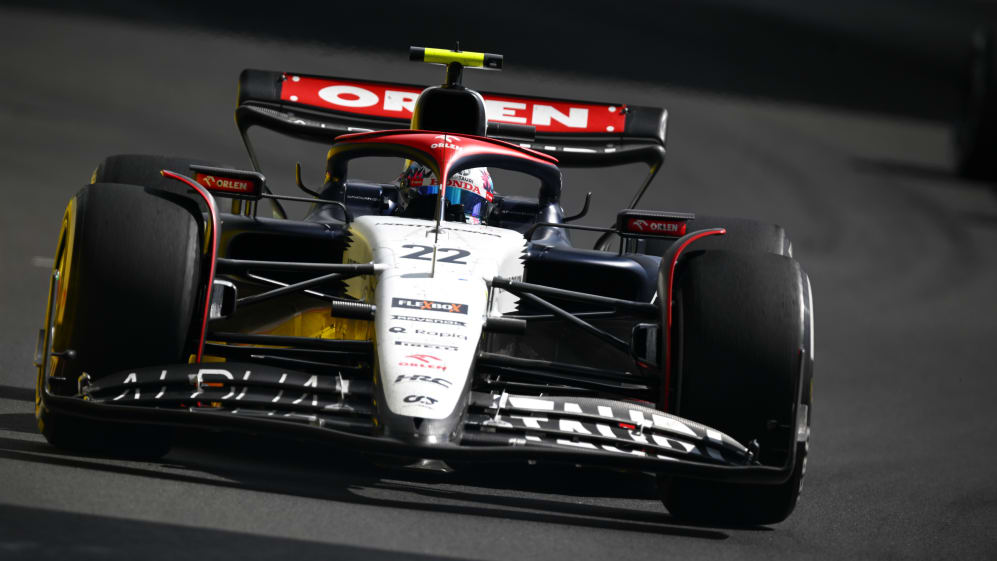 Fernando Alonso, Aston Martin – P3
Let's be honest, there hasn't really been a race this year that Alonso hasn't been impressive at. Four podiums in five races is an incredible achievement for the team and this driver. And while Sunday was a fairly uneventful day for Alonso, what keeps catching my eye is his mental capacity while wheeling an F1 car around a concrete jungle.
Whether it's discussing (in shocking detail) the strategy with the engineers, or enjoying a little bit of replay highlight action from the trackside big screens and passing along compliments to his teammate, his ability to converse and compute while at speed is baffling.
READ MORE: 'After 4 podiums we obviously want more' says Alonso after taking P3 in Miami
A lot of times it's races where you are lonely on track that mistakes creep in. When you're not relentlessly trying to pass a car in front, or defend from attackers behind, it's easier to have that momentary lapse in concentration – just one or two tenths of a second is all it takes sometimes – and a critical mistake puts you in the wall.
Alonso, on the other hand, seems like he could be doing his taxes in the cockpit and still bring home some hardware. Miami was another reminder of just how sharp he is.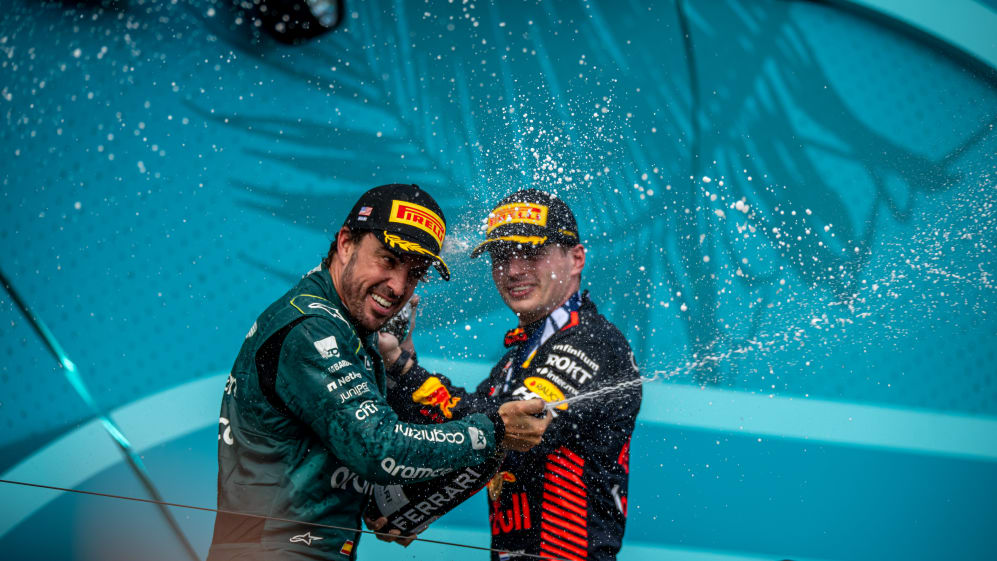 Max Verstappen, Red Bull Racing – P1
I know what you're thinking and, respectfully, I don't care. Does he have the best car? Yes. Is his team a well-oiled strategic machine? Sure. But his drive on Sunday was indicative of someone performing at a level so far above the rest, and 'the rest' happen to be some of the best peddlers on the planet.
STRATEGY UNPACKED: Was starting on the hard tyre the key to Verstappen's victory in Miami?
When you look at his decision making in traffic, his knack for extending the window of his tyres, his ability to maintain a crushing level of lap time consistency, you appreciate that you are watching something incredibly special.
The performance margin he had all weekend long, even over Perez in the same car, who is driving at the highest level of his career, was astonishing. I don't think he liked the post Baku talk of a championship 'battle'. He wants a championship slaughter, and he let everyone know it in Miami.
To read on, sign up to F1 Unlocked for free
You'll unlock this article and get access to:
Live leaderboard data
Epic experiences and rewards
Money-can't-buy competitions