Feature
Home runs - Sebastian Vettel looks back on his nine German Grands Prix
Delight, drama, despair – Sebastian Vettel's home races have encompassed every kind of emotion. As the four-time champion prepares for his 10th German Grand Prix start, he looks back at the brightest and darkest moments from his nine to date…
2008
Qualified: 9th Race: 8th
Vettel's maiden German Grand Prix provided the spark for a stellar second half of his first full season in Formula 1 that reached its apogee in victory at Monza. Up until Hockenheim, Vettel had been dogged by problems, both technical and self-inflicted. At home, though, the young star qualified his improving Toro Rosso STR3 in ninth place and a solid run to eighth place netted a third points finish of the campaign. It was here too that Vettel was confirmed as a 2009 Red Bull Racing driver.
"It was a huge moment to be able to drive in Formula 1, to have a seat and then to step up to the main team," he recalls. "Obviously I'd been with Red Bull already by that time for nearly 10 years. In 2008 it was a good car and by halfway through the season things were falling into place. We were able to qualify well and score points regularly, and obviously we had Monza as a highlight, but overall I think Germany was pretty good that year and we scored points."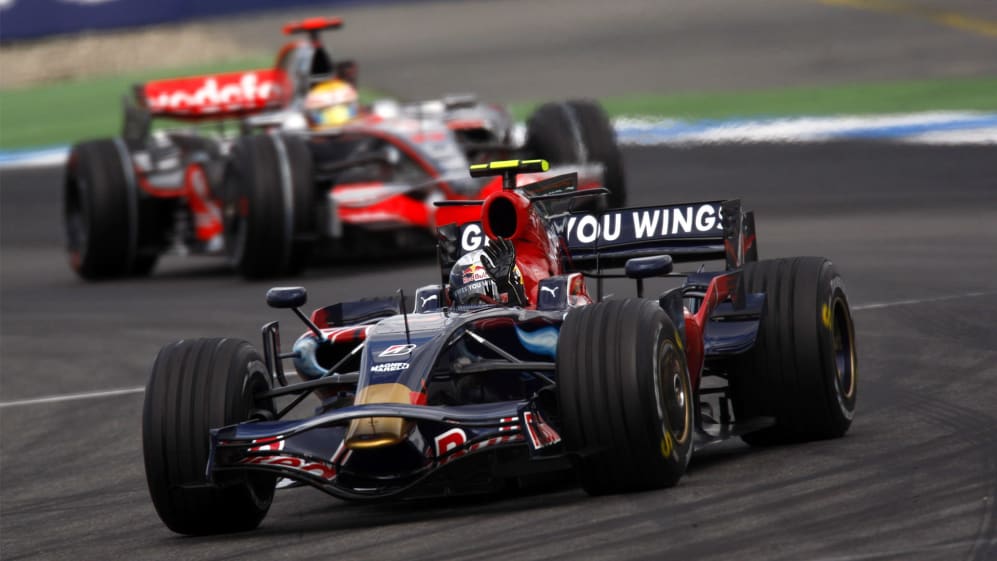 2009
Qualified: 4th Race: 2nd
Vettel's first season with Red Bull Racing announced the arrival of a future champion. After taking the team's first win in China, he arrived at the Nurburgring with two podiums and a Silverstone win in his pocket. On home soil he couldn't replicate the heroics of the round in Britain and had to give way to his unstoppable team mate Mark Webber.
"I remember that very well actually because I really wanted to win, but didn't simply because Mark was faster. I think he was a bit of a specialist around the Nurburgring, and still is! He was just faster than me and beat me fair and square. I didn't like it obviously because it was Germany, the car was good, I was there to win and I didn't get it. But I remember sitting in the debrief afterwards and just saying 'look, as much I'm annoyed, really, well done'. There were a couple of places that I still remember now where he was faster, so hat's off."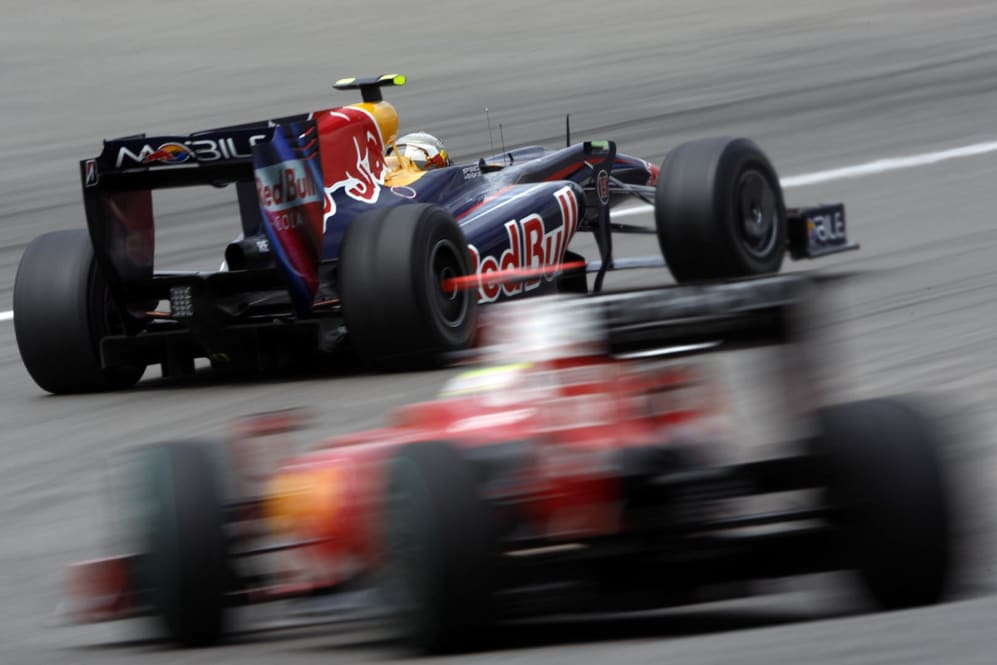 2010
Qualified: 1st Race: 3rd
The 2010 German Grand Prix is notorious as the race in which Ferrari's Felipe Massa was told "Fernando is faster than you" and had to cede a controversial win to his team mate. Vettel found himself caught in the middle of the fallout, attending a fiery post-race press conference alongside a taciturn Alonso and a dismayed Massa. Amid all that, it had been forgotten that the German had scored his maiden home pole and grabbed another podium, this time at Hockenheim, with third place.
"I was on pole but only by 0.002s," Vettel recalls. "That was an intense moment but actually really cool because it was so close. But then on Sunday we were just not quick enough and found ourselves behind the Ferraris. Also, I had a clutch problem at the start and I dropped to third. The press conference afterwards? That was also pretty intense, but not for me. I was disappointed that I came only third so I was quite happy that I had nothing to do with what went on afterwards, to be honest."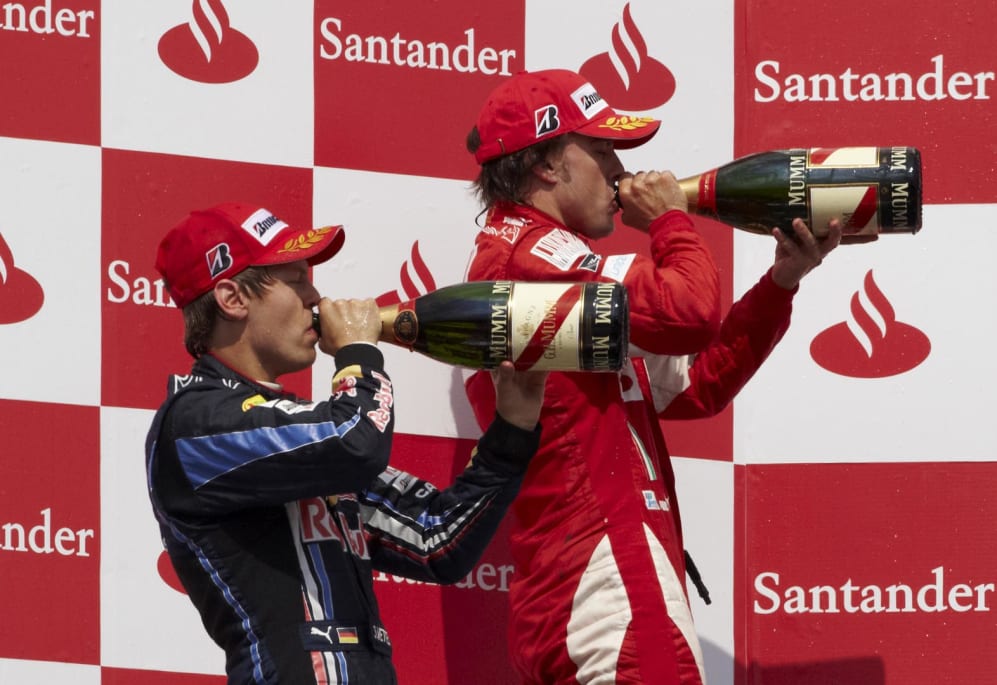 2011
Qualified: 3rd Race: 4th
In a season of superlative performances and 11 wins, Vettel's fourth place at his home race in 2011 ended up being his worst of the season. Unable to find his way on set-up at the Nurburgring, Vettel qualified third and after the start found himself embroiled in a race-long battle with Ferrari's Felipe Massa. Vettel eventually won out in the closing stages, and as Ferrari fumbled a wheel nut, Red Bull's pit crew were flawlessly fast, handing the defending champion fourth at the flag.
"It's not a race I have great memories of," he says. "I was stuck behind Felipe for a long time but then we had that great pit stop so we were able to salvage something. This picture of the inside of the cockpit is fun. That was sort of a homage to my time in Formula BMW. We always put smileys on the outside of the car for wins and then in 2004 I had so many that we were running out of space on the outside! Obviously in Formula 1 we couldn't do that because it's too corporate, so we started to put smileys inside the cockpit. There are five there but I think one is hidden!"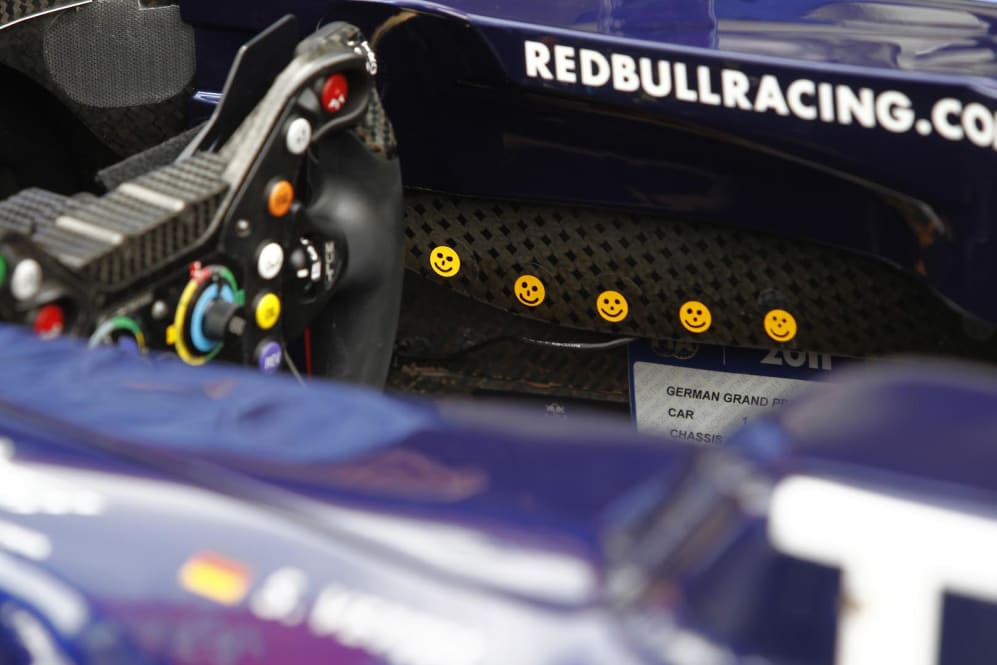 2012
Qualified: 2nd Race: 5th
There was plenty of drama at home for Vettel in 2012, this time at Hockenheim. In wet conditions on Saturday Vettel qualified second behind Alonso, but the race got away from the German, first when he was rattled by Lewis Hamilton unlapping himself, which lost him time, and then when he lost a position to Jenson Button. Vettel chased the McLaren driver down, but his pursuit came with consequences. The German passed Button and took his reward on the podium for second place. In the aftermath of the race, though, Vettel was deemed to have left the track in passing the McLaren and was handed a time penalty that dropped him back to fifth.
"It was still a good race," he says. "I remember I had to recover from a poor start, but it was fun. I think I overtook Jenson on the last lap. It was a case of do it or don't, simple as that. You have to go for it."
2013
Qualified: 2nd Race: 1st
After five attempts, Vettel finally tasted home race glory at the Nurburgring. Lewis Hamilton edged qualifying by a tenth of a second to take pole position but Vettel made a superb start and after a brief tussle with Hamilton that almost allowed Mark Webber to sneak through, Vettel passed the Mercedes man and seized control of the race. The German came under heavy pressure from Lotus drivers Kimi Raikkonen and Romain Grosjean in the closing stages but held out to take a famous win.
"It's very special to be able to race in front of your home crowd, but though we had a good car for some reason in Germany it didn't quite come together," he says. "And it wasn't like in other races where we really had a very good shot at winning. Germany was probably one of the most difficult ones since 2009. It was very difficult. So 2013, even though it wasn't ours to win, we did it. In terms of speed, the others were a lot faster but we were just able to fend them off so, yeah, it's just nice, you know? You know the track from childhood, from junior level, and obviously you only get one chance during a Formula 1 season, so yeah, it was nice to get it done. Definitely a monkey off the back."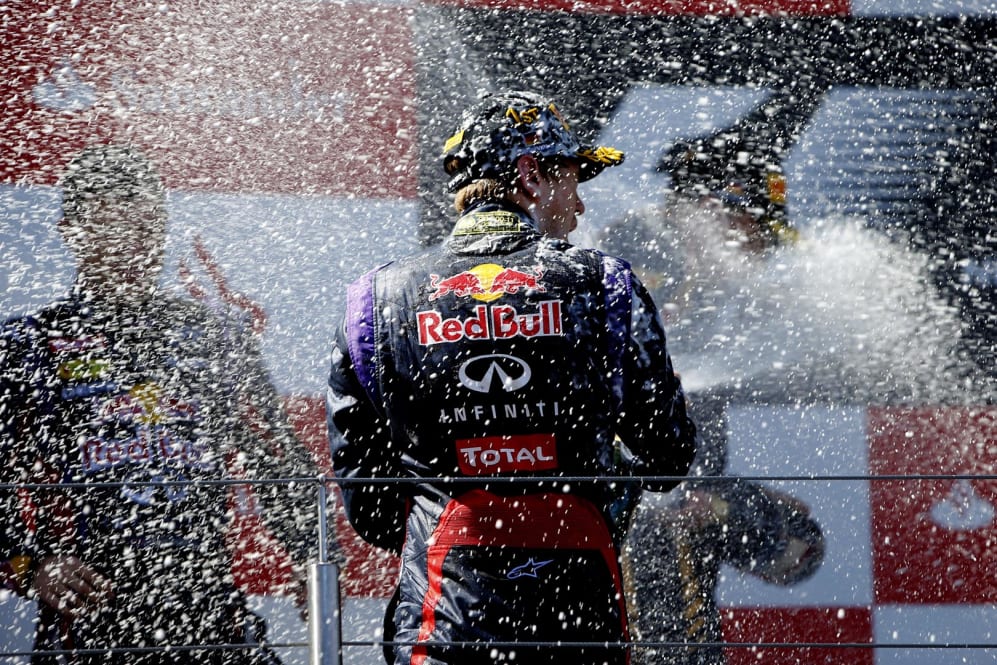 2014
Qualified: 6th Race: 4th
Vettel's final season at Red Bull was a turbulent one. Unable to find a comfort zone with the new car, its underperforming Renault hybrid power unit or hungry new team mate Daniel Ricciardo, the defending champion rarely found the form that had brought him four titles. At Hockenheim he qualified sixth, three-tenths off Ricciardo. But in the race he outpaced his new rival in fine style, clambering to a creditable fourth at the flag. Thirteen weeks later he announced he was quitting the team for Ferrari.
"It wasn't too bad but we were just out of reach to win," Vettel says. "Had I already decided to leave? At that point probably the fair answer is no, not really. It wasn't decided, but it was in my head as an option, but at that point it was still pretty much flat out, trying to get the best out of what I had.
"I think 2014 was an interesting year. The car was actually quite good, it just wasn't our year in terms of reliability. But I think the most difficult thing was that if you look at the comparison with Daniel at that time, I think I was trying to get back to the top, whereas for Daniel it was sort of 'this is great, I finish third, I finish fifth, I finish sixth'. We were at completely different points in our career. I'd say we had different ambitions in terms of the car. It's fine to say 'I can get it to fourth', but really, what do we need to do to get it to first? I think I learned a lot, matured a lot that year."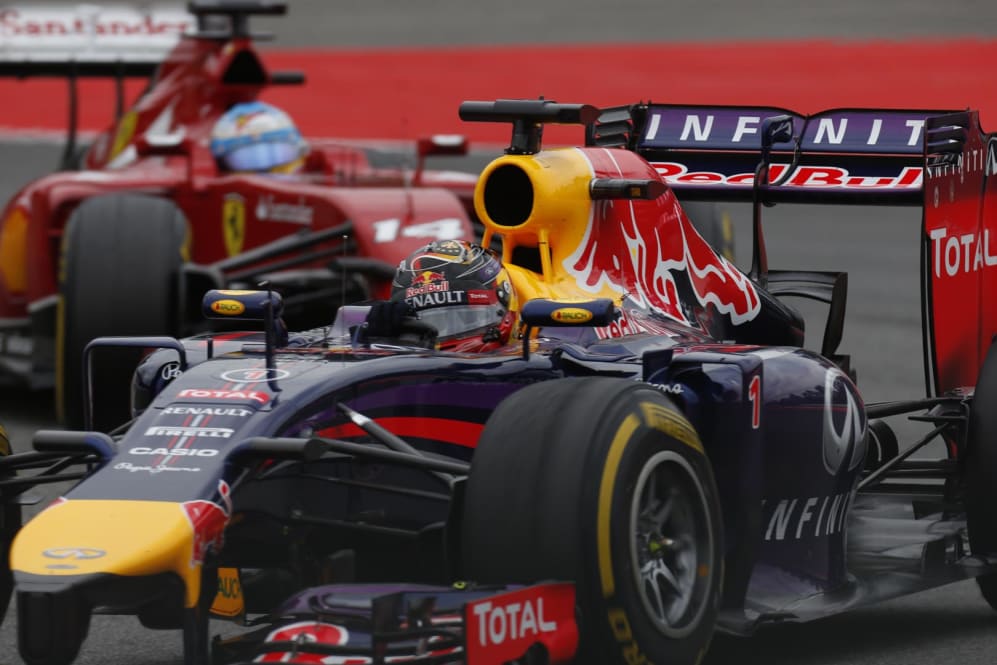 2016
Qualified: 6th Race: 5th
Vettel's first home race with his new team, Ferrari, was not one covered in glory. On Saturday the German lamented poor balance in qualifying and a general lack of pace. He saw a silver lining in the team's better performance on long runs, but in the race, he again struggled for pace, this time complaining that the car was "sliding around too much". It shouldn't be one to remember, but for Vettel it lives large in his memories.
"It was my first time with Ferrari in Germany and that was special," he says. "It was also obviously pretty easy in terms of support, as a lot of people tend to rock up with their red hats from 10 years ago! Plus, it was very special for me because it's so close to where I'm from. It's kind of my backyard. I went cycling around there a lot when I was a kid. So, it means a bit more than just racing in your home country. Also the helmet I raced with was one of my favourites, with the green at the back."
2018
Qualified: 1st Race: DNF
Last year's race should have been a victory march from lights to flag for a supremely in-form Vettel, who qualified on pole and then expertly controlled the race from the front after the lights went out at the start. Even as arch-rival Lewis Hamilton was scything through the field from 14th on the grid, Vettel was managing a significant gap back to the Briton. However, as the race entered its final third rain began to fall, and on Lap 51 the heavens opened. Vettel was caught out and slid off track and into the barriers in the stadium section. Hamilton swept by to take victory and Vettel's eight-point advantage over the Briton heading into the weekend suddenly became a 17-point deficit.
"I won't forget that race, that moment… and it was particularly annoying because I wasn't pushing," he says. "It's not like you try to push yourself to the limit and then you go off, and with these kind of conditions that we had, a lot of people went off. I chose the wrong place, and probably the only place with gravel. In other places I could just turn around and go and it's probably forgotten after the race. But yeah, mistakes… That was a mistake and it was costly. Very costly."