Vettel 'won't lose sleep' over Germany error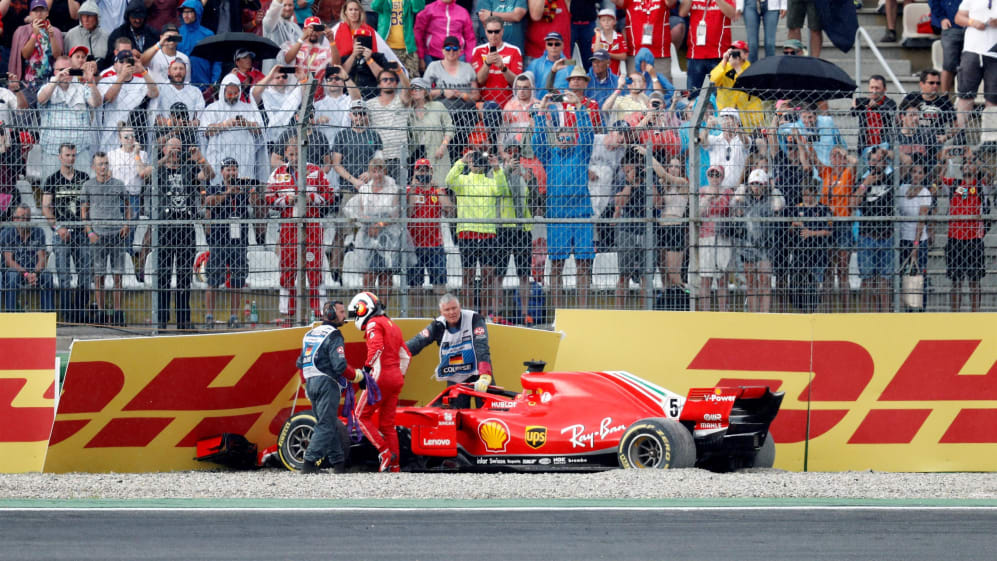 Will Sebastian Vettel's #5 Ferrari sliding off the track at Hockenheim become the defining moment of the 2018 Formula 1 world championship? That remains to be seen. But while it was certainly a costly error from the German, handing victory to his title rival Lewis Hamilton, Vettel still maintained that he'd enjoyed a "very positive" weekend in Germany...
With drizzle falling in Hockenheim, race leader Vettel had looked tentative coming into Hockenheim's stadium section on lap 52 of 67. Seeming to overcommit to the banked Sachskurve corner, Vettel got off-line, his soft tyres couldn't find grip, and he slithered straight on, burying the nose of his SF71H into the advertising hoarding.
Vettel's onboard camera showed him pounding his steering wheel in frustration in the immediate aftermath of the crash, and he sounded in tears as he sent an expletive-laden apology to his Ferrari team.
By the time he'd made it back to the interview pen, however, a more smiley Vettel was philosophical about the accident.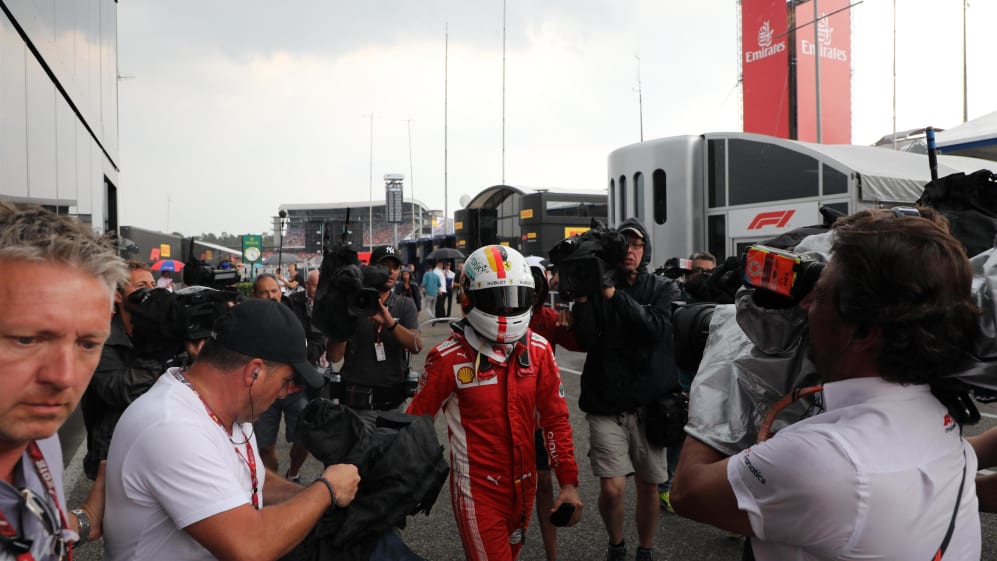 "I don't think it was a huge mistake," he reckoned. "It was a huge impact on the race because we retired there, but it's not like tonight I will have difficulty to fall asleep because of what I've done wrong. I think it's disappointing because up to that point, everything was sweet… We didn't need the rain.
"[Today] was just one of those moments and my mistake, so apologies to the team. They did everything right, I had it in my hand. Small mistake, big disappointment."
Vettel beat Hamilton in front of his rival's home crowd two weeks ago at Silverstone, and the German was forced to watch on as the British driver returned the favour in Hockenheim, just getting his ultrasoft-shod Mercedes over the line for the win before the rain bucketed down on the circuit.
The net result is that Vettel loses the lead of the drivers' championship to Hamilton, while maintaining his unwanted record of never having won at Hockenheim.
But while Mercedes will celebrate tonight, it seems likely that Vettel's astonishing pole lap yesterday, and the pace of his Ferrari in general – Toto Wolff reckoned the Ferraris were half a second quicker than Mercedes on the straights in Germany – will nonetheless give the Silver Arrows cause for concern as the teams move towards the summer break.
"We have a strong car, so I think we can be as confident as, [or more confident], than anybody else," said Vettel. "It was a very positive weekend."