Horner maintains Verstappen will 'fully support' Perez bid for P2 after team orders controversy in Sao Paulo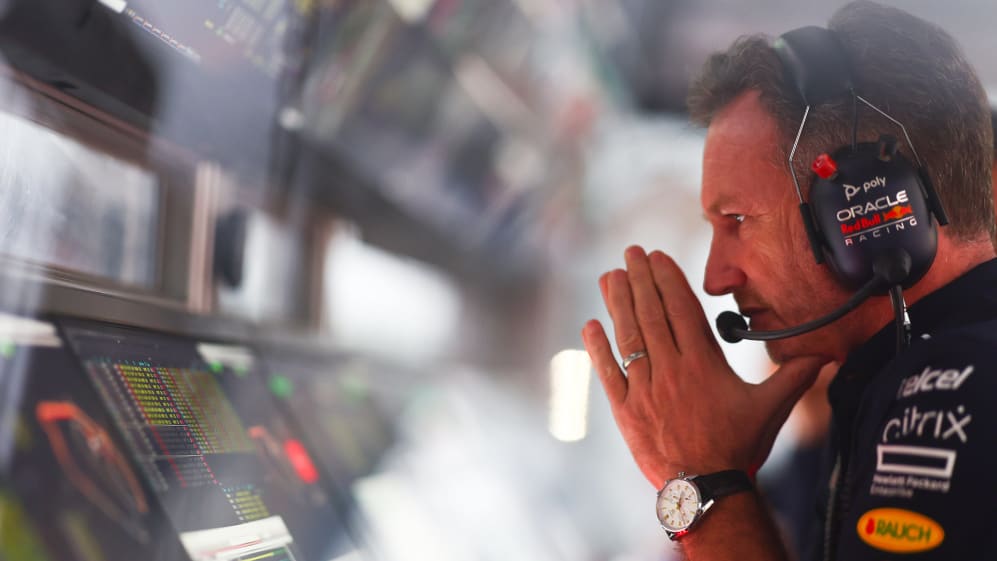 After Max Verstappen refused to return P6 to his team mate Sergio Perez in Brazil, Red Bull Team Principal Christian Horner has said that the team will work their hardest to deliver Perez a sufficient result for P2 in the championship in Abu Dhabi.
Perez and Ferrari's Charles Leclerc are now level in points in the fight for P2 after the Mexican finished seventh and the Monegasque P4 in Brazil. At the end of the race, Perez lost places on medium tyres and ceded P6 to his team mate in an attempt to pry P5 off Fernando Alonso. Asked to return the place after a failed attempt to pass the Alpine, Verstappen did not comply.
READ MORE: Verstappen on why Hamilton clash was 'a shame' – and his 'reasons' for not obeying team orders in Sao Paulo
"We discuss these things internally," said Horner after the race. "The drivers have obviously spoken about it as well. They are very, very clear. For us, Checo is now tied on points with Charles; Ferrari didn't switch their cars round. And we go into Abu Dhabi, as a team, to do the very best that we can for Checo to achieve that second place, and Max will fully support that.
"The drivers have discussed it and shaken hands, and we're absolutely focused on that next race," he maintained. "Checo has done a phenomenal job all year, and he deserves that second place and I think that as a team we will do our very best to support that, to achieve that in Abu Dhabi."
As for the five-second penalty that Verstappen took for a collision with Lewis Hamilton in the first Safety Car restart, Horner said: "I felt the penalty was harsh. I felt that Max, he'd got ahead going through the left-hander, into the left-hander, and I think Lewis could have afforded him a bit more room there. So, I felt it was harsh for Max to get the five-second [penalty]. At best it was a racing incident."
Horner said it was more alarming that Red Bull lacked pace in Brazil, as the team missed out on what would have been a 10th-straight Grand Prix victory. Mercedes' George Russell not only won the Sprint but Sunday's Sao Paulo Grand Prix in the Silver Arrows' first win and one-two finish of the season.
READ MORE: Ricciardo handed 3-place grid drop for final McLaren outing after Magnussen contact in Sao Paulo GP
"I think the bigger discussion will be… why were we missing the pace today or this weekend," continued Horner. "But the important thing is that it is addressed, it is all dealt with above the table and as a team we move on.
"I mean you've seen them [Mercedes] making big strides in the last months. So, congrats to George on his first victory; he's been very strong all weekend. Particularly Sector 2, both yesterday and today, they were very, very strong. We need to understand why we gave away that performance in that sector and obviously we will come out on all cylinders hopefully next weekend."
Abu Dhabi hosts the F1 season finale this weekend on November 18-20 with Red Bull having already clinched the 2022 drivers' and constructors' championships.