Horner refuses to be drawn on target comeback date for Ricciardo after 'successful' surgery on broken hand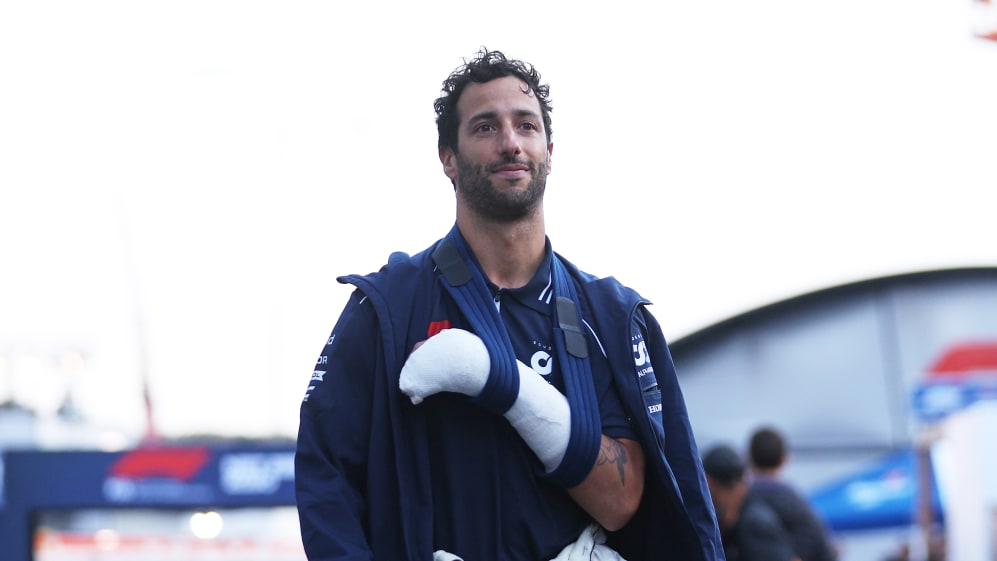 Red Bull boss Christian Horner has refused to be drawn on when Daniel Ricciardo will be back racing after the Australian had "successful" surgery on his broken hand.
Ricciardo – who was drafted in mid-season to replace Nyck de Vries at AlphaTauri – underwent surgery on Sunday morning on his broken metacarpal, less than 36 hours after sustaining the injury in Friday's second practice session in the Netherlands.
The operation involved placing a metal plate and some screws to secure the bone, with Horner also confirming that the bone was "broken in multiple places".
HIGHLIGHTS: Watch the action from a sensational rain-hit Dutch Grand Prix as Verstappen secures record-equalling win
"Had surgery this morning, got my first bit of metalwork so that's cool," Ricciardo said on social media when he posted a photo from his hospital bed on Sunday evening. "Big thanks to everyone who reached out and kept my spirits up. This ain't a setback, just all part of the comeback."
Ricciardo's injury was sustained when he took avoiding action after fellow Aussie Oscar Piastri crashed his McLaren into the barriers midway through second practice.
Ricciardo was following close behind and was unable to bail out in time, choosing to hit the barriers rather than the stricken McLaren. In doing so, he wasn't able to take his hand off the steering wheel before the impact.
Oops! Error retrieving Twitter post
"He had an operation earlier today, he's had several screws and a plate fitted to his metacarpal, it went well, it was successful," said Horner, when he spoke to the press after the Dutch Grand Prix.
"It was a fairly straightforward procedure so now it is all about recovery and we'll see. For a normal human being that would be a couple of months, for a Grand Prix driver it's often much shorter."
READ MORE: What the teams said – Race day in the Netherlands
As for how much shorter that recovery process might be, "certainly not Italy" was all Horner would be drawn on in terms of when Ricciardo might be back in the cockpit.
The Italian Grand Prix at Monza takes place next weekend, with a rest week to follow. Singapore would be the next target – although it is both one of the longest and most physically demanding races on the calendar.
In the meantime, Kiwi Liam Lawson remains ready and primed to replace Ricciardo for as long as necessary after making it to the chequered flag in his debut Grand Prix at Zandvoort.