Horner: Ricciardo and Verstappen both to blame for clash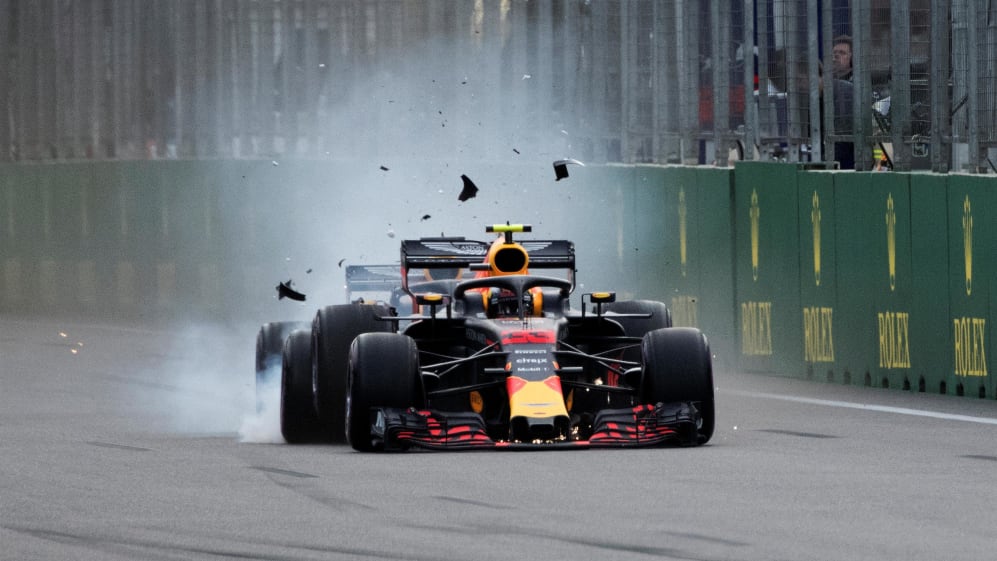 Red Bull boss Christian Horner has said that Daniel Ricciardo and Max Verstappen will be visiting the factory to apologise to team staff, after their high-speed collision in Baku saw the team record a second double DNF in three races.
The two had been inseparable for much of the race, even surviving wheel-to-wheel contact early on as Verstappen refused to yield to the seemingly quicker Ricciardo in their fight for fourth place.
Things finally boiled over on lap 40 when Ricciardo ran into the rear of his team mate as he attempted to slipstream past on the run to Turn 1. Both were reprimanded by the stewards, who said both had contributed to the incident.
"We allow them to race, we allow them to go wheel to wheel," said an unhappy Horner. "We even discussed it in pre-race meetings about giving each other space. Unfortunately this was the culmination of two guys taking things into their own hands which shouldn't have happened.
"There were three incidents between the two of them during the course of the Grand Prix. They were told to calm it down a bit. What we've always said is give each other room on track and we'll let you race.
They have a responsibility to act with the team's interests at heart, not just their own
"They'd just about done that throughout the Grand Prix until that unfortunate incident. Not apportioning blame one way or another – they are both to blame with this. And it's the team that unfortunately lost out."
The stewards' concluded that the incident "had its origins" in the two defensive moves made by Verstappen – both described as "relatively minor" – but that Ricciardo had also contributed after admitting he left his move to overtake on the left too late. They also noted that both drivers regretted their roles in the accident.
"It is just really disappointing for the team," said Verstappen. "We lost a lot of points today, unnecessarily. I don't think we need to speak about who's at fault, because at the end of the day we are racing for a team, we are representing other people – this happens and it's just not good for both of us.
"Before that I think it was hard racing but fair – I think we gave each other space. We had this little brush with the wheels, but that is racing – it can happen. But what happened afterwards is not good."
Ricciardo was similarly philosophical, stating: "We're thankful we're allowed to race, especially myself and Max – we love to race, as we show that's so cool and we did get close a few times in the race already, touching.
"And so sometimes we are on the limit and unfortunately it's ended how it did. It's not a nice situation, so I think we both feel pretty bad it's ended like that and for the team it's pretty crappy.
"As for as the incident itself, it's a tough one. I'll let you guys and fans have your comments. Obviously I think the thing is I'd come out and the gap was opening on the inside. Once I was there I had to commit to that, but yeah, it's more just heartbroken for how everyone is feeling in the team tonight."
Horner said that while he had no plans to stop his drivers racing at the next round in Spain, they were both very much 'in the dog house'.
"They have got to show the team and each other respect and give each other space. They've been reminded they are part of a team and they have a responsibility in the role they perform, that they are both highly-paid individuals, to act with the team's interests at heart, not just their own.
"The message was delivered very clearly. In Barcelona they will be fine. They are both in the dog house. You can see that in their body language. They will be in the factory to apologise to all of the staff prior to the Barcelona race."