Horner says Red Bull must understand Austria tyre deg issues despite 'healthy' championship lead over Ferrari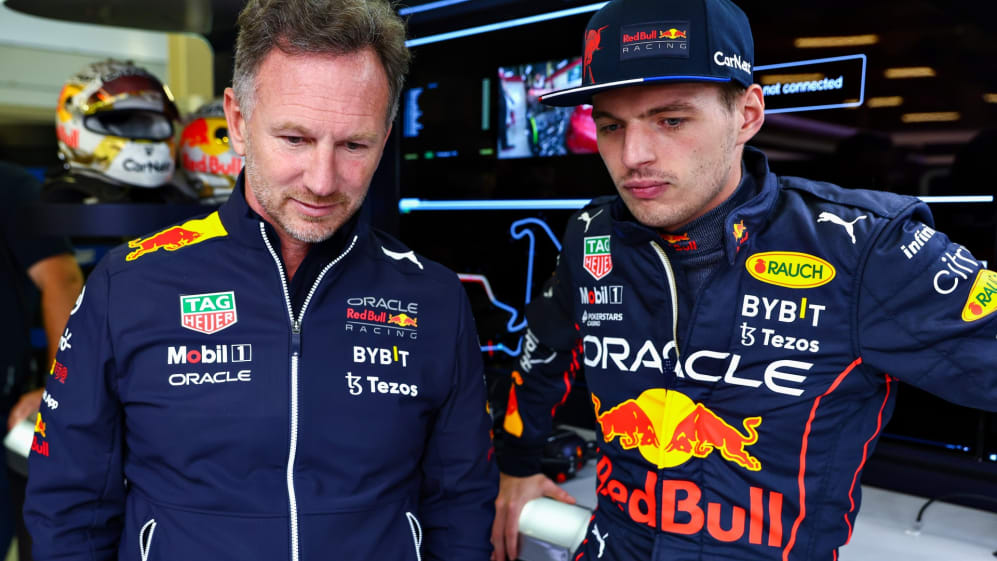 After failing to win in Austria for the first time in three tries, Red Bull Team Principal Christian Horner was left dissatisfied by the way in which Max Verstappen's race played out, insisting his team must understand the tyre degradation issues that the Dutch driver suffered in the race – as he also shared his disappointment at Sergio Perez's retirement.
Max Verstappen started the race from P1 but complained of heavy tyre degradation for much of the race and struggled to match the pace of Charles Leclerc in particular, who overtook the Red Bull driver three times on track. And after Verstappen came home in second behind Leclerc, Horner admitted that Red Bull would be hard at work trying to understand what cost the Dutch driver performance on Sunday.
"Very important points today and Ferrari – congratulations to them today," said Horner on Sunday evening . "They had a quicker car for the majority of the race and Max was coming back at the end there. But our tyre deg was higher from halfway through the first stint and it was hard to combat that."
F1 NATION: The gang discuss whether Leclerc is back in the title fight after his comfortable Austria win
Asked whether Red Bull had suffered similar levels of degradation in Saturday's Sprint, Horner replied: "We had nowhere near what we saw today. Ferrari just seemed lighter on the tyres, they had a pace advantage and then that just gives you more strategic options.
"It's unlucky for them today with Carlos [Sainz] but you know our pace at the end of the race, we still got fastest lap but we didn't have the range of yesterday [in the Sprint] and that's something we still need to understand. [But] over the two races we've only given away five points with Max."
Horner also spoke about Perez's early retirement from the Grand Prix, after the Mexican driver looked to make a move round the outside of George Russell at Turn 4 on the opening lap, but instead made contact with the Mercedes driver, sending Perez into the gravel. While Perez continued on for a few laps, he was retired on Lap 24, which Horner says was because a top-10 finish was not realistic.
READ MORE: 6 Winners and 5 Losers from the Austrian Grand Prix – Who made an impression at the Red Bull Ring?
"Yeah, I don't think Mercedes like our cars going around the outside at Turn 4!" said Horner, referencing Hamilton's clash with then-Red Bull driver Alex Albon at the same corner in 2020. "So, you know, it was a shame because Checo, you can see he's ahead there, it's almost a mirror image of Alex a couple of years ago.
Horner added: "There was so much damage, there was no chance for him to score any points so better to save the mileage... Obviously really disappointed for Checo today."
Having not won at either Silverstone or Spielberg, Red Bull are now on their longest winless streak of the season. But with a 38-point lead for Verstappen in the drivers' championship, and a 56-point lead for Red Bull in the constructors' championship, Horner still believes his team are in a good position.
"I mean, the championships are healthy, but Ferrari are quick, we've got to keep pushing, we can't afford to back off," said Horner. "They had a quick car today, Max fought his hardest, we were coming back at them with their problem at the end there but just not quite enough today."