Horsepower spike caused Verstappen qualifying crash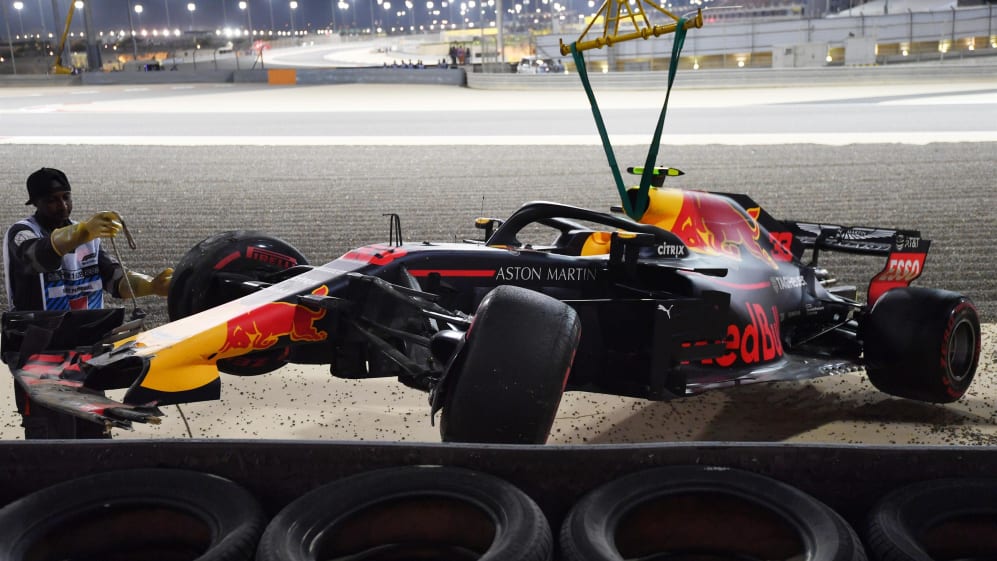 Max Verstappen's car control is second to none in F1 – but according to the Dutchman there was nothing his could do to avoid an early bath from qualifying in Bahrain.
The Dutchman, who had shown huge promise in practice, exited Saturday's session in Q1 after losing control at Turn 2 and spinning into the barriers.
But according to the man himself, there was little he could have done to avoid his fate, blaming a sudden and unusual surge in power for his downfall.
"It was of course unfortunate, but I studied the data before we came here and all of a sudden I had a 150bhp increase," he explained.
"It's a bit odd because the corner is not flat out – you are just feathering the throttle. From one moment to another it was like an on/off switch – you've got 150bhp less then 150bhp again. So it spun up the rear tyres quite aggressively and I spun.
"I didn't anticipate it at all. You know, [getting] 150bhp extra suddenly when you already think you are on the limit is quite a lot…"
Prior to his spin, which followed his 360 in Australia two weeks ago, Verstappen had set a time good enough to progress to Q2. But his inability to take part in that segment means he's set to start Sunday's race in P15. However, with Red Bull investigating the exact cause of the incident, his car did at least escape serious harm.
"The damage is fairly superficial – it's not damaged the chassis at all" confirmed Red Bull boss Christian Horner. "It's just annoying that it happened in that part of qualifying."
"He was [quick in FP2], and he looked quick this morning as well. It's an opportunity lost today, but he's going to have to get his head down tomorrow and race hard, which we know he can do. This track you can overtake at, so we don't think we'll have to take a grid penalty, so we'll see."
Verstappen's last failure to reach Q3 was China 2017, and on that occasion he climbed all the way from P16 on the grid to P3 at the flag.
Can he complete a similarly meteoric rise on Sunday? The Dutchman is not ruling it out.
"It should be alright," he said. "Up to P5 should be aright anyway. A little bit of luck with the safety car would be good…"