Feature
How I beat Schumacher to the title at Jerez '97 - by Jacques Villeneuve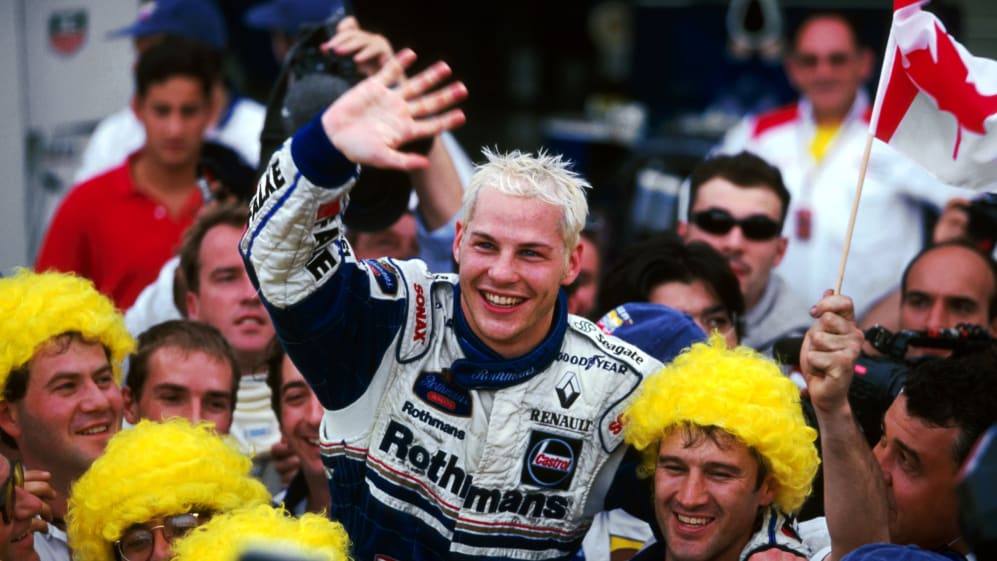 Drama! Controversy! Blond wigs! 20 years ago this week, F1 witnessed one of the most thrilling title showdowns in history as Jacques Villeneuve defeated arch rival Michael Schumacher in the final race of the 1997 season to become world champion. Here, in an exclusive and highly revealing first-person account, Villeneuve describes how the weekend unfolded through his eyes…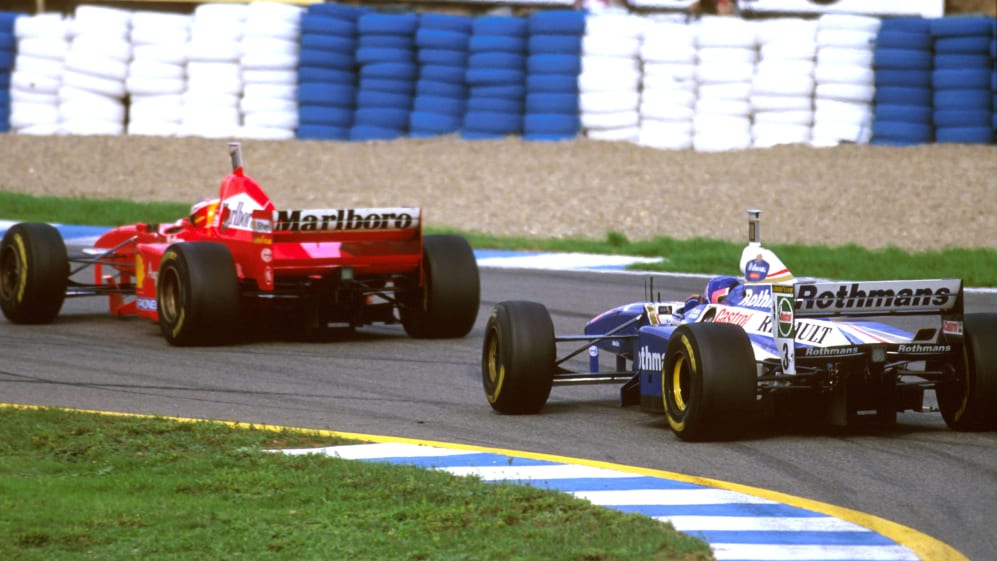 In beating Michael Schumacher to the 1997 world title, I beat more than a driver; I beat The Establishment. That's how it felt after Jerez; everyone had wanted Ferrari to win their first championship since '79 and I had beaten the odds.
It had been a very intense season, which had seen Williams' fortunes fluctuate. We'd been two seconds a lap faster than everyone at the first race in Melbourne, but Ferrari caught up and even got ahead. Coming into the title decider we felt we were on the back foot; we were the underdogs.
You need to bear in mind that I'd been excluded from the penultimate race of the season at Suzuka. It was for a yellow flag infringement, which was a ridiculous situation. The incident had taken place during practice and we'd elected to start the race under appeal, which was a mistake. Instead of playing the FIA's game, we should have pulled out of the event and gone home.
Michael, of course, won in Japan and he held a one-point advantage coming into the title decider. In order to win the championship I had to finish ahead of him at Jerez. The maths was very simple, but with so much at stake, tensions were running high. At one point I had to go and have a word with Eddie [Irvine, Schumacher's Ferrari team mate] because he held me up four times during Friday practice, which was stupid. He didn't do it again, but it gives you an idea of the mind games that were being played.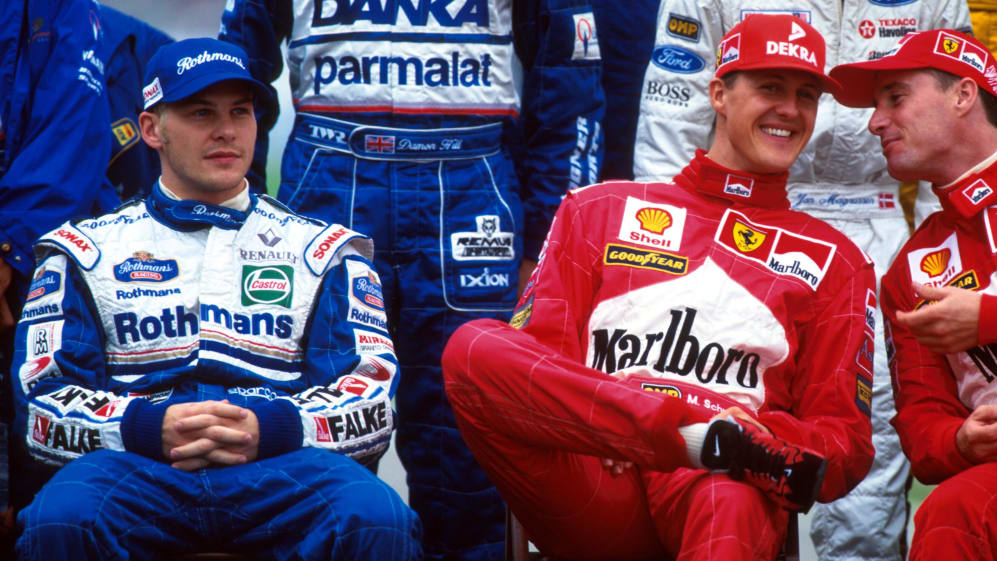 Michael and I didn't talk during the build-up to the race. We'd never got on; there was no energy between us. We hadn't seen eye-to-eye since I passed him around the outside of the final turn at Estoril the previous year. That had been embarrassing for him; it had hurt his ego and he took it personally. I think I overtook him three times in '96 and nobody overtook Michael!
When it came to car performance, we didn't expect Jerez to suit the FW19. It had a tendency to oversteer, which had punished us at Magny Cours earlier in the year, and we expected the same in Spain. As it turned out, we were pleasantly surprised by our pace and consistency during practice; I knew by Friday night that I'd be in the fight.
Qualifying was a bit crazy. I took pole position on my first set of tyres, when I wasn't really pushing. The Goodyear tyres were very peaky; they generated a lot of grip, but the performance window was small and you needed to be aggressive to access it. I expected to gain a lot of time on my second set of tyres, simply by putting my balls on the line.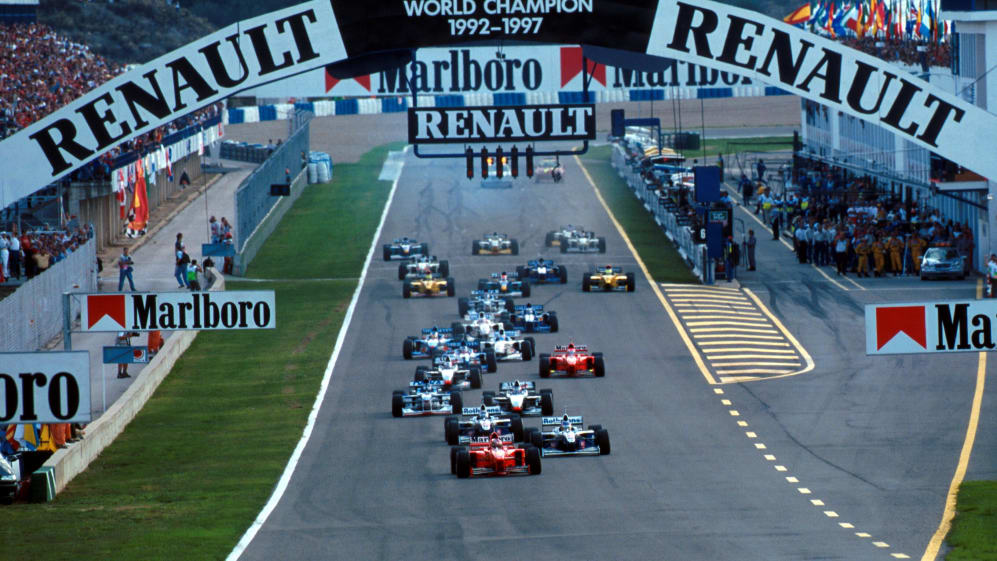 That didn't happen because I locked up and, in hindsight, my first lap must have been perfect. It was the perfect mix of control and aggression. Michael and Heinz-Harald [Frentzen] set identical times to me. We all set a time of 1m 21.072s, but I got pole because I'd set the lap time first.
Weirdly, perhaps, I slept like a log the night before the race. It might have been the best night's sleep of my entire racing career! I had dinner with friends and then went to bed early. I was super-relaxed and just fell asleep.
The atmosphere was pretty tense on race day and it was good to get on-track in the warm-up to calm the nerves. I was fifth quickest, which was okay; I never pushed during the warm-up because there was nothing to be learnt about the car.
We spent a lot of time thinking about different race scenarios and, in the end, we over-strategised ourselves. We went through 100 different possibilities and when it came to the start of the race we didn't know which to choose! When you're in a pressured situation, you shouldn't think about things too much because you end up confusing yourself. You just need to react to what's happening around you, which is what I had to do straight after the start.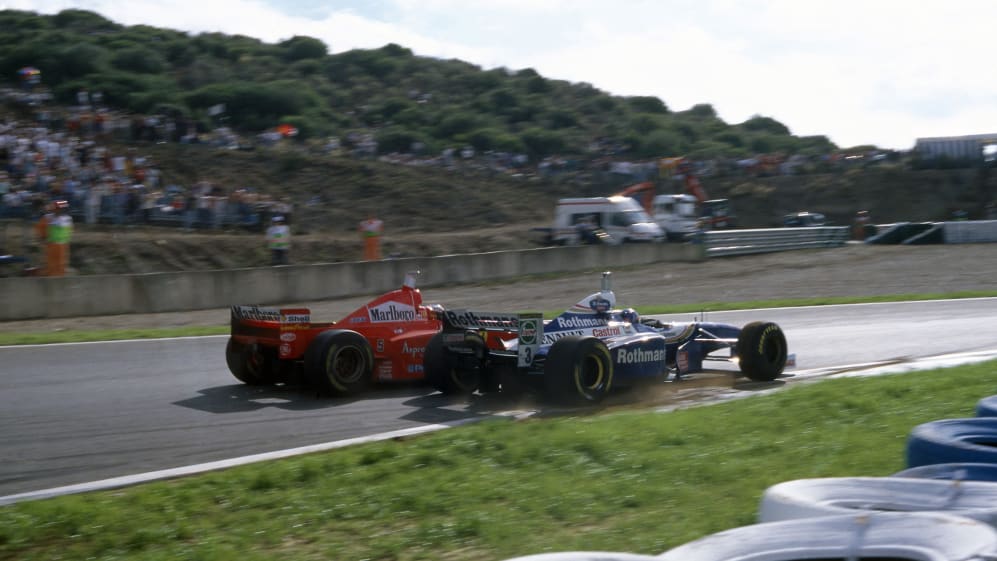 I made a pretty good getaway. My reaction time was spot-on and the initial start phase was as good as anything I'd ever done. But Michael's start was from another planet. It must have been the best start of his career, with no wheelspin, and he took the lead. I now had to plan how I was going to pass him.
While following Michael, I saw where he was strong and where he was weak and he was weak under braking. It so happened that we were strong under braking because we'd introduced a new electronic braking system at the previous race, which meant I never had a soft pedal and always had the same brake bias.
Into Dry Sac, the hairpin at the end of the back straight, I could brake 10 metres later than Michael and I knew that was where my opportunity would present itself. I also knew that I'd have to surprise him; I'd have to come from so far back that he wasn't even looking in his mirrors.
Throughout the race I was just waiting, waiting for my second pit stop. I needed the grip from the new tyres to maximise my chances of getting the move done, so the whole world championship got distilled down into the two laps that followed my second stop. I'd use the first lap to get close to him and the second one to overtake him, after which my new tyres would lose their edge.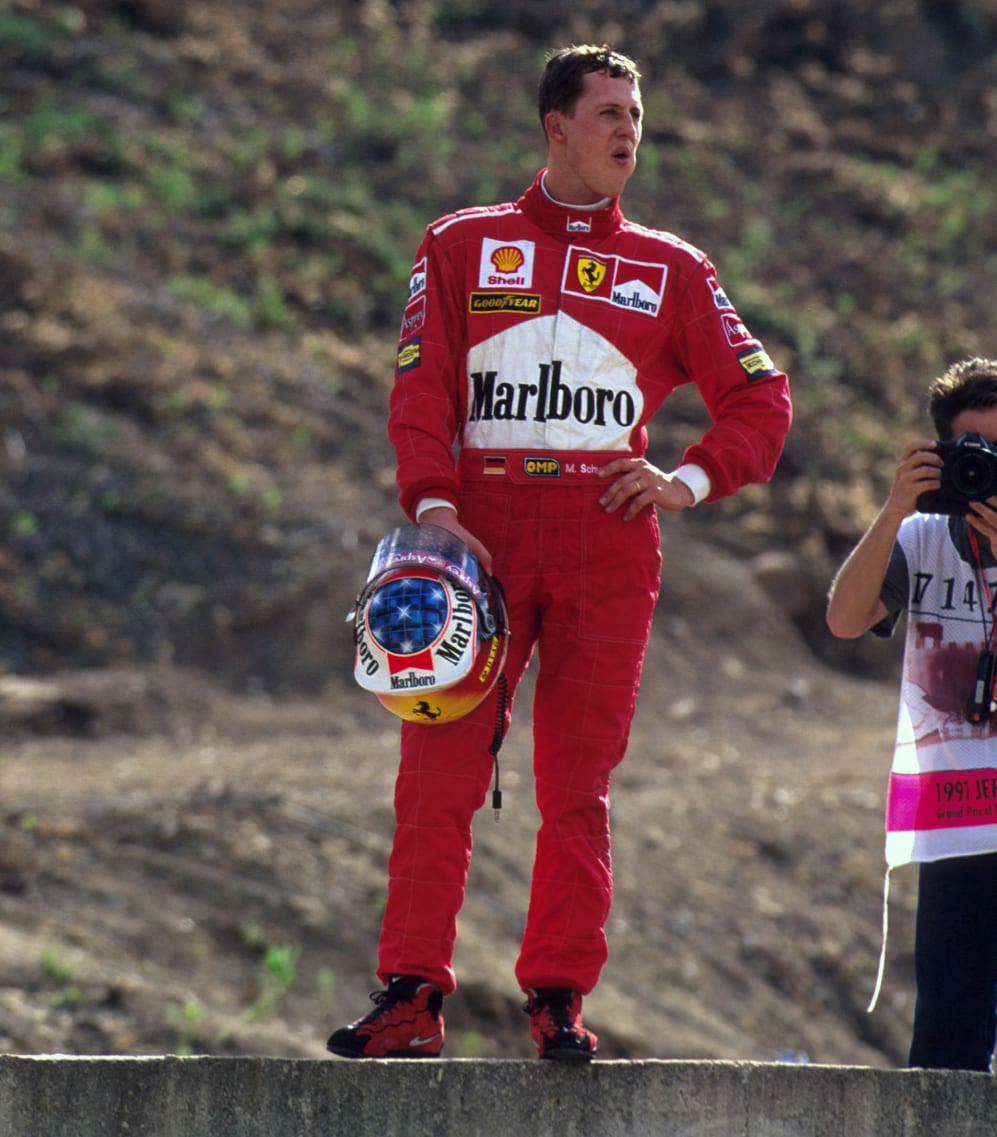 And that's pretty much what happened. On the second, lap 48, I committed to the task. I took a huge risk through Curva Sito Pons, the high-speed right-hander that led onto the back straight, and that gained me two metres. I knew then that it was now-or-never; those extra two metres told me that.
I dived down the inside and I was surprised that he didn't close the door immediately. I came from a long way back and when he realised what was happening, he closed the door. But it was too late: I was alongside him and he bounced off my sidepod. It was an amazing moment. I remember driving past on the next lap and seeing him on the wall, just watching. I can still see his face and I can still remember the sweat on it. He never sweated, but seeing that sweat is a vivid, vivid memory.
There had been a lot of talk during the build-up to the race. We'd both said things in the press and I told journalists that I expected him to do something desperate in the event of a showdown. The FIA even said they'd punish any illegal driving moves.
As predicted, we came together and I was very lucky to finish the race. The battery in my car, which was housed in the left-hand sidepod that Michael hit with his tyre, should not have stayed intact. It was held in position by a few electrical cables. I didn't know this at the time, but I slowed anyway to nurse my car to
I didn't care about finishing on the podium and was unaware of the McLarens creeping up on me, which is why I let them through. Had I realised it was Gerhard [Berger] behind me in fourth place I would have let him through as well because it would have meant he'd have finished on the podium in his last Grand Prix.
The post-race celebrations were a bit of a blur. I remember seeing the Renault guys with their blond wigs, copying the hair-do that I'd adopted earlier in the year, and I remember Irvine walking past wearing a 'Schumacher champion' hat, which Ferrari had brought to the race. I also took a call from the Prime Minister of Canada; I think everyone thought it was my Mum on the phone!
We had a party that evening in the hotel. I acted as the barman, serving the drinks, and things got pretty loud. Even Michael turned up, wearing a blond wig. He came behind the bar and put an arm around me, while his wife took a picture. I was thinking, "Okay, that's fun".
A week later the picture was plastered over the German tabloids, the sentiment being that he hadn't done anything wrong and there were no hard feelings between us. That's when I got angry. I didn't care about what he'd done on-track because the move had helped me win the title; what made me angry was Michael using my moment of glory for his own ends. That's when I had a problem with it all.
People ask me how winning the world title changed my life. That's difficult to answer because I don't know what it would have been like without it. But it opened doors and it gave credibility to my own career. Instead of just being Gilles' son, I had now achieved something in my own right. It was the highlight of my career.