Hulkenberg given 10-place Italian GP grid penalty for Spa start crash
"He completely misjudged the situation." That was the view of the FIA stewards in Belgium, who've handed Renault's Nico Hulkenberg a 10-place grid penalty for next week's Italian Grand Prix for triggering Sunday's start chaos at Spa.
The race was only seconds old when the German, starting from P18 after a power unit-related grid penalty, got his braking all wrong on the approach to Turn 1 and careered into the back of Fernando Alonso's McLaren. That sent the Spaniard flying haphazardly over Charles Leclerc's Sauber, with all three drivers eliminated on the spot and the young Monegasque and Alonso left thanking the strength of his Swiss car's new-for-2018 halo cockpit protection system.
The incident brought back memories of 2012, when Romain Grosjean hit Alonso, with Sergio Perez, Lewis Hamilton and Kamui Kobayashi also affected. After seven first-lap crashes in 12 races that season, when there wasn't a penalty points system in place, the Frenchman was given a one-race ban.
That crash was referenced by the stewards in their judgement, which followed conversations with all three drivers involved and a thorough review of video evidence.
The stewards said: "The driver of car 27 stated that he completely misjudged the situation and freely admitted it was his mistake.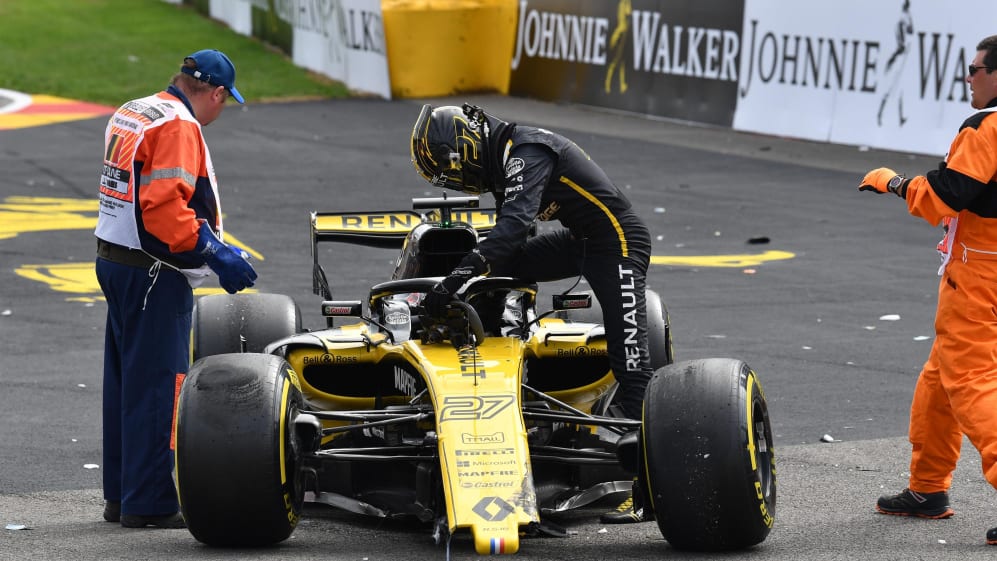 "It should be noted that since 2014 the FIA has introduced the penalty points system which takes into account previous offences by a driver and can lead to a race suspension if 12 points are accumulated within a 12-month period.
"This system was not in force when an incident not dissimilar to this, occurred in 2012."
Speaking before the decision, Hulkenberg had ruled out a mechanical problem, adding: "It's just incredible to find out again on lap one how sensitive these cars are with aerodynamics. When you have a few cars that bunch up in front of you, how much grip and load you lose.
"When I hit the brakes, obviously I instantly locked up the front wheels and was just sliding into Fernando. Probably misjudgement from my side, a bit too late on the brakes, a bit too keen. Frustrating obviously for him, for Charles as well, but also for myself."
For his part, Alonso had questioned how Hulkenberg could "get it so wrong" adding that the German had made "a big mistake".
Hulkenberg wasn't the only driver punished by the stewards on Sunday evening - Mercedes' Valtteri Bottas was handed a five-second penalty for tagging Sergey Sirotkin's Williams approaching Turn 1 at the start. Fortunately for the Finn, he maintains his fourth place finish.