Hulkenberg impressed with 'sexy' R.S.17
New Renault race driver Nico Hulkenberg says he is looking forward to pushing the team to new heights in 2017, after helping to pull the covers off their new car at its official launch in London on Tuesday.
Having moved from Force India over the winter, Hulkenberg starts his eighth F1 season with his fourth different team and the German clearly thinks Renault's R.S.17 machine has strong prospects.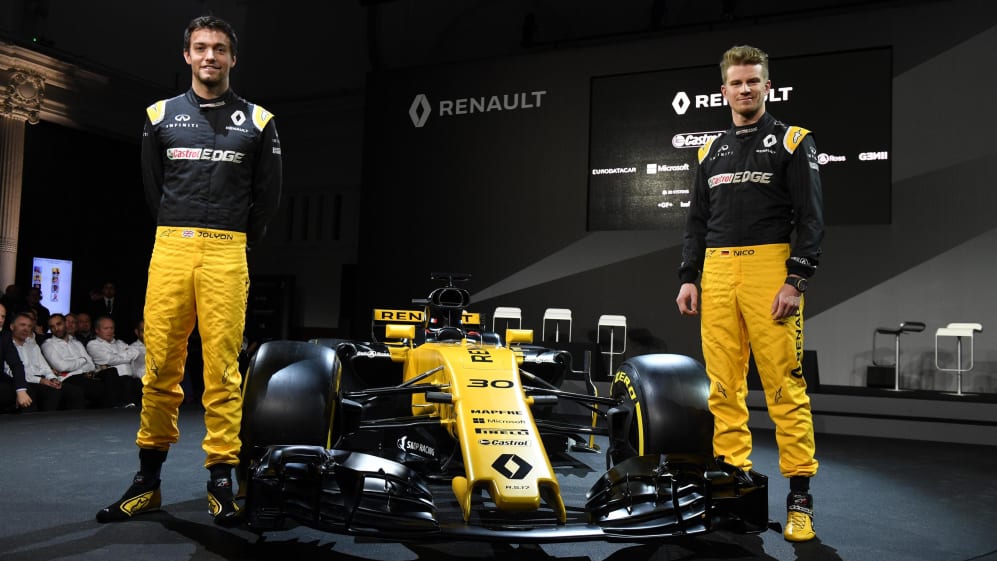 I know the team's targets and I will do everything I can to help them achieve this
"It looks sexy!" said the German of the all-new car. "When I first saw it in the wind tunnel I was impressed."
Renault, ninth in the 2016 standings, have targeted a rise to fifth place this season and Hulkenberg insists he is under no illusions over the long-term nature of the French auto giant's F1 ambitions.
"I'm very happy to be part of it," he said. "There's a lot of work ahead and we're both looking for a positive long term relationship. For sure 2017 comes after a build-up year in 2016 where there was improvement and crucially growth in many areas for the future.
"The target is to move forward in the midfield over the season ahead and be in shape to take another step forward in 2018. I am inspired with being part of this and adding my share to push us all to better performances."
Hulkenberg insisted his transition to his new team has been a smooth one, and said he would be bringing everything he's got - including "passion, my experience, my hunger for success" - to boost Renault's F1 armoury.
"At the end of the day, it's a team effort and everyone is important, but ultimately the two drivers have to deliver on the track. I know the goals the team has for the season and I'm taking everything step by step to make the most of the opportunity for us all to achieve good things. I will do everything I can to ensure success happens."
Part of that success will depend on his partnership with new team mate Jolyon Palmer, who completed his rookie season with Renault last year.
"I think we will have a good relationship," said Hulkenberg. "I don't know him very well yet, but that's certainly going to change over the next months! I'm sure we'll work positively in the interests of the team and to push each other hard. I'm looking forward to it."
The revised regulations for 2017 mean both men will need to be in peak physical condition, with the new cars set to be significantly quicker - and significantly more tiring to drive.
"I've been working out a lot," admitted Hulkenberg. "My preparations started early with a training camp in December and this continued through January and February. Lap times are going down and downforce is up so I'm training very hard to be fully prepared for this when I get out on track."
Hulkenberg has scored 362 points over his F1 career to date, with his best race results being three fourth places, and taken one pole position and two fastest laps. Perhaps not surprisingly, though, he refused to be drawn on personal targets for 2017.
"I haven't set a number," he concluded. "I know the team's targets and I will do everything I can to help them achieve this. Obviously, I want to achieve the best result possible at every Grand Prix."