Hulkenberg loses front-row start in Canada as he lands three-place grid drop for red flag breach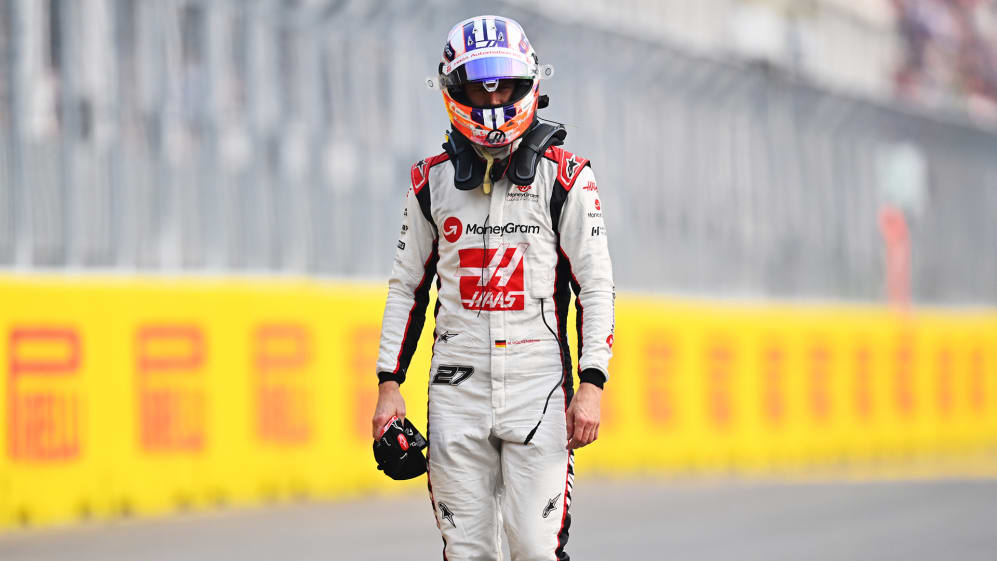 Fresh from the elation of bagging a front-row start in Montreal, Haas driver Nico Hulkenberg has been hit with a three-place grid penalty for the Canadian Grand Prix after the stewards found him guilty of committing a violation under red flags during qualifying.
Hulkenberg had qualified a surprise second in Saturday's grid-deciding session, taking advantage of wet conditions to slot between pole-sitting Red Bull driver Max Verstappen and the Aston Martin of Fernando Alonso.
READ MORE: Verstappen charges to pole for Canadian GP as Hulkenberg grabs surprise P2 in wet and wild qualifying session
However, he was later investigated for a potential red flag breach and, following their review, the stewards decided to give the Haas driver a three-place drop, demoting him from second to fifth – giving spots to Fernando Alonso, Lewis Hamilton and George Russell in the process.
"The driver had just finished his fastest lap and had started another push lap," read the report from the stewards, who also gave Hulkenberg a penalty point. "He was at T1 when the red flag was displayed, however at that point he was already 1.5 seconds over his delta time.
"He claimed this made it extremely difficult for him to come below the delta in the next sector. He also admitted to confusion about the beep signal in his headset, and therefore at one stage thought he was going too slow.
"Comparison of telemetry with that of Car 31 [Esteban Ocon] showed that in general for the rest of the lap he was approximately the same speed as Car 31 which complied with the delta times in each mini-sector. We regard this as a mitigating circumstance.
"However, the regulation is very clear and whilst there is no question of the driver acting dangerously or driving unsafely, there was a breach and thus a penalty has to be imposed. The normal penalty for failure to slow under red flags is 10 grid positions. However in view of the mitigating circumstance, a lower penalty is appropriate.
READ MORE: 'We are just making our lives so much more difficult' – Leclerc calls on Ferrari to 'improve now' after Montreal Q2 exit
"We note the intention of the regulation is to ensure a car is not speeding during a red flag situation and there is no evidence that the speed was excessive in this case. We also note that the driver should make himself more familiar with the operational aspects of the delta signals."
Speaking before the investigation and penalty announcement, Hulkenberg hailed Haas's efforts, saying: "We made it work. We were on the right tyres at the right moment, the timing was good today, also in Q3 [with] the red flag, [that] kind of was lucky for us, because I'd just finished my second lap which put me in P2, because I think before I was pretty much not anywhere.
"But yeah, a clean quali. It's challenging, it's tough here. With inters it's sketchy, a lot of the exits are pretty quick already considering it's wet, and then you've got all these concrete walls around, so it's not been easy, but I enjoyed it, it was good fun."
The result means that, just as at the 2022 Canadian Grand Prix, the front row in Montreal will now be shared between Verstappen and Alonso.