Report
Verstappen charges to pole for Canadian GP as Hulkenberg grabs surprise P2 before being hit with grid drop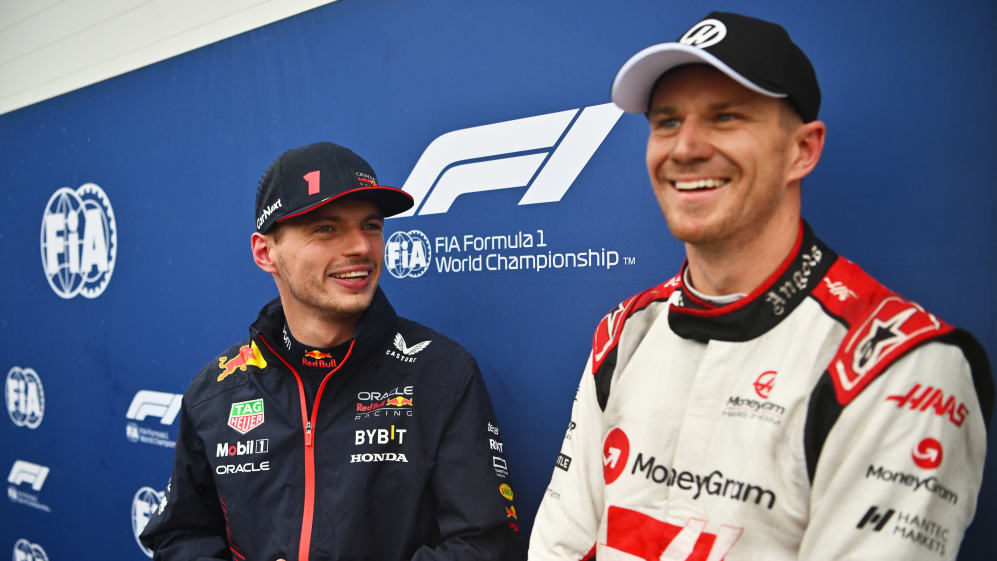 Red Bull driver Max Verstappen took pole position for the Canadian Grand Prix as wet weather conditions dominated Saturday's qualifying session in Montreal, with Nico Hulkenberg a surprise second for Haas due to a well-timed effort, only to lose the position later in the evening for a red flag breach.
Verstappen got down to a 1m 25.858s in the early stages of Q3 to put one hand on pole position in the tricky conditions, just before McLaren rookie Oscar Piastri brought out the red flags by rear-ending the wall at Turn 7.
READ MORE: Verstappen praises Red Bull for making 'all the right calls' on his way to a storming pole position in Montreal
Seconds from the session being halted, Hulkenberg delivered a lap good enough for a spot on the front row, with another deluge of rain during the break ensuring that no improvements could be made when the action resumed.
However, the stewards announced post-session that they would be looking into a potential red flag violation from Hulkenberg and, following their review, the decision was made to give the German a three-place grid penalty.
Fernando Alonso rounded out the top three positions for Aston Martin, with Mercedes pair Lewis Hamilton and George Russell taking fourth and fifth as they look to continue the team's upward trajectory – all three benefitting from Hulkenberg's sanction.
Esteban Ocon was sixth for Alpine and Lando Norris seventh for McLaren, while Carlos Sainz was the fastest of the Ferraris after team mate Charles Leclerc – along with Red Bull's Sergio Perez and Aston Martin's Lance Stroll – dropped out in a dry/wet Q2 phase.
FORMULA 1 PIRELLI GRAND PRIX DU CANADA 2023
Canada
2023
Qualifying results
POSITION
TIME

1

Max

Verstappen VER

Red Bull Racing

1:25.858

2

Nico

Hulkenberg HUL

Haas F1 Team

1:27.102

3

Fernando

Alonso ALO

Aston Martin

1:27.286

4

Lewis

Hamilton HAM

Mercedes

1:27.627

5

George

Russell RUS

Mercedes

1:27.893
Sainz and Stroll also received penalties after the session, though, with the Spaniard found guilty of impeding Pierre Gasly at the end of Q1 and Stroll deemed to have held up Ocon in the following Q2 phase.
Alex Albon used the changeable conditions in Q2 to his advantage, being the first to bolt on softs and rising to P1 before more rainfall arrived, and then completing the top 10 behind Piastri in the pole shootout.
Leclerc and Perez had to settle for P11 and P12 on the grid respectively, having missed the cut when conditions were at their most precarious in Q2, leading to an angry radio message from the Monegasque when his fate was sealed.
Stroll was another big name to miss out on Q3 after a scruffy session that included a wild spin, the home favourite ending up 13th from the other Haas machine of Kevin Magnussen and the lead Alfa Romeo of Valtteri Bottas.
AlphaTauri lost both drivers in the opening Q1 phase, with Yuki Tsunoda in 16th and Nyck de Vries in 18th, as Gasly suffered a painful elimination in 17th after his moment with Sainz. Tsunoda was the third and final driver to be docked three places for impeding Hulkenberg.
Logan Sargeant could not emulate Albon's heroics as he piloted his upgrade-free Williams to 19th position, while Zhou Guanyu brought up the rear in the other Alfa Romeo after technical gremlins hindered his efforts.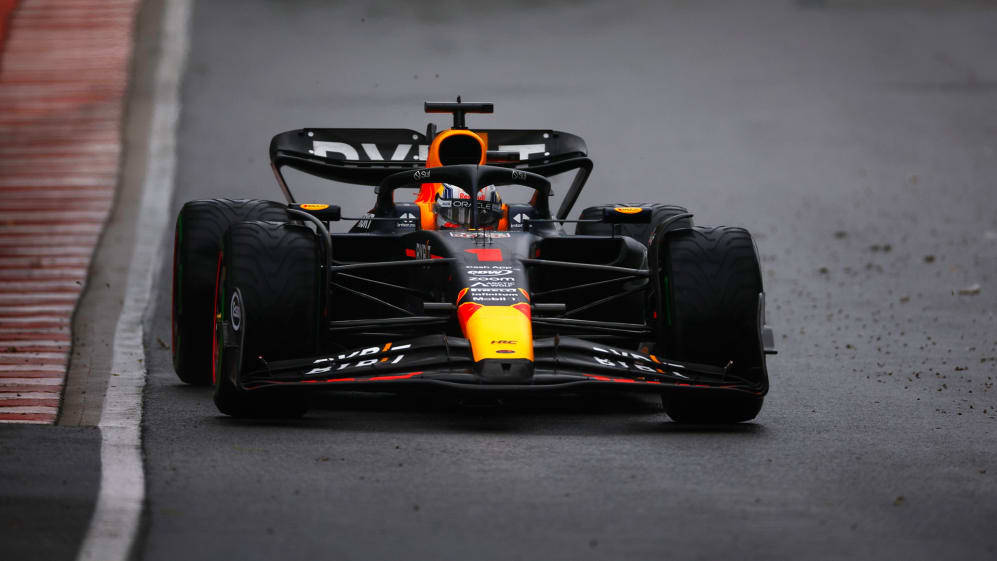 AS IT HAPPENED
Q1 – Verstappen heads Alonso in slippery conditions
After a largely dry first day at the Circuit Gilles Villeneuve, the heavens opened and drenched the track as second practice drew to a close, setting the scene for what would be further wet and windy weather when the drivers returned for final practice and qualifying.
A sodden FP3 behind them, which saw Verstappen lead the way and Sainz give his mechanics a significant pre-qualifying repair job by crashing out, the drivers queued up at the end of the pit lane on intermediates for the start of Q1 – puddles, spray and a general lack of grip being added to the usual challenges of the grid-deciding hour.
Although the showers had eased, the track surface was extremely slippery as drivers geared up for their first runs, but before any laps could be posted Zhou lost drive, parked up at the side of the track and brought out the red flags, only to get going again afterward.
When the action resumed, with a fresh wall of rain approaching on the weather radar, teams were quick to send their drivers back out – including Zhou's rebooted car – to get some banker laps on the board, sending the timing screen into a frenzy of purple and green splits.
Verstappen and Alonso got into a rhythm immediately to trade fastest times on several occasions, the Red Bull driver working his way down to a 1m 21.988s to sit half a tenth up on Alonso, as Leclerc ran wide at the Turn 8/9 chicane and Hamilton took a trip over the grass at Turn 3/4.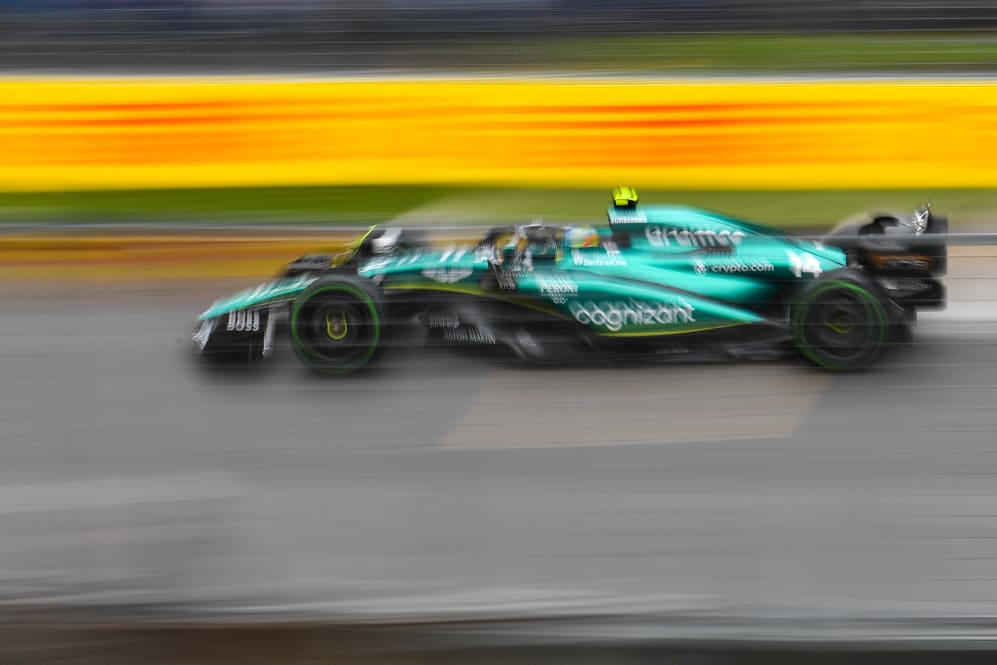 With some five minutes on the clock, Verstappen was asked for his thoughts on swapping to a dry tyre, which he quickly dismissed. While the Dutchman continued on his initial set of intermediates, lowering the benchmark to a 1m 21.739s, several other drivers used this window to fit fresh ones.
Another busy phase followed, kicked off by Alonso taking over in P1 on a 1m 21.583s, and improving again to a 1m 21.481s next time around, only for Verstappen to respond emphatically by clocking a 1m 20.851s – more than half a second clear.
Hamilton slotted into third as the rest of the times came in, despite reporting trouble seeing out of his mirrors, followed by team mate Russell, the lead Ferrari of Leclerc, the high-flying, upgraded Williams of Albon, Norris and Ocon.
Perez struggled to replicate Verstappen's pace en route to ninth, more than a second off the pace in the sister Red Bull, as Piastri completed the top 10 positions from Sainz, Bottas and Magnussen, with Stroll and Hulkenberg the final drivers to make the Q2 cut.
However, the stewards confirmed that they would be looking into Sainz's driving post-session after Gasly encountered his car at the final chicane, took evasive action and furiously dropped out in 17th, slotting between the AlphaTauris of Yuki Tsunoda and Nyck de Vries, with Sargeant and Zhou at the back.
Knocked out: Tsunoda, Gasly, De Vries, Sargeant and Zhou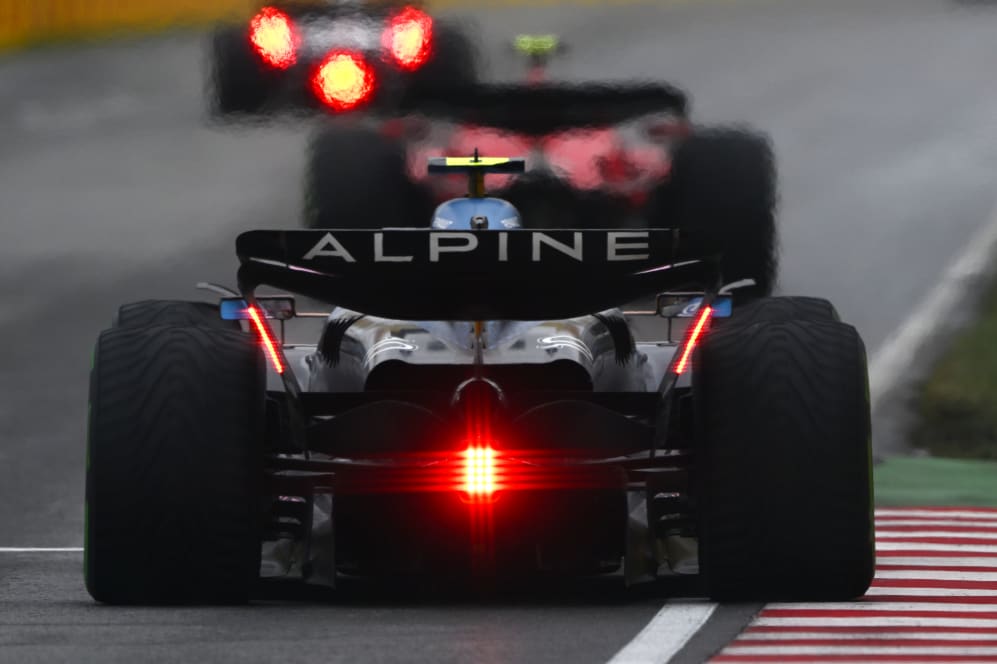 Q2 – Albon's soft tyre call pays off as Leclerc, Perez and Stroll drop out
When drivers headed back out for the second qualifying segment, most selected intermediates to tackle their first timed runs. However, an ever-drying racing line, and an ongoing break in the weather, tempted Albon and Norris to go for slicks and act as the guinea pigs for the rest of the field.
After Russell's early intermediate-shod 1m 20.098s, which put him a few hundredths clear of Verstappen, a host of drivers pitted to make the switch to soft tyres, but Stroll and Aston Martin initially stuck with the green-marked wet option thanks to a spin at Turn 6.
Albon duly pumped in a 1m 18.725s on his soft tyres to jump to the top of the order just as more drops of rain began to fall, leaving the conditions on a knife-edge. With the shower then increasing in intensity, the Williams man's tactics paid off and he remained in P1.
Verstappen placed second, 0.367s away from Albon, followed by McLaren duo Norris and Piastri, Alonso, Sainz, Russell and Hulkenberg, with Ocon and Hamilton the last drivers to reach Q3 – Leclerc, Perez and Stroll all high-profile victims of the conditions.
Leclerc and Perez were unable to get a quick enough lap in on the softs as they wound up 11th and 12th respectively – the Ferrari man shouting over the radio after the team resisted his call to pit for slicks sooner – while Stroll, Magnussen and Bottas also fell at the second hurdle.
Knocked out: Leclerc, Perez, Stroll, Magnussen, Bottas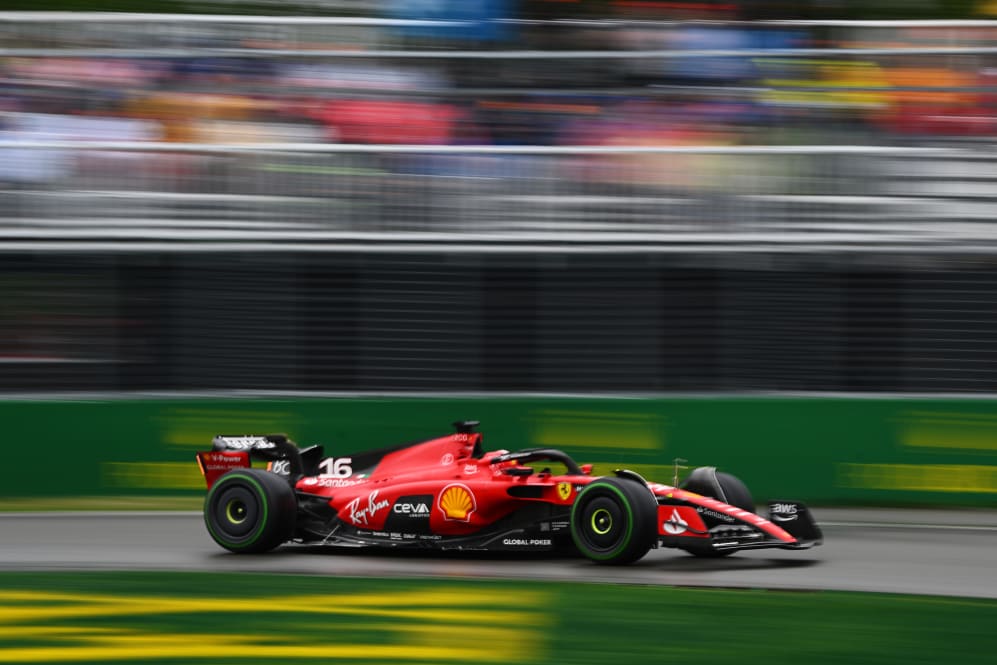 Q3 – Verstappen bags pole as Hulkenberg capitalises on the drama
With conditions continuing to dictate play, Verstappen headed another pack of cars out of the pit lane as Q3 began – all drivers taking up intermediates again after the brief appearance of the slicks and attempting to put a lap to their names.
Verstappen was the first to do so, posting a 1m 27.059s and then lowering the target to a 1m 25.858s, as Alonso moved into second position and more rain began to hit the track, putting even greater pressure on the 10 men in play to hit the ground running.
"It's raining. It's just getting worse and worse," was the message to Hulkenberg, who shot up the timing screen to P2 a matter of seconds before Piastri lost control of his car and slid rearwards into the wall at Turn 7, triggering a red flag.
That would effectively stop the session there and then as, while the action resumed a few minutes later, more rain had returned and locked in the top 10 positions – Verstappen on pole, Hulkenberg a huge winner in second and Alonso taking third.
Hamilton and Russell put their Mercedes machines fourth and fifth, followed by Ocon, Norris and Sainz, as Piastri – watching from the sidelines after his crash – and Albon rounded out the Q3 runners.
However, Sainz, along with Tsunoda (for impeding Hulkenberg) and Stroll (for impeding Ocon), were hit with three-place grid penalties after qualifying, while Hulkenberg also took a three-place drop for a separate red flag violation – meaning he loses his front-row start.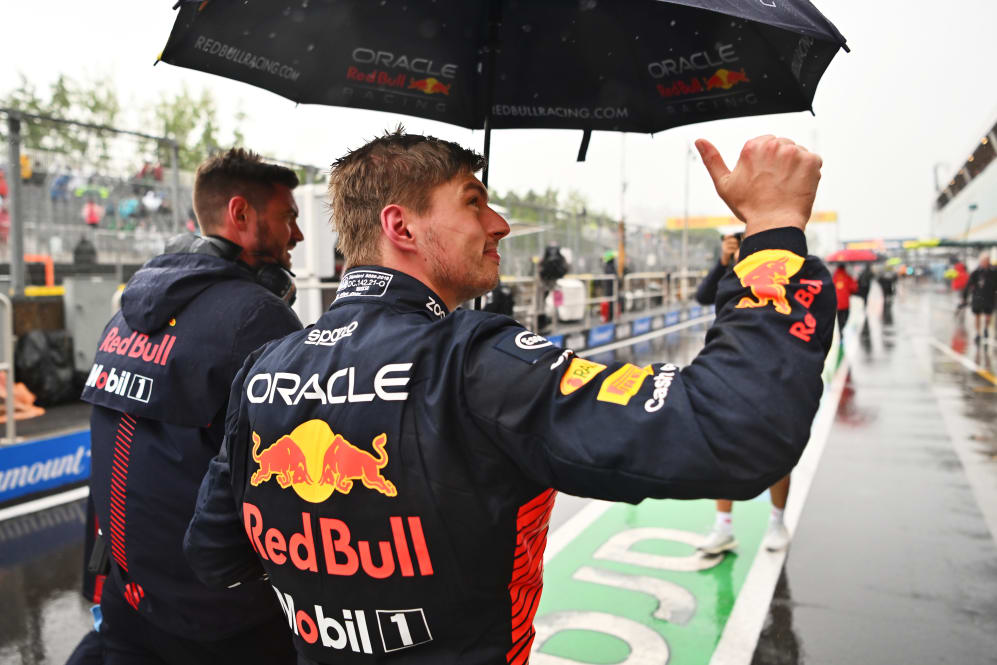 Key quote
"Yesterday wasn't fantastic, so we made a few changes to the car," said pole-sitter Verstappen. "I do think the car improved to drive. It was super slippery out there, but we made all the right calls so, of course, I'm very happy to be on pole here. Maybe it's dry tomorrow, but we have a good race car."
What's next
The 2023 Canadian Grand Prix is set to begin at 1400 local time on Sunday. Head to the RACE HUB to find out how you can catch the action from the Circuit Gilles Villeneuve.