Hulkenberg missing 'love and harmony' after Renault Q1 exit
For the second time in three races, Nico Hulkenberg found himself dumped out of qualifying in the opening phase on Saturday, as his and Renault's difficult start to the season continued – with the German conceding that he simply isn't at one with his car in Baku.
Hulkenberg, who made Q3 last time out in China, missed the cut for Q2 by a full second as he struggled to find a sweet spot in his R.S.19, blaming a simple 'lack of confidence' for his failure to progress. It left him a lowly 18th – though he will move up two grid places through rivals' penalties.
"I didn't really feel at home and happy inside the car at any point this weekend," said Hulkenberg. "It was always a bit compromised. I didn't feel the love and the harmony between the car and myself and obviously on a track like this, you start paying the price.
"Missing P1 wasn't great – it's not an excuse because it was the same for all of us, but it certainly I think hurt us more, because we started a little bit out with the car. So we've always kind of played catch up this weekend and haven't really caught it."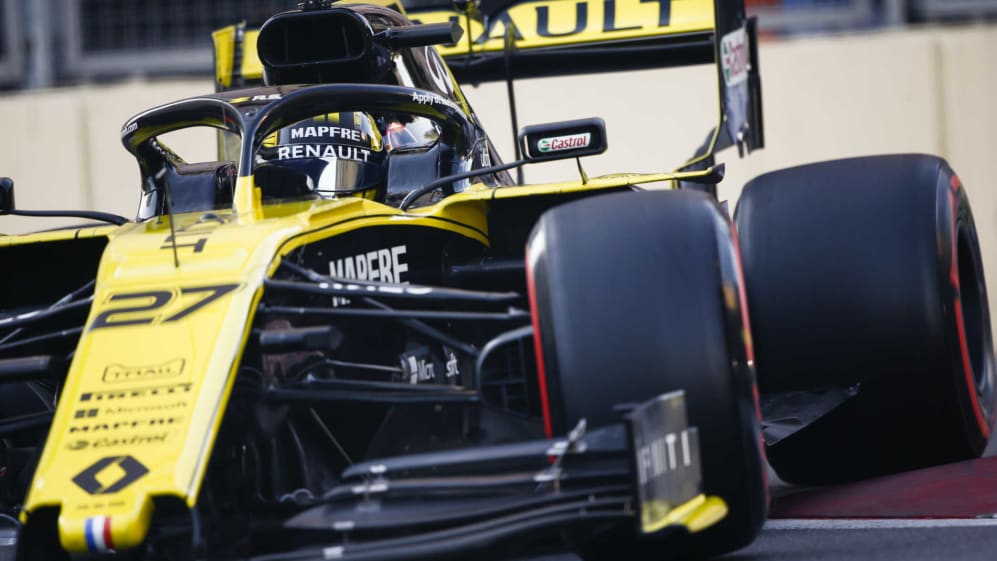 There was some consolation for Renault in team mate Daniel Ricciardo's performance. The Australian will line up 11th for Sunday's race, having qualified 12th after squeezing into Q2 and then getting the better of Alex Albon's Toro Rosso, Kevin Magnussen's Haas and Pierre Gasly's Red Bull. He wasn't exactly happy, however.
"Considering how the weekend has gone so far, we probably lowered our expectation for today," he admitted. "Twelfth isn't ideal. This weekend we've been a little bit off the pace and small things make a big difference. We've made changes from yesterday and certainly made progress.
"You never know what will happen here. I'm right in the midfield for the start and it can be crazy at this place. We have to keep it clean, keep chipping away and aim to come through the field."
Hulkenberg was similarly counting on the unpredictability of Azerbaijan to give him a shot of points on Sunday, adding: "We know Baku can be a crazy race and you've got to be in it right until the end. Obviously today's not a good day, but we'll still race hard tomorrow."
Saturday was the third time this season that neither Renault has made it into the final phase of qualifying – and a stark contrast to the last round in Shanghai, where both yellow cars reached Q3.