Hulkenberg - Renault package not competitive enough at the moment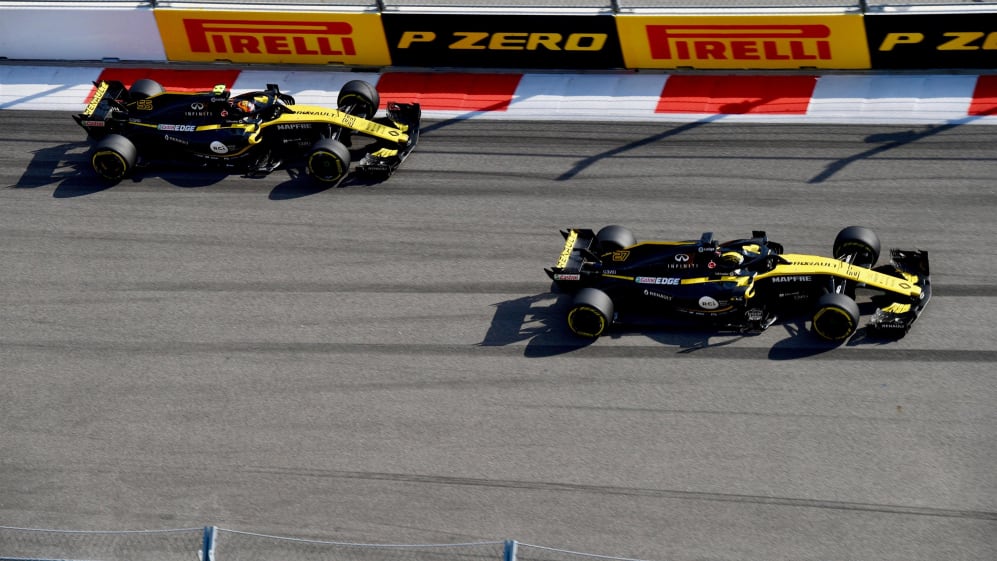 "Just too slow" - that was Nico Hulkenberg's damning indictment of Renault's pace at the Russian Grand Prix. Despite adapting their qualifying strategy so they could have a free choice of tyres for the start of the race, the R.S.18 lacked the power to climb into the points. And the German was brutally honest in his assessment of their Sunday performance…
The Anglo-French team opted to sit out Q2 on Saturday, which looked a plum move with those ahead of them starting on softer rubber. But in the race, things didn't go to plan with Hulkenberg, who started one place behind team mate Carlos Sainz in 12th, unable to hunt down the midfield rivals ahead of him, and dropping further back when he switched to the ultrasoft compound.
Afterwards the German admitted his challenger was just too slow compared to the likes of Haas and Force India, something he put down to Renault's lack of recent development following qualifying, pointedly saying "If you snooze you lose in Formula 1."
"Obviously we started on the harder (tyre) compound," said Hulkenberg. "We went long on the first stint – and it went ok.
"It was positive to be running in P7 for so many laps, but we weren't able to make the places back after the pit stop. We gave it our best shot, but we couldn't make it pay off in the end.
"Ultimately we were just lacking pace and were just too slow. Even with the clean race and good conversation of the strategy, we didn't get anywhere, didn't get a result or points. Our package at the moment isn't competitive enough."
Sainz's early clash with Sirotkin ruins his race
While Hulkenberg fought well but lacked pace, Sainz had a race to forget. The Spaniard, unaware at the time, had contact with the Williams of Sergey Sirotkin early on, and it ultimately ruined his chances of a points finish.
"From my side, it was a tough start to the race," Sainz added. "I got a really good start on the softs, I managed to pass a couple of guys on the hypers going into Turn 2.
"But then all of a sudden – I didn't feel anything – but apparently I got hit by Sergey into Turn 2, so through Turn 3 I felt the car feel weird."
It was only after the race, as Sainz revealed, that the true extent of the damage to his car became evident.
"I had no rear support – and when I jumped out of the car, I saw the whole floor and the whole sideboard completely gone, I realised why I had been the whole race a second per lap slower than I should have been.
"So a tough race but at least I tried my best to hold the Haas, hold the Sauber, and the Force Indias to try to help Nico to get that gap to pit in front of them. I think he went out P8 after the pit stop so it did help a bit. I was a bit of a moving target but it did help.
"In the end, as Nico said, we just don't tend to have the pace and didn't finish in the points."
Renault's failure to secure points, coupled with Kevin Magnussen's P8 on Sunday, means they lead Haas by just 11 points in the constructors' standings. That battle for P4 will be one to keep an eye on in the remaining five races…