Renault explain their Q2 no-show in Russia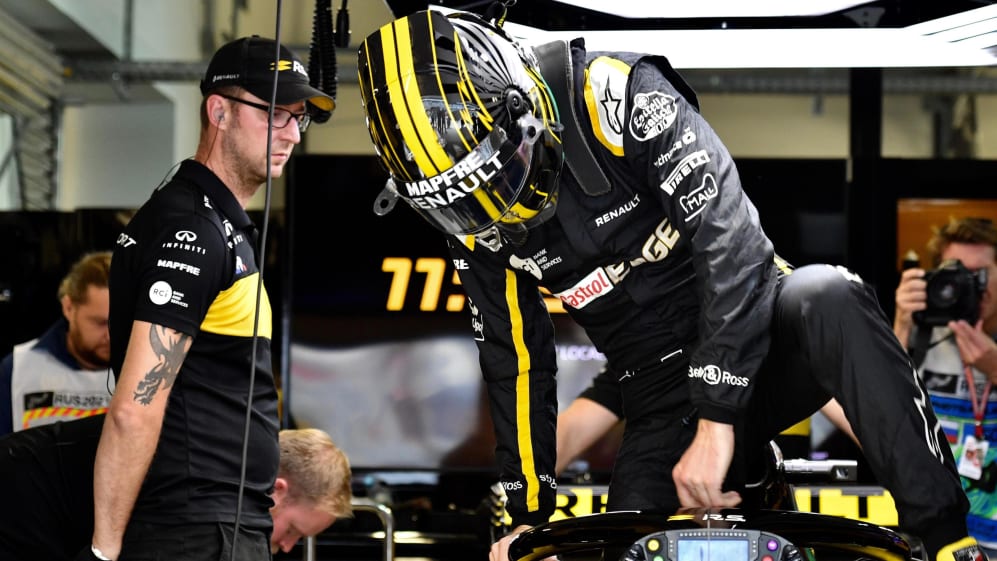 As the clock ticked down in the second segment of qualifying for the Russian Grand Prix, it became increasingly clear that the yellow and black Renaults of Carlos Sainz and Nico Hulkenberg weren't going to be making an appearance. So why did the Anglo-French team pass over the chance of making the Q3 pole position shootout? It was all part of the masterplan, as their drivers revealed…
Renault have struggled for one-lap pace throughout the Russian Grand Prix weekend, quicker only than McLaren and Williams in Friday's qualifying simulations but, crucially, one of the fastest midfield teams for race pace based on analysis of their long runs.
At the previous Grand Prix in Singapore, Nico Hulkenberg had called Fernando Alonso's P11 on the grid "the golden ticket", and so it proved for the McLaren driver, as he used the advantage of having a free pick of tyres to start the race to leapfrog the cars in front of him in the race and finish seventh.
Clearly inspired, once both Renault drivers had made it through Q1 – albeit by the skin of their teeth, as they ended up P14 and P15 – the call from the pit wall to park up the R.S.18s for the day, with the team knowing that their drivers would start 11th and 12th once both Red Bulls and Toro Rosso's Pierre Gasly had been sent to the back of the grid for power unit changes.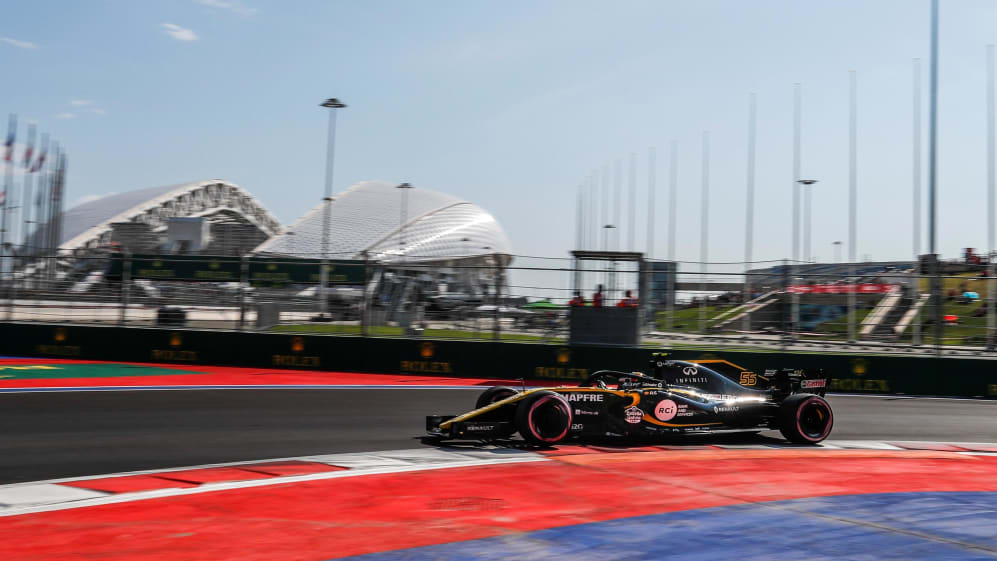 "We've seen that our pace this weekend is probably not good enough to qualify P5 and P6 like… Haas or Sauber out there today, or Force India," explained Sainz afterwards. "So we decided that instead of starting ninth and 10th, or 10th and 11th, it's better to just get both cars out of Q3 and have a free tyre choice for tomorrow.
"If we'd had the pace in qualifying to go up to P5 or P6, we would definitely have kept going and put the hypersofts on. But after two runs in Q1 where we both struggled with the car balance and trying to put laps together, it was obviously difficult to take that decision. It's not what we want, it's not the rule that we support because it's not good, but we need to do it.
"In the end, the pace will dictate our final position [in the race]. But I think like this, we still have more chances and we're going to fight more with it."
Renault will now be able to pick the optimum strategy for the race, with starting on the purple-walled ultrasoft tyre before switching to the yellow-walled soft – effectively the medium and the hard tyres here this weekend – estimated to be the best way to go in Russia.
That all bodes well for Sainz and Hulkenberg in the race, then. But arguably the bigger question was why Renault didn't have the outright pace to challenge the rest of the midfield in qualifying. Nico Hulkenberg certainly appeared to be concerned, with the German driver calling out his team for falling behind in the upgrade race.
"The last few months and couple of races, sometimes Haas, sometimes Force India, even sometimes Sauber, they've really caught us up and they're sometimes even stronger than us," he said. "It's a lack of development. If you snooze you lose in Formula 1."