Hulkenberg says he 'paid the price' for 'unnecessary' risk after crashing out of FP1
Nico Hulkenberg's FP1 session ended in spectacular fashion as the Haas driver crashed out of the running. Despite that, he said it was a "good day" as the German driver turned in his first laps of Miami in an F1 car.
Hulkenberg went wide at Turn 3 and slid into the barriers around halfway into the opening practice session at Miami, with his Haas coming to a stop with damage to the right-hand side. The team put in a shift to get him back out for FP2, where he completed 22 laps and finished 17th.
FP2: Red Bull's Verstappen shrugs off issue to top second Miami practice session as Leclerc crashes late on
"Yeah, I just wanted a bit too much too soon, and paid the price for it as it happens or as it is on street circuits," began Hulkenberg. "Not ideal, it was a bit unnecessary there, but it happens unfortunately sometimes.
"Luckily not too much damage and we picked things up in FP2 in a good spot actually. The car actually handles and fits quite well to this place. I like the track a lot too because it's the first time out for me in a Formula 1 car, it's quite technical, challenging, and yeah, had a good day despite the incident in [FP1]."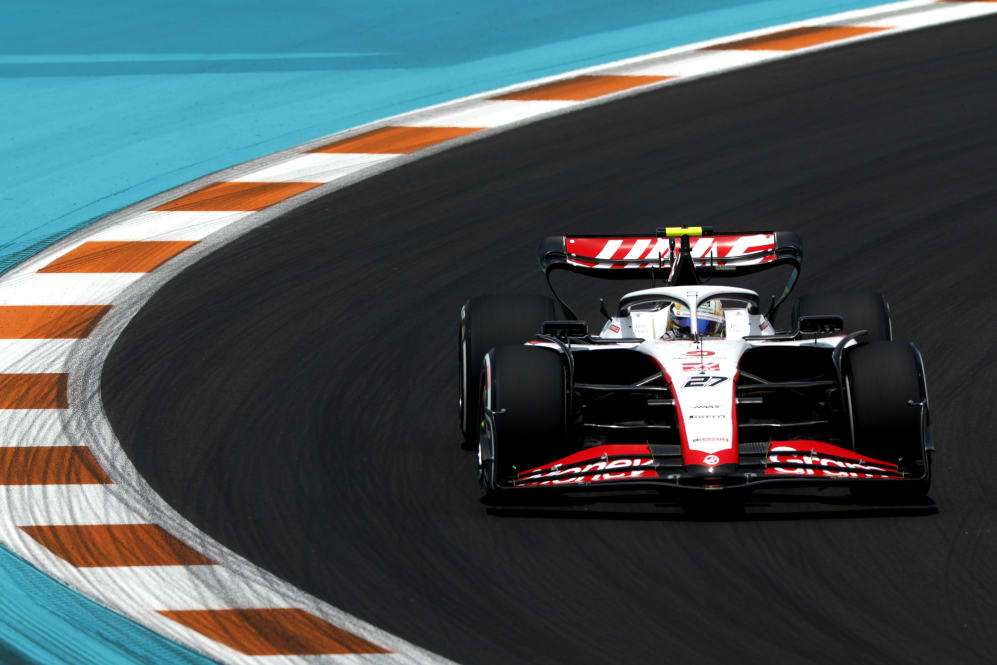 The American team have brought upgrades to the VF-23 for their first home race of the season and Hulkenberg remarked that the new bits gave him a positive feeling at the end of a truncated Friday.
"Yeah there was a big [update] for us today to learn about it and learn about some different runs and cross comparisons. I think it's positive, definitely heading in the right direction. Obviously today and tonight we will exploit more with the data, analyse everything, and come up with the best package tomorrow."
READ MORE: Verstappen enjoys Friday practice after topping FP2 while team mate Perez laments tough start in Miami
Looking ahead to Saturday, with qualifying for the 2023 Miami Grand Prix to come, Hulkenberg kept his cards close to his chest.
"I think [a strong result is] possible but it's tight and you have to really hit it on the head and make it stick. Gut feeling is that we have that potential and tomorrow will tell."