Hulkenberg set for pit-lane start after front wing change infringement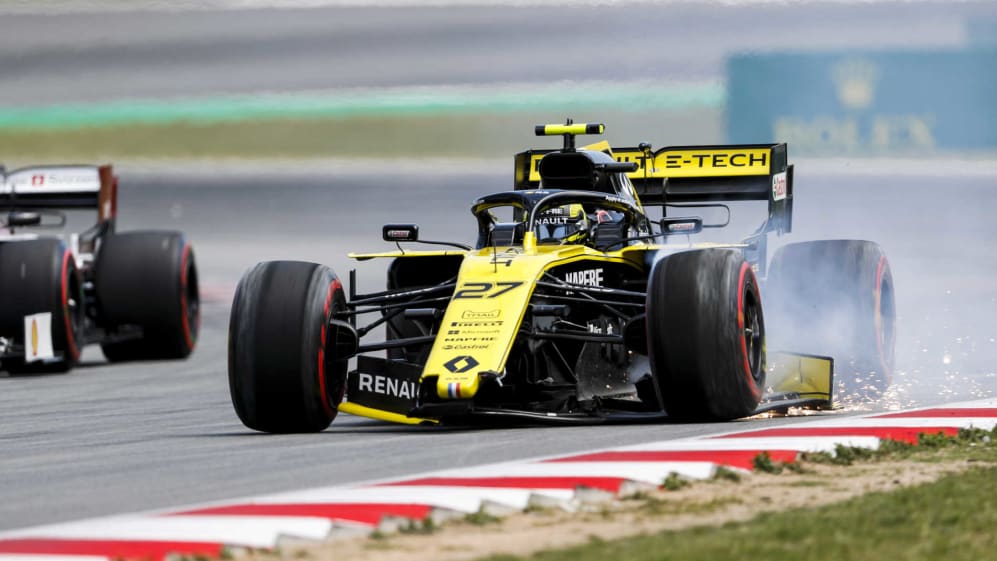 "If you make mistakes, you pay for it," said Nico Hulkenberg after his crash during qualifying that ultimately contributed to him failing to make it out of Q1. But there was more paying for the German to do on Sunday morning in Spain, after stewards ruled that the replacement front wing that had been fitted to the car after Hulkenberg's shunt was of a different spec to the original one.
That contravention means that Hulkenberg will be forced to start the 2019 Spanish Grand Prix from the pit lane as punishment, having originally qualified down in 16th place.
"[Renault's] Sporting Director advised that the team's opinion was that the front wing main plane was 'similar' to the one it replaced," read the stewards' report.
"However, the team was willing to accept the view of the FIA Technical Delegate that the front wing is of a different specification from the one used during qualifying Accordingly, the stewards determine that the competitor is required to start the race from the pit lane."
With the penalty confirmed, Renault subsequently made the move to replace Hulkenberg's power unit ahead of the race too, given that the existing penalty effectively made it a 'free' change.
Over at Alfa Romeo, meanwhile, an unscheduled change of gearbox for Antonio Giovinazzi will see the Italian start from the back of the field - along with the Williams of George Russell, who also changed his gearbox after a crash on Saturday morning - following the resulting five-place grid penalty for the switch. However, because of the penalties of those drivers around him, Giovinazzi effectively retains his P18 starting position.