Hulkenberg taking 'a lot of positives' from solid points finish in Melbourne despite missing out on 'really strong result'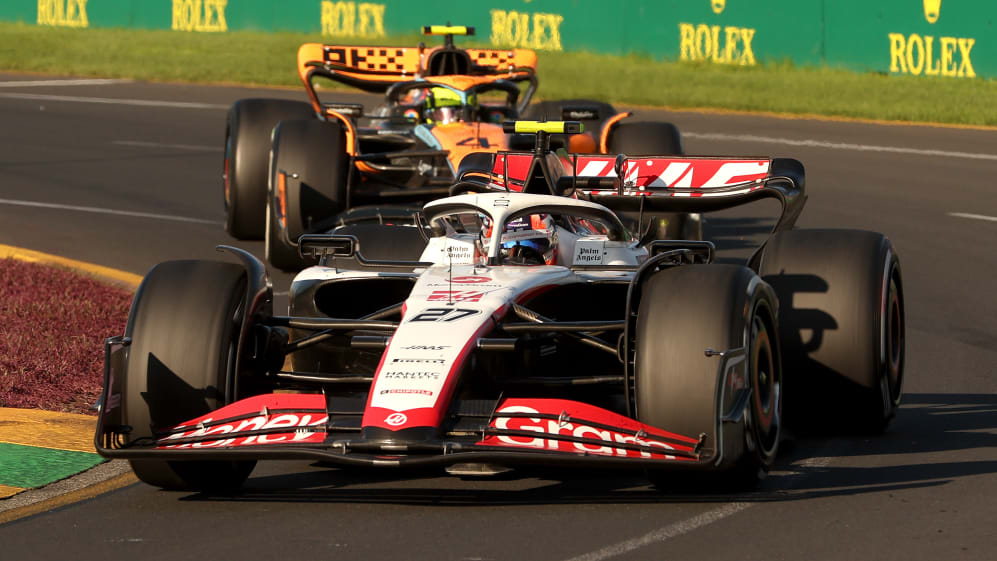 Nico Hulkenberg believes there are "a lot of good things happening" at Haas after he scored the team's best result of 2023 so far with a P7 finish in Australia, while also getting himself off the mark in his comeback season.
Having made it through to Q3 in qualifying, Hulkenberg featured towards the tail-end of the points from start to finish at Albert Park on Sunday – holding ninth when the race was red-flagged with only a handful of laps remaining due to team mate Kevin Magnussen's crash.
READ MORE: Verstappen takes first-ever Australian GP win amid huge drama in Melbourne
At the restart, Hulkenberg avoided the chaos around him – which included a clash between Fernando Alonso and Carlos Sainz, the two Alpines colliding and Lance Stroll running off the track – to emerge in P4, raising hopes of an even stronger result.
However, with the race red-flagged for a third time, and the order taken from the previous start, minus the sidelined cars, Hulkenberg got shuffled back down the order, before Sainz's penalty gave him his ultimate finishing position of seventh.
Asked to reflect on his solid haul of points, and the potential to have scored even more, Hulkenberg said: "Yeah, you know, 'woulda, coulda, shoulda'. I mean it was wild and a little bit messy at times. I think we have to look through how everything happened and what the actions were. It was a lot of things happening, it was very dynamic.
"I had a super start, I think, the third time around on softs, and came through to P4. It's a shame that there were a few incidents and they red-flagged it, otherwise it could have been a really strong result today.
"But even before that, I think we would have come home in P9, which is obviously not as good as P7 or P4 or something, but still a lot of positive learnings again and [we can] take a lot of positives out of this race and [going] forward – I feel there's a lot of good things happening."
READ MORE: 'I didn't even feel it' says Magnussen of dramatic race-ending crash in Melbourne
With the first points under his belt since returning to F1 lifting Haas to seventh in the constructors' standings, Hulkenberg added that he was loving life back in the sport and looking forward to more of the same as the campaign develops.
"Yeah, I enjoy it, to say the last. I'm refreshed, I've got a good mindset, a very positive mindset. I'm feeling hungry," the 35-year-old commented.
"I really like and enjoy working with the team, exploiting the car, experimenting with the car, and we've got a very nice rhythm and momentum, and I think that's what we want to preserve and keep now and take that into the next couple of races."