Report
Verstappen takes first-ever Australian GP win amid huge drama in Melbourne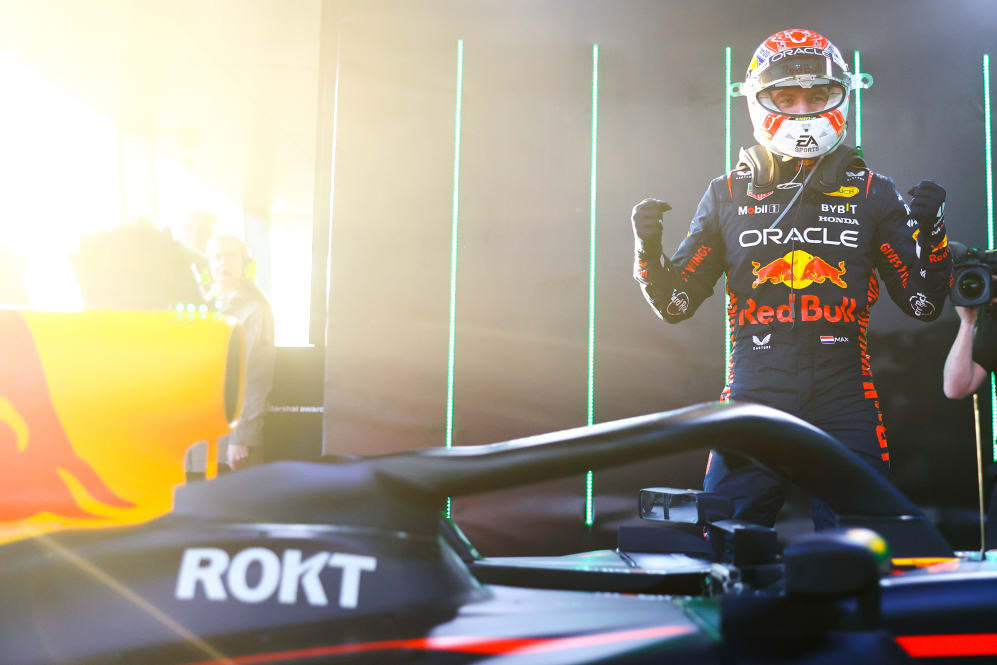 Max Verstappen claimed victory during a wild and action-packed Australian Grand Prix, overcoming battles with the Mercedes drivers, several Safety Cars and three red flags to lead home Lewis Hamilton and Fernando Alonso.
Verstappen lost out to both George Russell and Hamilton at the original race start, before the Safety Car made two appearances in quick succession due to Charles Leclerc retiring from a collision with Lance Stroll and Alex Albon crashing out heavily.
AS IT HAPPENED: Follow all the action from the 2023 Australian Grand Prix
A subsequent red flag for Albon's incident brought the field back to the pits, with Hamilton leading Verstappen and Alonso, taking advantage of misfortune for Russell and Carlos Sainz, who were the two front-runners to take on fresh tyres just before the stoppage.
With a free choice of tyres for the restart, Hamilton initially held the lead from Verstappen, but the Red Bull driver soon got within DRS range and moved back into P1, moments before Russell's misery was compounded by an apparent engine failure.
FORMULA 1 ROLEX AUSTRALIAN GRAND PRIX 2023
Australia
2023
Race results
POSITION
TIME
POINTS

1

Max

Verstappen VER

Red Bull Racing

2:32:38.371

25

2

Lewis

Hamilton HAM

Mercedes

+0.179s

18

3

Fernando

Alonso ALO

Aston Martin

+0.769s

15

4

Lance

Stroll STR

Aston Martin

+3.082s

12

5

Sergio

Perez PER

Red Bull Racing

+3.320s

11
Verstappen brushed off the early drama to move into a comfortable lead as the race developed, while Hamilton held P2 and set about managing the gap back to Alonso, who was joined by the recovering Sainz and Pierre Gasly in a fight for the podium positions.
But just as the order appeared to be locked in, another Safety Car, and then another red flag, was triggered late on when Kevin Magnussen thumped the wall exiting Turn 2, lost his rear-right wheel and spread debris from his Haas over the racing line.
It meant a third standing start and the prospect of a two-lap shootout on soft tyres, but just a matter of seconds passed before further contact and drama as Sainz tipped fellow Spaniard Alonso into a spin in the Turn 1 bottleneck.
Behind, Gasly took avoiding action and collided with Alpine team mate Esteban Ocon as he rejoined the circuit, putting both drivers out on the spot, while Logan Sargeant ran into the back of Nyck de Vries, and Sergio Perez – who had risen from the pit lane – and Stroll had separate off-track excursions.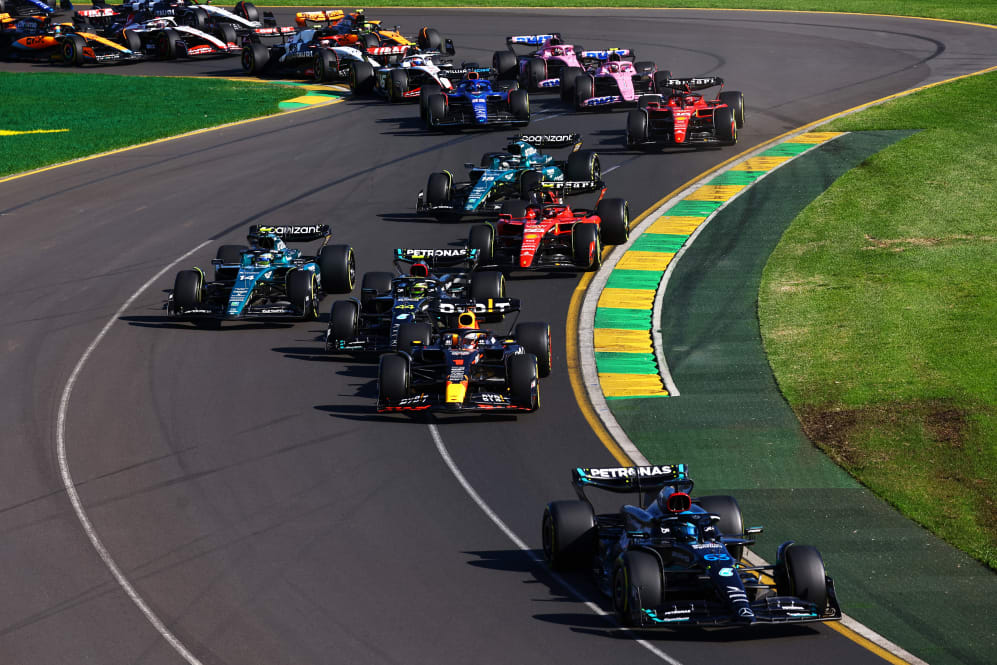 After some confusion over how the race would proceed and the results would be determined, proceedings were resumed – and ultimately settled – behind the Safety Car in the order of the previous start, minus the cars that had been eliminated.
A rolling start took the field around to the chequered flag, with Verstappen crossing the line for his first victory in Australia, as Hamilton and Alonso completed the podium ahead of Sainz, Stroll, Perez and Lando Norris.
However, Sainz was hit with a five-second time penalty for his clash with Alonso, promoting everyone behind him as Nico Hulkenberg took P7, from home favourite Oscar Piastri, Zhou Guanyu, Yuki Tsunoda – inheriting the final point – and Valtteri Bottas.
De Vries, Sargeant, Magnussen, Russell, Albon and Leclerc all watched the final lap from the sidelines, as the sun set on a hugely dramatic day at the Albert Park Circuit.
AS IT HAPPENED
After mixed conditions in practice and qualifying, blue skies and pleasant temperatures greeted the paddock for race day, with slick tyres the order of the afternoon and a one-stop strategy the quickest option – providing there were no incidents or Safety Car periods...
In the race build-up, there was a change to the grid as both Perez – who slid out of Q1 in qualifying – and Bottas – the slowest of the drivers to post a qualifying time – swapped their starting slots for the pit lane, having made various car changes under parc ferme conditions.
As for starting tyre choices, the majority of drivers opted for the medium compound, but the Alpines and Alfa Romeos picked softs, while De Vries's AlphaTauri, Sargeant's Williams and Perez's Red Bull had hards bolted on for a longer first stint.
When the lights went out Down Under in front of a capacity crowd, there was immediate action as Russell charged off the line and got a run on Verstappen into Turn 1, which he converted with some late braking and smart car positioning.
With Verstappen's exit compromised, the Dutchman then came under pressure from Hamilton who promptly made it a Mercedes one-two by muscling his way past at Turn 3 – Verstappen complaining over the radio that "he pushed me off the track".
Just behind, there was further drama as the Aston Martins and Ferraris went wheel-to-wheel into Turn 3, resulting in contact between Stroll and Leclerc under braking that sent the latter into the gravel and out of the race. A quick stewards' investigation settled on no further action.
With the Safety Car deployed and the frenetic proceedings briefly paused, a host of drivers pitted for some early tyre changes: Ocon, Zhou and Bottas came in to swap their softs for hards, while Sargeant and Perez swapped their hards for mediums.
When the action resumed at the end of Lap 3, Russell held the lead from team mate Hamilton, the recovering Verstappen, Sainz, Alonso and the fast-starting Albon, but just three tours later, the Williams man slammed into the barriers at Turn 7 and signalled another Safety Car.
Russell, who had just started to come under pressure from Hamilton and complained over the radio that Mercedes were "asking me to manage and I'm being attacked", pitted from P1 under the caution to change his soft tyres for hards, a move mirrored by Sainz – both drivers looking to benefit from Albon's accident.
In response to those stops, Hamilton rued that the situation had "put me at a massive disadvantage", but it would soon shift in his favour when the red flag was thrown due to debris and gravel on the track, meaning all drivers returned to the pit lane and could change their tyres.
With the race stopped, Hamilton held top spot, ahead of Verstappen, Alonso, Stroll and Gasly, as Hulkenberg, Russell – who radioed Mercedes to stress that the lost places were "not your fault" – Tsunoda, Norris and Piastri rounded out the top 10 positions.
Like Russell, Sainz lost out from his stop just before the red flag and dropped to P11, shouting "no!" over the radio several times, but he was at least still in the race, unlike team mate Leclerc and Albon, both of whom were unharmed in their respective incidents.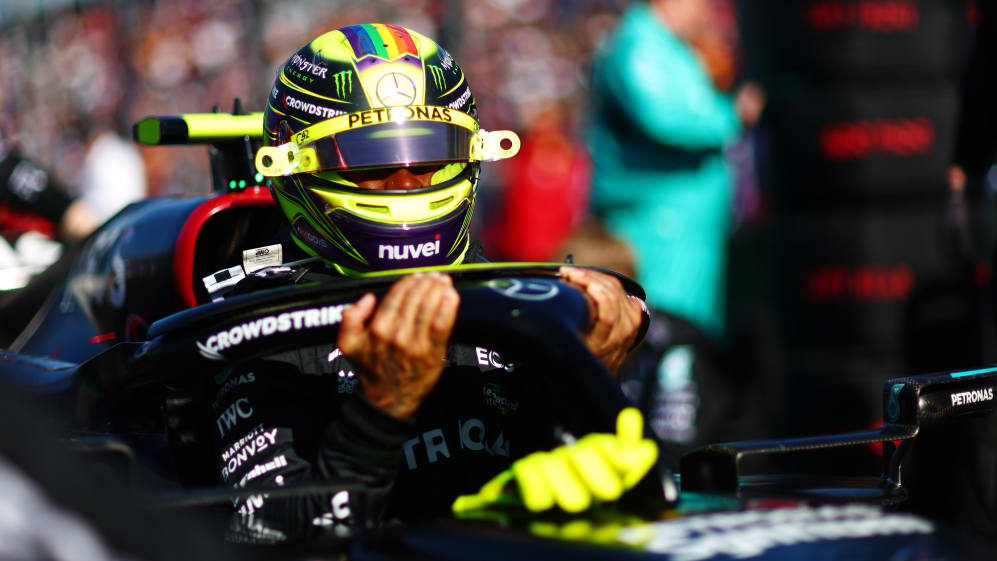 After the delay, the Safety Car led the field out of the pits and back to the grid for the restart, with Hamilton leading a particularly slow formation lap – the knock-on effect being several near-misses towards the rear of the field as cars backed up.
With all drivers on hard tyres aside from De Vries and Sargeant, who chose mediums, Hamilton got away well to keep the lead from Verstappen into Turn 1, with Alonso holding third from Gasly, Russell, Stroll, Hulkenberg and Tsunoda.
Further back, Ocon and De Vries had a coming together that briefly sent the rookie airborne, but both drivers continued on their way and ensured that – for the time being – there were no additions to Leclerc and Albon on the retirement list.
Over the following laps, Sainz used the pace of his Ferrari to quickly recover lost ground and work his way back into the points-paying positions, dispatching the McLaren drivers before pulling moves on Tsunoda, Hulkenberg and Stroll for P6.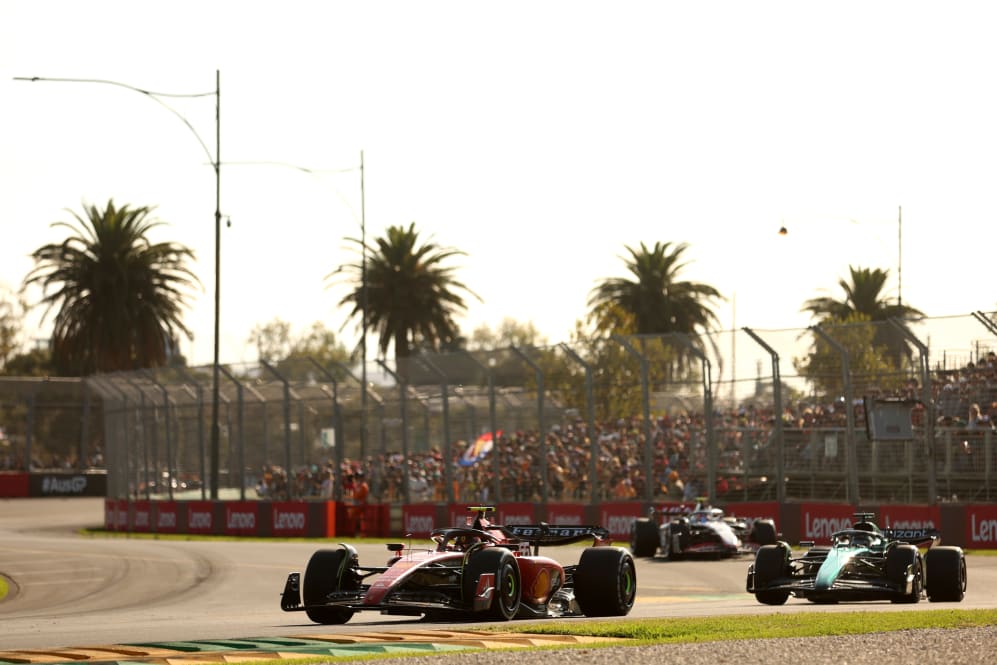 Up front, after initially biding his time when the race restarted, Verstappen closed in on Hamilton's Mercedes, got within DRS range and reclaimed the lead of the race by breezing past his 2021 title rival along the back straight.
Meanwhile, Russell cleared Gasly for P4 with an impressive move around the outside of Turn 11, as news came in that there would be no further investigation over the contact between Ocon and De Vries at Turn 3, nor the restart procedure following Hamilton's slow formation lap.
Having overhauled Hamilton and moved into clean air, Verstappen unleashed the full pace of his Red Bull and stormed three seconds clear, as the reigning world champion looked to take control of the race and claim his first Australian Grand Prix win.
On Lap 18 there was yet more drama as Russell ground to a halt on the start/finish straight with flames coming from the back of his Mercedes, bringing out a Virtual Safety Car and once again stabilising the gaps between cars up and down the order.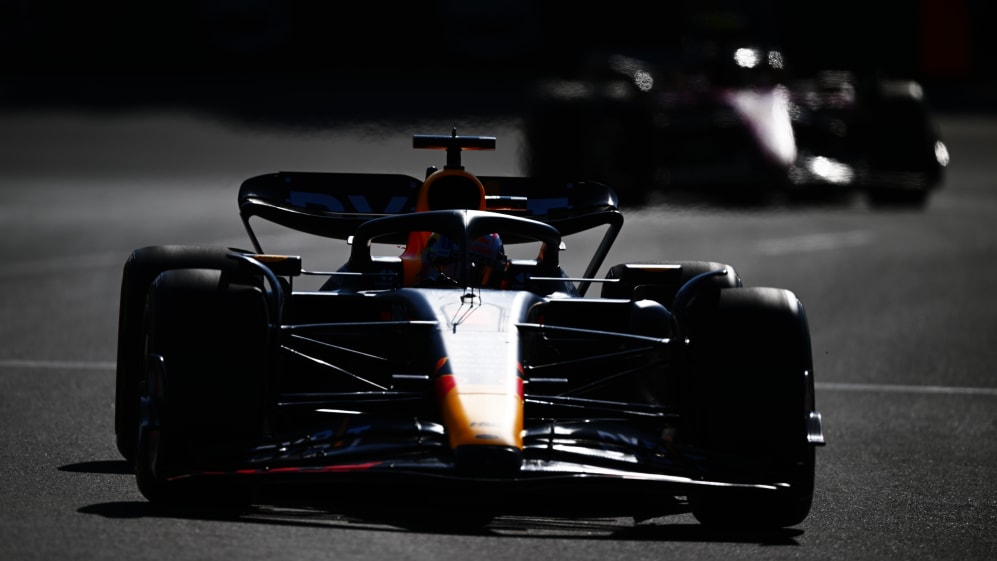 With Russell's car cleared, green flag conditions resumed and Verstappen got back to it in P1, leading Hamilton by a slightly reduced margin of 2.5 seconds, as Alonso held third from Gasly, Sainz, Stroll, Hulkenberg, Norris, Tsunoda and Piastri.
On a charge in P11 was Verstappen's team mate, Perez, who had worked his way up the order amid the drama and found himself knocking on the door of the points, which he duly moved into with a move on Piastri into Turn 9, before jumping Tsunoda.
As the race neared half-distance, Hamilton expressed concerns over whether his hard tyres would make it the chequered flag, with Verstappen continuing to pull away and look more and more comfortable in the lead with a series of fastest laps.
Behind, Sainz got past Gasly for P4 with clever move, pulling off a dummy from left to right into Turn 3, while Tsunoda dropped out of the points after losing out to both Ocon and Piastri.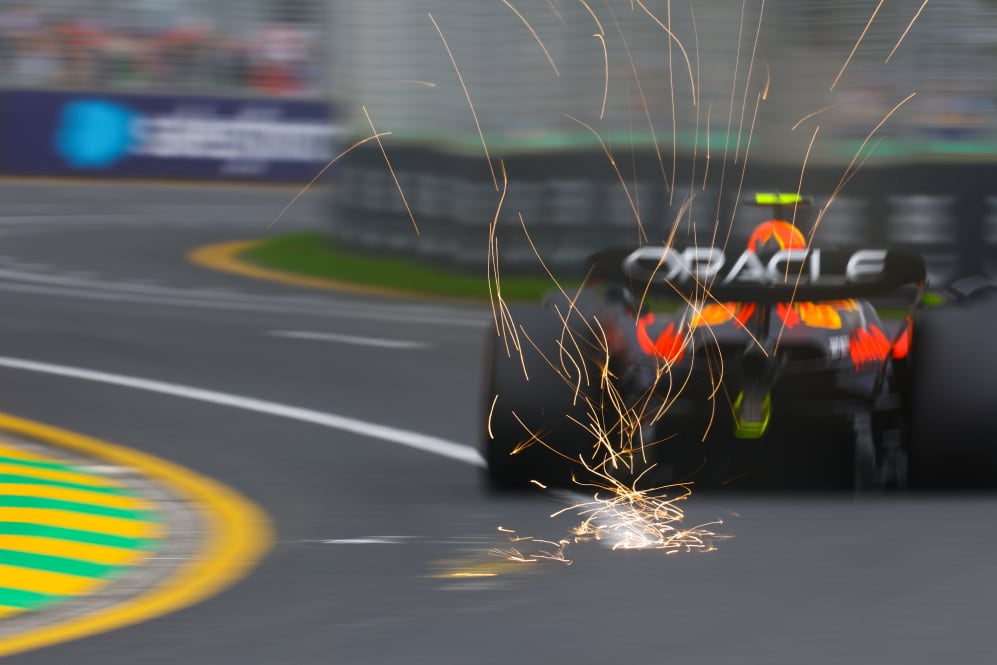 On Lap 31, Verstappen moved more than eight seconds clear of Hamilton, but the battle for P2 was much closer, with Alonso keeping his Aston Martin within touching distance of the Mercedes, as Sainz continue his charge and taking both Gasly and Stroll with him.
At this point, Hamilton was told that "Alonso keeps trying to push you to make you use your tyres, so let's not fall for it", before the seven-time world champion questioned that "they can't be on the same strategy as us".
As the laps ticked by, the gaps between Hamilton, Alonso and Sainz remained constant, with the only change at the front being Verstappen's advantage, which stretched out to the 10-second mark by Lap 41.
In the other Red Bull, Perez found the McLaren of Norris a more challenging hurdle to jump over, but he eventually managed to do so with DRS down the back straight, before swiftly pulling a move on Hulkenberg into Turn 11.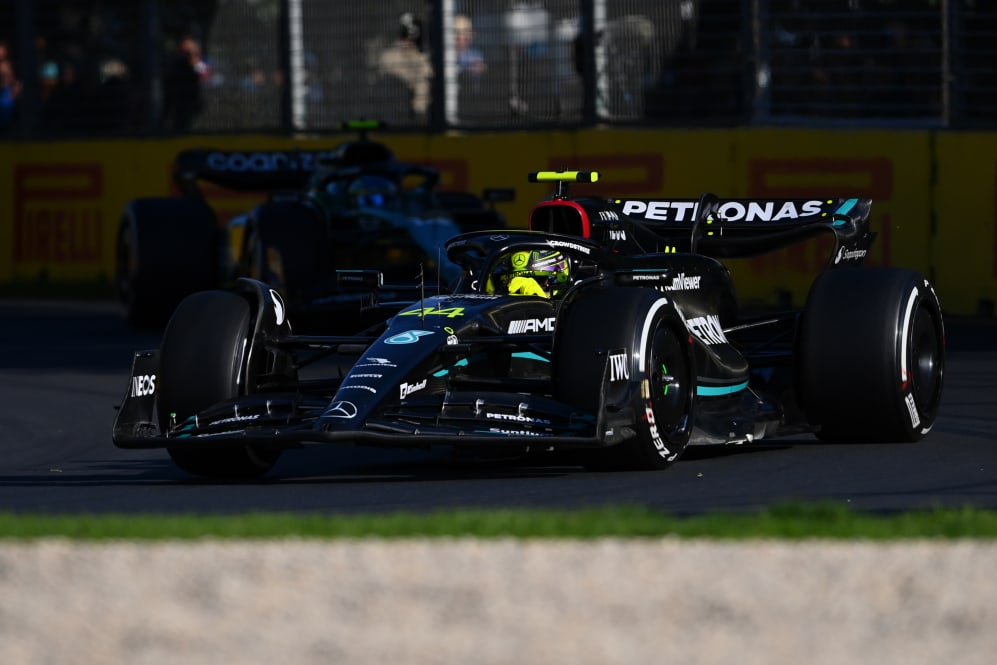 Hulkenberg then fell into the clutches of Norris, who attempted an overtake on several occasions before slotting ahead with a move coming out of Turn 11, exploiting Hulkenberg's slow exit and surging ahead when the German ran wide at the following corner.
A lock-up for Verstappen into Turn 13 during the closing stages raised some eyebrows on the Red Bull pit wall, with his trip across the grass bringing a 10-second lead over Hamilton down to 7.5s – creating some late jeopardy.
That jeopardy took on a new form a few laps later when Magnussen hit the wall exiting Turn 2, which removed the rear-right wheel from his Haas and brought out a late Safety Car, given the debris that had been left over the circuit.
Race Control then opted for a second red flag to allow marshals to clean up the track surface and enable a finish under green flag conditions – meaning a two-lap shootout for the win with no DRS.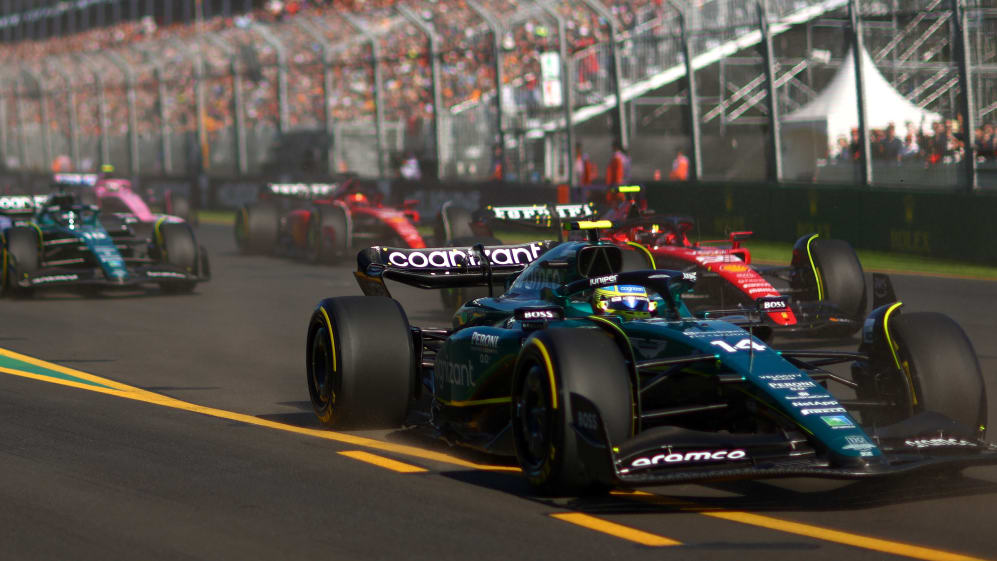 However, that shootout was over in a dash, with Verstappen defending from Hamilton into Turn 1 but Sainz sending Alonso into a spin, causing chaos behind as several drivers tried to take evasive action.
One of those drivers was Gasly, who slipped his way across the grass run-off but collected team mate Ocon when he made his way back onto the track, sending both drivers out of the race with significant damage.
Meanwhile, Sargeant hit De Vries, Perez went off at Turn 1 and dropped back, and Stroll out-braked himself into Turn 3 to take a trip through the gravel, with the red flag shown again to clear up more mess.
It was then confirmed that the Safety Car would lead the field around one more time to officially end the race, with Verstappen making up for his 2022 retirement here to take the win from Hamilton, Alonso, Stroll, Perez and Norris – Sainz's penalty dropping him to P12.
Hulkenberg pounced on the trouble around him at the penultimate restart to emerge fourth, but the reshuffling of the order for what would be the final run to the line meant he had to settle for seventh, as Piastri made it a double points finish for McLaren on home soil.
Zhou and Tsunoda also benefitted from the late incidents to round out the points, with Bottas and Sainz the final finishers of the day after the DNFs for Gasly, Ocon, De Vries, Sargeant, Magnussen, Russell, Albon and Leclerc.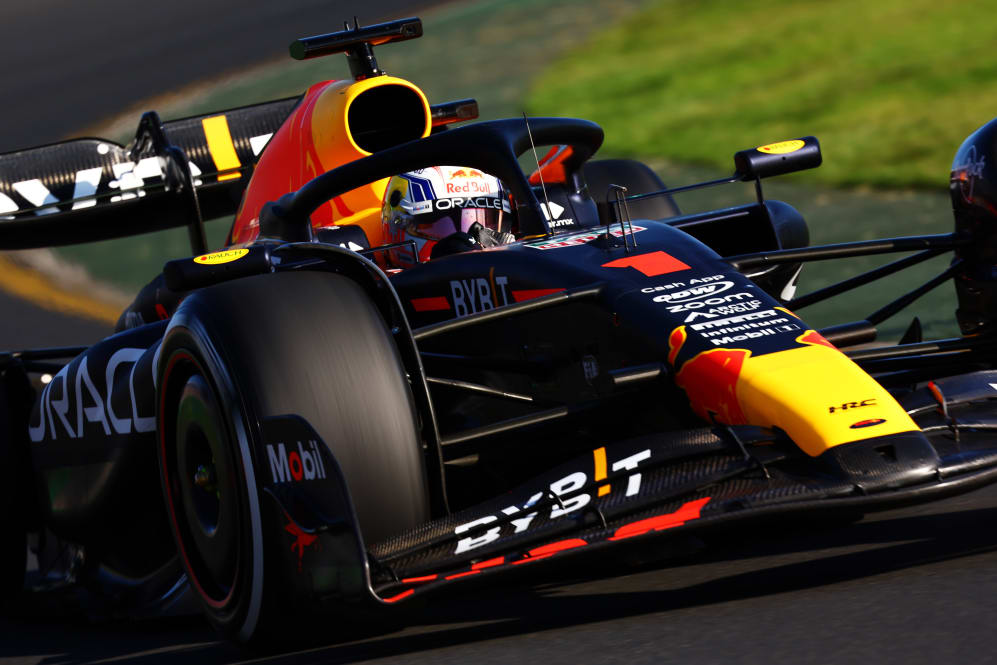 KEY QUOTE
"It's great to win here, my first win as well," said victor Verstappen. "It's been a while for the team as well but very, very happy but also, it's still great to see that the fans are having a good time even now. They had a long wait for the whole day, so I'll say a big thank you to them as well for sticking around.
"We had a very poor start and then Lap 1, I was careful because I had a lot to lose, and they had a lot to win. After that, I think the pace of the car was quick, you could see that straight away, we were always there waiting for the DRS to open up, to have a chance to pass.
"But with these red flags, the first one maybe you can do it but I think that second one I don't really understand. Was a bit of mess but we survived everything, we had good pace on the car today again, and we won, which of course is the most important."
WHAT'S NEXT?
F1 will now head into an almost month-long break before reconvening at the Baku City Circuit from April 28-30 for the 2023 Azerbaijan Grand Prix – which will see the Sprint format make its first appearance of the season.