'I could see myself in the air…' – Gasly on his 'scary' near miss with Hartley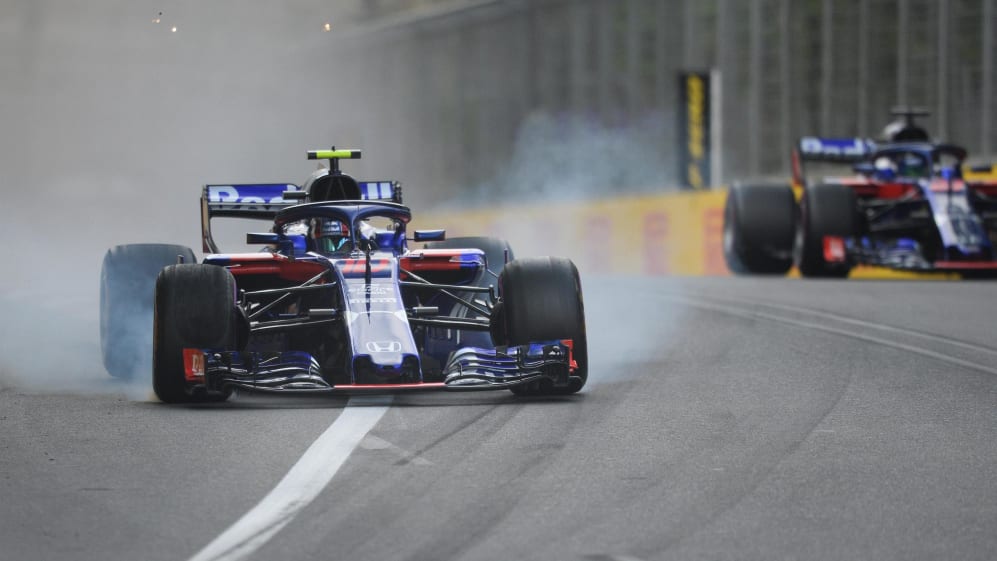 It was a moment that left F1 fans around the world – not to mention those on the Toro Rosso pit wall – with their hearts in their mouths. And Pierre Gasly has admitted that he thought he was going to have a huge accident when, travelling at over 300km/h, he suddenly came across slow-moving team mate Brendon Hartley during qualifying in Azerabijan on Saturday.
After their embarrassing contact in China last time out, Gasly and Hartley were nearly involved in a monumental crash in Q1 when Hartley, travelling slowly because of a puncture, came within inches of being struck by Gasly - on a hot lap - approaching Turn 15.
Contact was avoided as the Frenchman ran down the escape road, but ultimately both drivers ended up being eliminated in the first segment of qualifying – and counting themselves very lucky indeed.
"It was pretty scary," said a shell-shocked Gasly. "On the second run I was behind Brendon. The lap was coming nicely – I was seven-tenths faster than my best lap in the end. I don't know what happened to Brendon but he slowed down massively before Turn 15.
"I was doing around 320km/h and I saw he was almost stopped. So I tried to avoid him but I was sure I was going to crash. I could already see myself in the air. I don't know how I avoided it, but it was pretty scary moment."
Hartley said he'd been initially unaware of what was wrong with his car, but said he had to accept responsibility for the close call.
"I clipped the wall and initially I didn't think I had a problem, I was still pushing," the Kiwi explained. "Then through the very fast left hander I realised I had some big issue so I slowed down immediately trying to understand.
"I was unaware Pierre was so close behind me. When I looked in my mirrors I tried to go the same way as him. Obviously I owe him a big apology for getting in the way like that and almost causing a big accident. I'm disappointed how that went down. Not a good day.
"It happened very quickly. I should have been more aware to get out of the way, so it's my fault."
After such a dramatic moment, Gasly suggested the onus was on Toro Rosso to prevent a repeat in the future.
"I'm sure he didn't do it on purpose, that's for sure. But he was on the line and I didn't know if he was going to go left or going to go right. So maybe next time we need to have a bit more gap between the two cars so things like this don't happen. It's a shame because we could have been in Q2 easily and we'll start really far back tomorrow."
However, the Frenchman, who starred with fourth place in Bahrain, isn't ruling himself out of contention for another big result just yet.
"Racing is great in Baku, so everything can happen with safety cars and crashes and overtaking opportunities at Q1.
"Everything is possible and we need to focus on tomorrow. We're still struggling a bit with performance so it's not going to be easy, but for sure we have more pace than where we are after qualifying."