'I couldn't extract the pace from the car' says Ricciardo, despite points finish on McLaren debut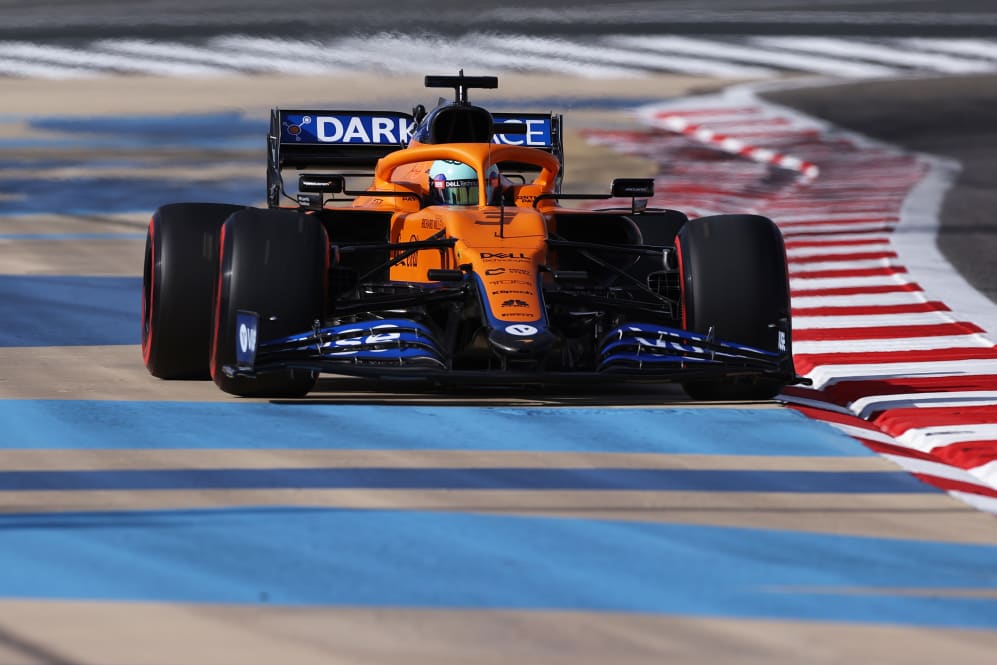 Despite notching up a points finish on his debut for new team McLaren, Daniel Ricciardo has revealed he was struggling to maximise the performance of his MCL35M during the Bahrain Grand Prix – though he said he is already more comfortable with his new car than when he last switched teams to join Renault.
Ricciardo had outqualified new team mate Lando Norris on Saturday in Bahrain, heading the 21-year-old Briton – starting his third season with McLaren – by a narrow 0.047s to claim sixth on the grid to Norris' seventh. But Norris was past his new team mate before the Safety Car was pulled midway through Lap 1, before demonstrating the strongest pace of all in the midfield to claim fourth, as Ricciardo eventually finished 20s adrift in P7.
READ MORE: Norris had 'flashbacks' to maiden podium as he charged to P4 in Bahrain
"I would say if I [take] the weekend as a whole, I'm pretty happy," said Ricciardo of his McLaren debut. "But if I just focus on the race itself, I struggled quite a bit in the race actually. I couldn't really extract the pace form the car and when I did, I could do it for one or two laps and then it would quickly drop off again with the tyres and the balance, so I just didn't feel like I had a good race performance, or race package.
"Obviously it's still new to me, so I'm sure there's going to be a lot of homework for me to do personally to obviously keep getting better," he added. "I made plenty of notes through the race of what I [was feeling in] the car and where that was holding me back, so I'll give feedback, I'm sure they'll give feedback to me and we'll come to Imola in better shape. But I think if seventh is a poor race, we're looking alright!"
It's not the first time that Ricciardo has joined a midfield team looking to rediscover past glories, with the Australian having struggled after his sensational switch from Red Bull to Renault back in 2019.
But he got on top of that situation, ending 2020 having taken two podiums for Renault, and finishing fifth in the drivers' standings. And Ricciardo was backing himself to do the same again, adding that his current situation at McLaren compared much more favourably to the one he'd found at Renault in 2019.
READ MORE: 6 Winners and 6 Losers from the 2021 Bahrain GP – Who started their season in style?
"This feels like very familiar territory from two years ago," said Ricciardo. "But even so, [in 2019] Bahrain was race two and I remember feeling still quite deflated, I would say, at that point. I felt like I had a lot to still learn with the new car at Renault.
"Here, I don't feel like I'm as off the mark as much as then, and I feel like the progress and this process now will be faster. So I'll put in the work and I'm sure Imola will be a stronger race."
Norris and Ricciardo's combined 18 points from Bahrain puts the team in third in the constructors' championship after race one, matching their finishing position from last year.