'I don't know where it came from' – Norris shocked by stunning P4 in Abu Dhabi qualifying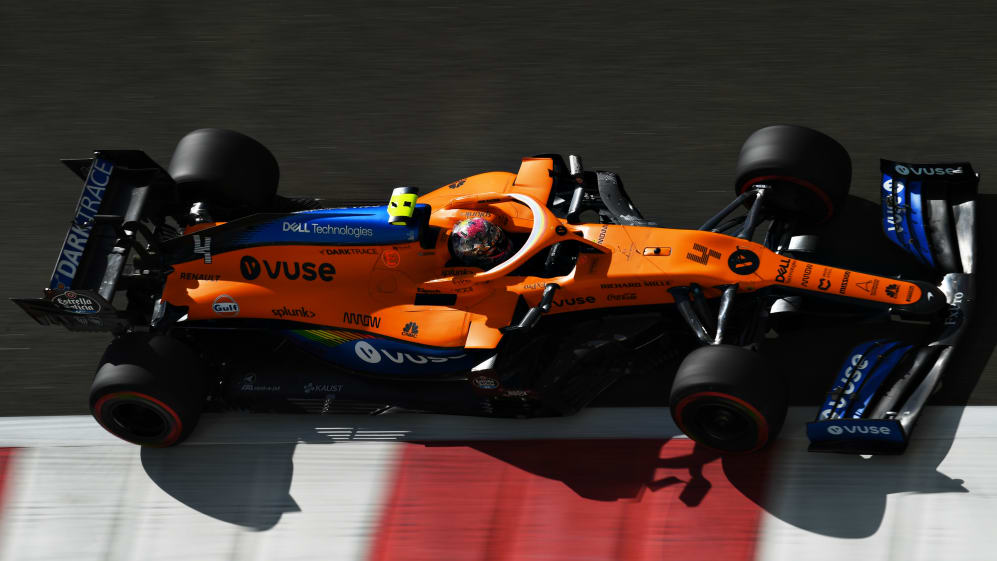 Lando Norris was at a loss to explain his stunning speed in Abu Dhabi Grand Prix qualifying, the McLaren driver putting in a lap that was just 0.25s off pole position in P4.
The McLarens were a little off the pace in Friday practice, but made gains on Saturday, with Norris building a good rhythm through qualifying as he ended up more than three tenths quicker than team mate Carlos Sainz.
READ MORE: Verstappen stuns Mercedes by taking first pole of the season in Abu Dhabi
"I don't know where it came from," he said. "We've been confident all weekend and been doing a good job and the car has been much nicer this weekend than it was last weekend - so we understand some things.
"But at the end of the day, to only be two tenths off pole, that's what surprises me a bit more. I'm happy because I felt like I did a very good lap. My gap to Carlos was three and a half tenths, which is one of the biggest of the whole year.
"I'm very happy, as I feel like I deserved it and put a very good lap together but at the same time to be two tenths off pole position is not that much at the end of the day. So I'm surprised but also very happy and in a good position for tomorrow."
By finishing ahead of Sainz – who is off to Ferrari next year to drive alongside Charles Leclerc – Norris wins the qualifying head-to-head nine-eight.
"I would say this time, I did it more in a decent way, it wasn't by one thousandth or he made a mistake, it was because I did a good lap," said Norris.
"Honestly, it was the first time all weekend I crossed the line and I smiled. I was smiling. It's nice as I changed a few things like with what I'm thinking about with my engineers and my approach and my mentality coming into qualifying.
"It's an area I've been struggling with lately and I feel like it's paid off today and it was my best weekend of the year so far. For a Saturday on the final weekend of the year, I'm happy."
With Sainz in sixth - it gives McLaren an edge with regards their battle with Racing Point for P3 in the constructors' championship, with the British team entering the weekend 10 points behind, as Lance Stroll is eighth and Sergio Perez will be starting from the back.
"It's a good position for us tomorrow," said Norris. "But Sergio was last at last weekend's race after T4 and he won the race. They are going to be coming through and will be very fast tomorrow.
"Sergio has been quite a bit quicker than Lance all weekend, so if anyone is going to be coming through, it's going to be Sergio. The car is very quick, but at the same time, we were in a good rhythm and the car was performing well. We will see what we can do tomorrow. It's not confirmed yet."